This post is also available in: French
Aran Goyoaga hardly needs an introduction. Her amazing blog Cannelle et Vanille attracts thousands of readers with its sunny photographs and clever gluten-free recipes. I waited for the arrival of her first cookbook Small Plates and Sweet Treats with little patience, but it was very much worth all of the wait. It is full of the same gorgeous photography and exciting ideas. Everything that I've made from the book so far has been more than delicious. Paloma and I cooked the Glazed Apple and Chestnut Bundt Cakes and the Chocolate, Beet and Almond Butter Molten Cakes for Thanksgiving. Then we tried the Chocolate Frangipane and Raspberry Tarts for our New Year's celebration. Friends loved them all. I also haven't been able to get enough of the Roasted Parsnip and Apple Soup and these shortbread cookies – they are truly addictive.
Pink peppercorns have become somewhat of an obsession for me lately. They are so good on almost anything – in savoury dishes, as garnish for creamy soups, sprinkled on salads, and as an aromatic, spicy addition to a dessert. In these cookies, the combination of ingredients is mind blowing, the flavour is unlike anything I've ever tasted before. I tweaked Aran's recipe a little by adding pumpkin seeds instead of pistachios and substituting regular butter with nut butters and ghee. Lately, I've been experimenting with adding ground pumpkin seeds in place of some flours in baked goods, and I'm really loving the results. Another thing that I've been making regularly is pistachio butter. Like any nut butter, it's easy to make with the help of a food processor and is wonderful on its own or added to baked treats.
Look for many more inspiring recipes in the book.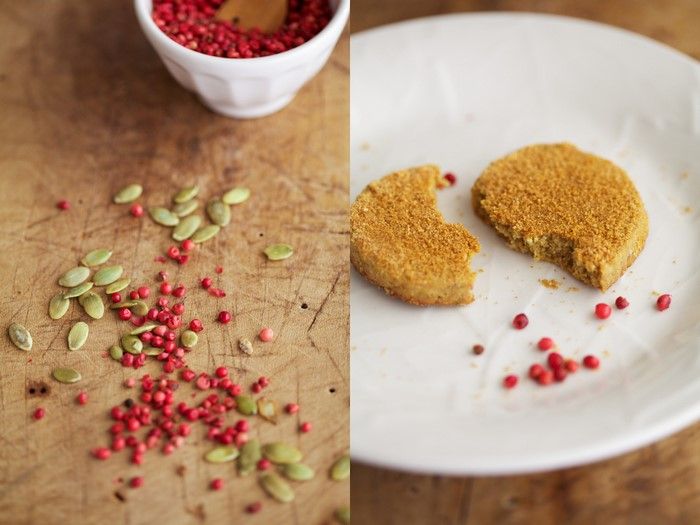 Pink Peppercorn Cookies
(adapted from Small Plates and Sweet Treats)
makes about 50 cookies
1 cup pumpkin seeds – ground into flour in a food processor
1 cup brown rice flour
1/2 cup gluten free oat flour
1/4 cup tapioca starch
2 teaspoons pink peppercorn – coarsely ground in a mortar with a pestle or in a dedicated coffee grinder
1/2 teaspoon salt
6 tablespoons almond butter
5 tablespoons pistachio butter
5 tablespoons ghee
1/2 cup honey or 3/4 cup coconut sugar
1 vanilla bean – seeds scraped out
3/4 cup powdered coconut sugar – for dusting
1. In a medium sized bowl, combine pumpkin seed flour with the other flours, starch, peppercorns and salt. Set aside.
2. Scrape seeds from the vanilla bean. In a bowl of a stand up mixer fitted with a paddle attachment, combine all the butters with the honey/coconut sugar and vanilla bean seeds and beat until well incorporated and fluffy. Add in the dry mixture and mix everything into a dough.
Alternatively, use a hand mixer to combine the butters with honey/sugar and vanilla seeds and then add the butter mixture into the bowl with the dry ingredients. Mix with a spoon, then knead with your hands to form a dough. If using coconut sugar, the dough will be drier and slightly harder to combine.
3. Place the dough on a work surface and shape it into 2 logs, about 2 inches in diameter. Wrap them in parchment paper and roll, trying to make the log as round as possible. Refrigerate for at least 1 hour.
4. Preheat oven to 350 F. Remove the dough from the refrigerator, unwrap and cut into disks 1/4-inch thick. Place them on a parchment paper-covered baking tray about 2 inches apart. Bake for 10 minutes until the bottom is golden. Don't over bake to prevent cookies from getting hard and dry. The cookies will be very soft when hot. Leave them to cool on the tray for 10 minutes. Dust with powdered sugar. Keep in an air tight container at room temperature for up to 3 days.