These avocado truffles were once again inspired by Luxirare. The challenge was to use raw ingredients and create some kid appeal. There are lots of ways to involve children in the kitchen. Even as a 20 month old, Paloma is always hanging around when I'm cooking – playing with pots and pans, studying the ingredients, and begging for samples. I can already tell she'll be a good little chef.
When they are able to handle the mess, you can show your kids how to paint pictures with the ingredients, sort all of the components of a dish by colour, or make a game of determining a food blindfolded, just through taste and smell.
Making these avocado truffles could be a great way of getting your little ones to eat healthy and be adventurous. It is, afterall, a colourful and mysterious salad, with a hidden surprise inside.
Cut an avocado in half, take out the pit. Scoop out some of the flesh, leaving a good amount intact, so that it holds its shape when you take off the skin.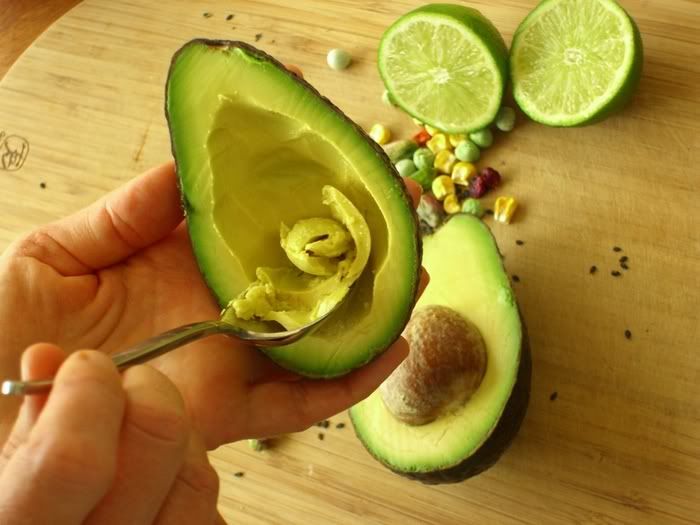 Mash the scooped avocado flesh, adding some squeezed lime juice. Then put the mashed mass back into the two avocado halves – distribute evenly.
There are endless possibilities for the filling. We love the classic combination of mango and avocado, so I made a simple salad of chopped mango, cilantro, black sesame seeds, and lime juice.
Put the filling into the two halves. Assemble them back together and carefully peel off the skin.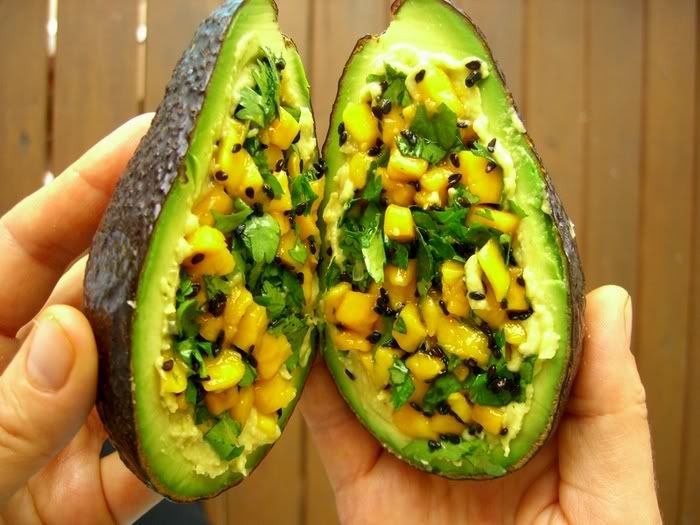 Painting pictures with coating ingredients. Paloma enjoyed pointing out the eyes on the sun.
For the coat, I used dried mango, black sesame seeds, pistachio, and freeze dried corn, peas, and red bell pepper.
Grind these ingredients together with a mortar and pestle.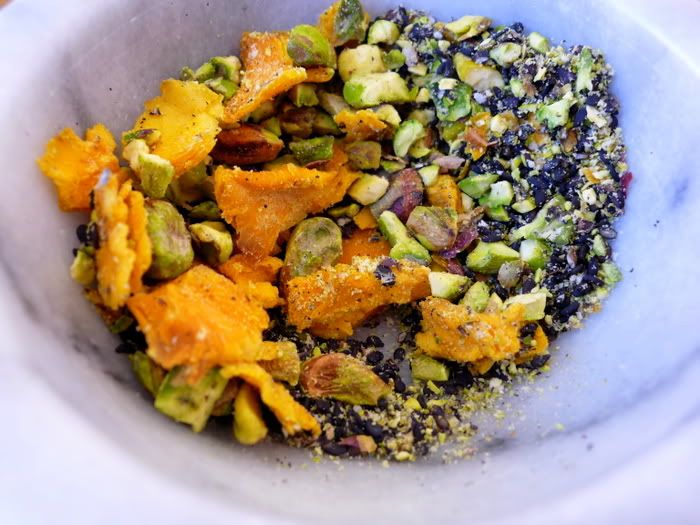 Bathe the avocado in the ground coating, carefully turning to pick up the crumbles.
Besides chocolate truffles and truffle mushrooms, the coated avocados reminded us of trimmed cypresses in a jardin à la française, so we went for a linear and symmetrical presentation, involving the main ingredients.
Although they look elaborate, avocado truffles are actually very easy and surprisingly quick to prepare. This dish would no doubt be a hit at a dinner party.
In addition to being pretty, the truffles are also very tasty, combining the subtlety of avocado, sweetness of mango, a touch of citrus, and finishing off with a pleasant crunchiness of the coat.
P.S. Golubka was nominated for Babble's Best Mom Food Bloggers, we would greatly appreciate your vote!
Post by: A