There are not many dishes as desirable on a hot summer afternoon as a well chilled gazpacho. This particular one stands out as one of my first culinary memories in this country. It was about twelve years ago, when I wasn't very familiar with any other types of cooking other than Russian. I tasted a smooth and well spiced tomato soup with an unexpected pop of perfectly sweet, cold and juicy watermelon pieces right in the middle of it all. That gazpacho left a long lasting impression. That's what one ought to eat in the summer, I thought.
Since then, I've discovered and tried many gazpacho recipes. Some were good, some – not so much, but none were ever as tasty and refreshing as that first gazpacho. Finally, years later, I decided that it was time to recreate that dream of a soup.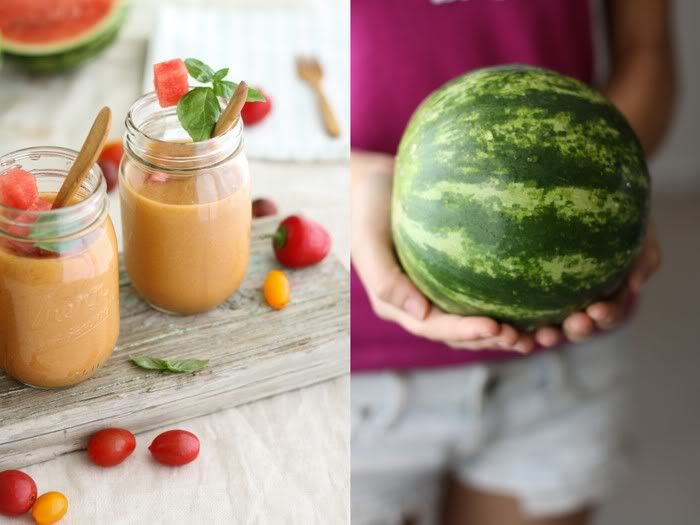 Before, I've tried making a watermelon-based gazpacho, but didn't much agree with the way the watermelon behaved once pureed. I realized that the success of this dream soup was in its smooth tomato base, while the watermelon is present only in pieces, which surprise with additional bursts of chilled sweetness on your tongue.
After all these years, it's hard to say how much my soup resembles the original one, but it's safe to say that we enjoyed it just as much.
Smooth Vegetable Gazpacho with Watermelon Pieces
(serves 4)
about 11 heirloom tomatoes – skin and seeds removed (you might have to blanch them quickly so that the skin comes off easier)
4 small pickling cucumbers or 1-2 large cucumbers – peeled, seeds removed
1 cup packed basil leaves or more to taste
1 cherry pepper or another hot pepper to taste – seeded
1-2 garlic cloves (optional, if you like a more pronounced flavour)
1 small shallot (optional, same reason as above)
2 tablespoons red wine vinegar
2 tablespoons olive oil
1 teaspoon sea salt
freshly ground black pepper – to taste
ripe, chilled watermelon – cut into bite-size pieces
In a high speed blender, combine all of the ingredients, with the exception of watermelon, until smooth. You may need to do it in two batches. Optionally, pass through a fine strainer to achieve a very smooth texture. Adjust the salt and pepper and chill well. Serve with watermelon pieces and fresh basil leaves.