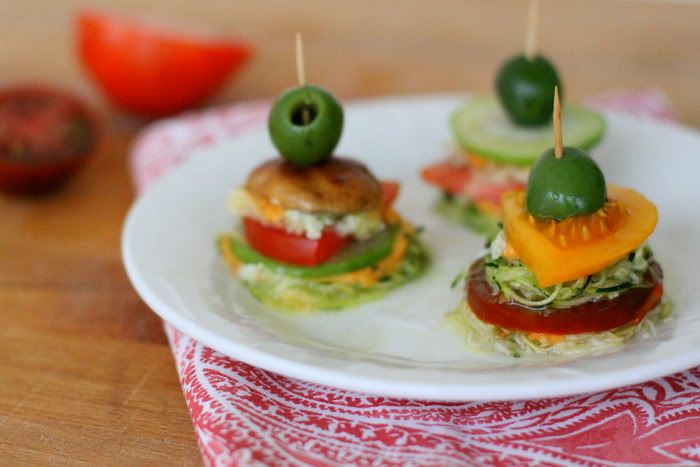 Heirloom tomatoes are a true wonder of summer. It's hard to imagine now, but when living in Russia, we had no other tomatoes but in-season heirlooms (often from our own garden) and saw that as nothing special. Just an order of life.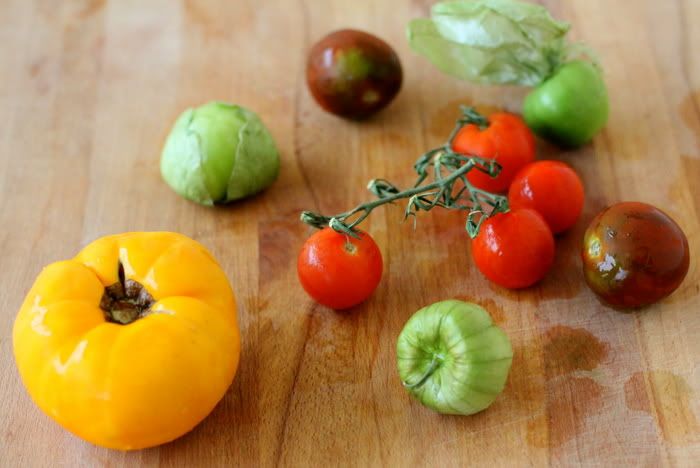 Fresh tomatoes were only available in the summer, and canned to be enjoyed in the winter. When cut open, they smelled of the sun, appeared to be sprinkled with sugar around the seeds, and melted in the mouth, like butter.
How things have changed. Nowadays, it takes some luck to get our hands on summer heirloom tomatoes. Especially in Florida, where the harvesting season is in the winter.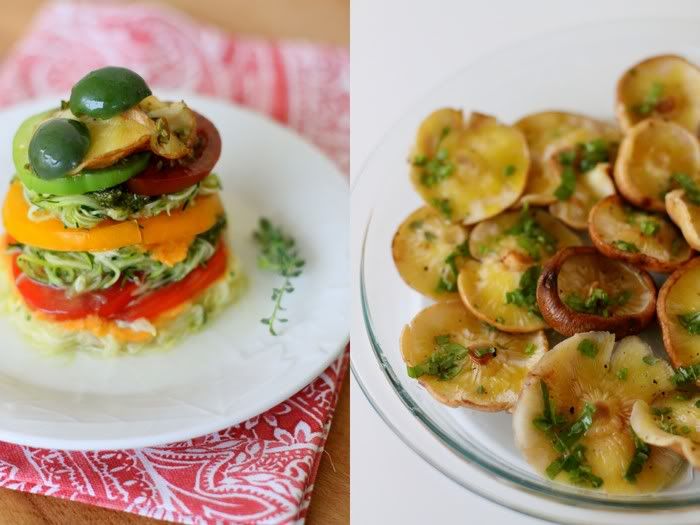 When feeding my friends, even those who have never tried raw food before, I like to serve dinners that consist of simple raw dishes without announcing them as such. No one ever suspects anything out of the ordinary, aside from proclaiming the food better than ever. I've done this a few times and was always surprised by the positive and excited reactions of my guests.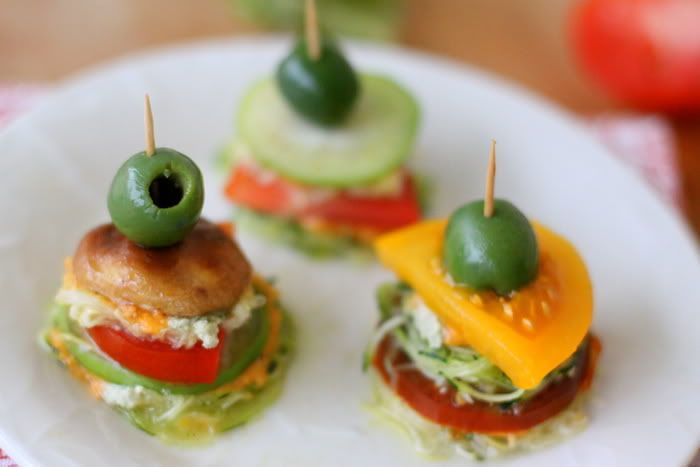 This lasagna is a great dish to introduce at such gatherings. It is fresh, light, fragrant, and incredibly colourful. It's always said that the more colours you have on your plate, the healthier is your meal. This lasagna is just that, nourishing.
It calls for some uncomplicated preparations the day before, takes little time to assemble, and is always a success.
Raw Rainbow Lasagne with Heirloom Tomatoes, Mushrooms, and Castelvetrano Olives
(Adapted from Raw Food/Real World)
Tomato Sauce
1 cup sun dried tomatoes – soaked for 2 hours
1/2 medium tomato – roughly chopped
1/8 small onion – chopped
1 tablespoon lemon juice
1/8 cup olive oil
1-2 dates – pitted
1 teaspoon sea salt
pinch of chili pepper flakes (optional)
In a high speed blender, combine the thoroughly drained sun-dried tomatoes with the rest of the ingredients until smooth.
Pistachio Pesto
2 cups basil leaves
1/2 cup pistachios
1/4 cup olive oil
1 teaspoon sea salt
freshly ground black pepper – to taste
In a food processor, blend all the ingredients until thoroughly combined, but still chunky.
Pumpkin Seed Ricotta
1 cup raw pumpkin seeds – soaked overnight
1 tablespoon nutritional yeast
1 tablespoon lemon juice
1/2 teaspoon sea salt
3 tablespoons purified water
In a food processor, combine all the ingredients, except water, until thoroughly mixed. With the food processor on, gradually add the water, until the mixture becomes somewhat fluffy.
Marinated Shiitake Mushrooms
about 15 shiitake mushrooms
2 tablespoons olive oil
1 tablespoon lemon juice
1 tablespoon chopped basil, oregano, and lemon thyme
Cut the stems off the mushrooms and discard. Briefly wash the mushroom caps, and quickly dry them with paper towels. In a bowl, mix the oil, lemon juice, and herbs. Thoroughly combine the marinade with the mushroom caps. Place them on a Teflex-lined dehydrator tray, and dehydrate for 2-3 hours.
Assembly
3-5 medium zucchini
3-5 medium heirloom tomatoes – try to get various colours
1-2 tomatillos (optional)
Castelvetrano olives – or any other kind you like
The best way to prepare this dish is to make the tomato sauce, ricotta, and pesto the day before serving. You can marinate the mushrooms ahead of time as well. All the prepared components store well separately, refrigerated in airtight glass containers.
Slice the zucchini, tomatoes and olives right before serving.
I like to use a spiral slicer for slicing the zucchini. It allows to arrange the lasagne layers in different shapes and sizes, such as round, or bite size, and helps the presentation. But you can also use a mandolin to thinly slice the zucchini lengthwise.
Either way, put the sliced zucchini in a bowl, sprinkle with some olive oil, add a little chopped oregano, thyme, salt and pepper, and quickly toss.
Start layering the lasagne with a slice of tomato if using spiralized zucchini, or with overlapped zucchini slices if using a mandolin. Arrange your layers in any order you like, alternating the sauces, ingredients, and colours. I usually spread the tomato sauce on top of each zucchini layer, then top it with dollups of ricotta and pesto, and cover it with a tomato slice or a mushroom cap. To finish off, I like to top the lasagne with brilliantly green Castelvetrano olives.
I enjoy making individual lasagne, using up the ingredients as I go. But you can prepare one large lasagna in a baking dish. Again, it's better to store all the leftover components separately, rather than in the form of a prepared lasagna. Although it's still going to taste good the next day, it won't look as great.