A rich option for all the sweet-teeth out there who find it difficult to control themselves. This cake tastes like it contains a decent amount of butter, sugar, and cream. Believing that it consists of none of those, and, to top that, has never been baked, is truly challenging.
Preparing is quite easy – we did in between more involved projects, just to have an accompaniment to our tea break. The ace recipe is Ani Phyo's.
Raw Raspberry Chocolate Ganache
Fudge:
3 cups walnuts
2/3 cup raw cacao powder
1 cup pitted Medjool dates
Begin by blending all the ingredients in a food processor. Form the combined mass into two equally sized patties.
You will need about 1/2 cup of raspberries to tightly cover the first, bottom patty.
After covering, place the second patty on top of the raspberry layer.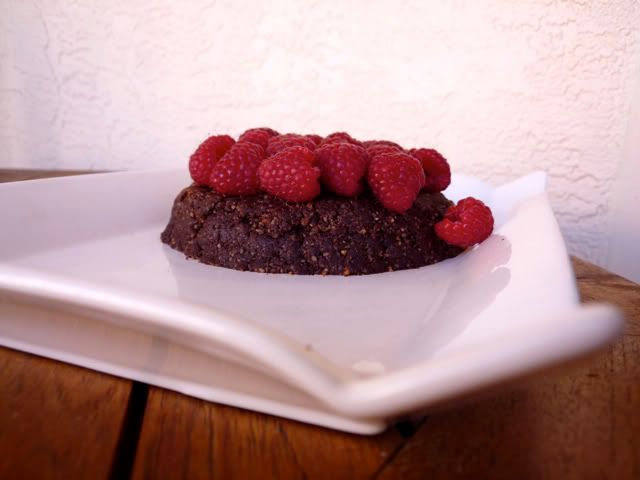 Frosting:
1/3 cup Medjool dates
1/4 cup raw agave syrup
1 ripe medium sized avocado
1/3 cup raw cacao powder
Process all the ingredients. Using a spoon, carefully coat the whole cake with the frosting.
Garnish with raspberries. Best served after a bit of refrigeration.
When it comes to dessert, this one is actually quite healthy – just consider the ingredients. Enjoy!
Post by: A