I borrowed the core of this recipe from Carol Alt's book, but changed the ratio in the tomato sauce and marinade to make a less dense and salty version. This chili is very refreshing and crunchy.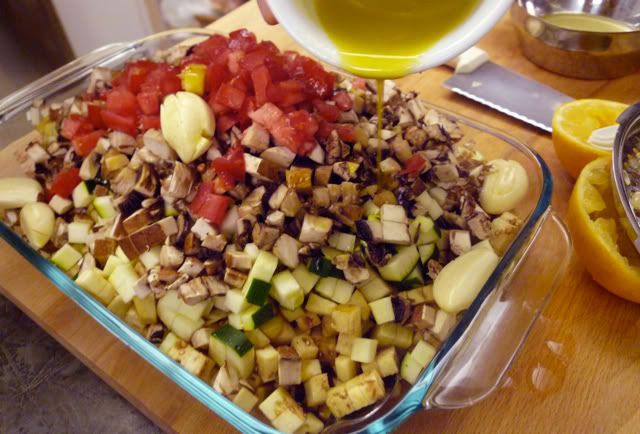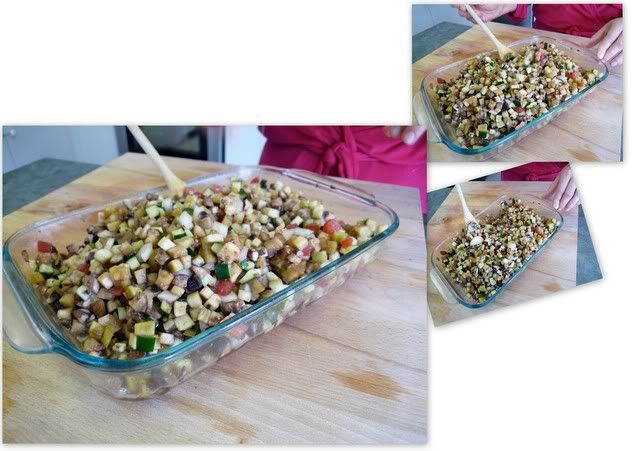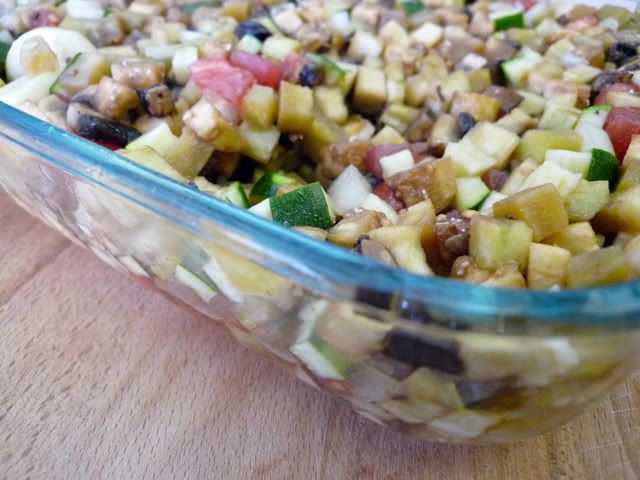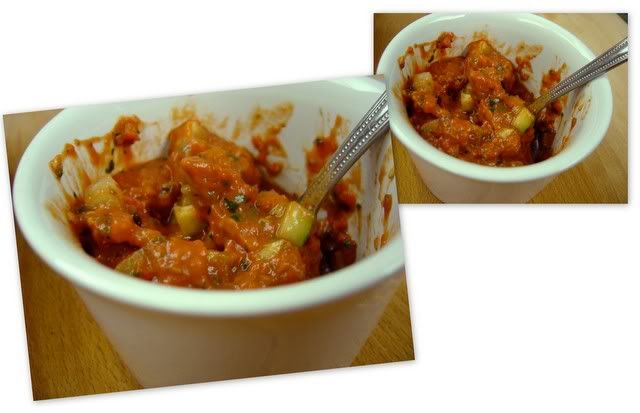 Vegetables to chop:
1 small eggplant – peeled and cut into cubes
5 or more fresh shiitake or crimini mushrooms, or 1 portabello mushroom – stemmed and diced into cubes
1 medium zucchini – cut into cubes
1 medium plum tomato – cut into cubes
1/2 medium red or yellow onion – finely chopped
3 cloves of garlic – crushed
Marinade:
1 tablespoon fresh lemon juice
2 tablespoons cold-pressed olive oil
1 1/2 teaspoon of Celtic (or Himalayan) sea salt
Combine all the chopped vegetables and crushed garlic in a glass container with a lid.
For the marinade, whisk all of the ingredients in a small bowl and pour over the vegetables. Cover and leave to marinate at room temperature for at least 6 hours, or overnight.
Sauce:
1/2 cup sun-dried tomatoes – soaked in purified water for 20 minutes, then drained
2-3 medium tomatoes – cut in chunks
1-2 dates – pits removed
1 garlic clove
1/4 cup cold-pressed olive oil
1/8 teaspoon cayenne pepper
1 teaspoon fresh oregano leaves, or Italian parsley, or both
1-1 1/2 teaspoon chili powder
Make the sauce right before serving. Put both the fresh and sun-dried tomatoes into the food processor, whirl until finely chopped. Add the rest of the ingredients, then puree. Discard the garlic cloves from the marinated vegetables. To serve, mix the sauce into the chopped and marinated vegetables.
My Cooked Chili
Post by: A