We're finally back from a few busy weeks off and are truly glad to be spending days in our sunlit kitchen again, cooking and shooting away.
Here is a question that has been on our mind ever since we started eating raw – what is a sushi lover to do in our situation? Turns out, there is a way, and a pretty delicious one at that.
This recipe is adapted from Raw Food/Real World. Temaki-zushi is what is widely referred to as hand-rolls – ingredients wrapped into nori or rice paper by hand and often right at the table. Compared to maki sushi (sushi rolls), this variety is much less involved and requires less equipment.
We were on quite a hunt for enoki mushrooms, the elongated white ones that you see below, and bugged our Whole Foods manager until he ordered some specially for us. Besides for providing excellent visual satisfaction, enoki turned out to be very tasty.
Jicama root is a fine substitute for sushi rice – it's slightly sweet and delicate in consistency and resembles the flavour of rice when combined with rice vinegar.
Marinated mushrooms: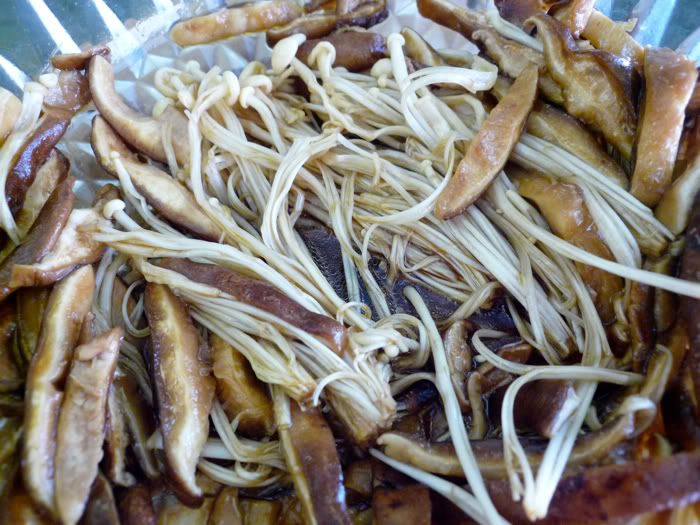 Ingredients prepared and ready to roll: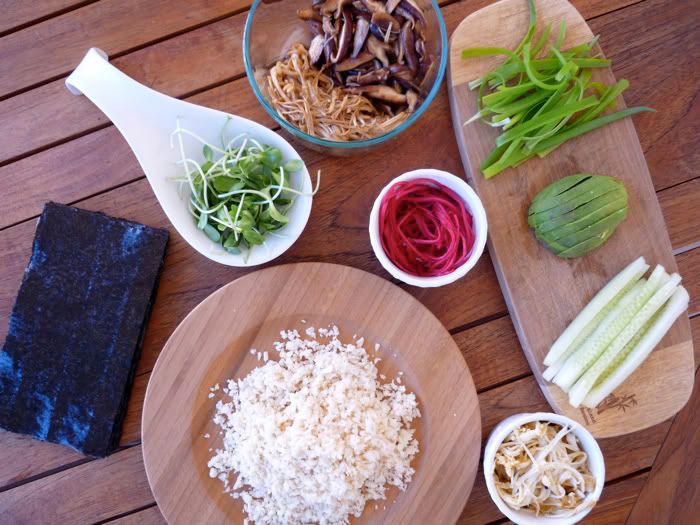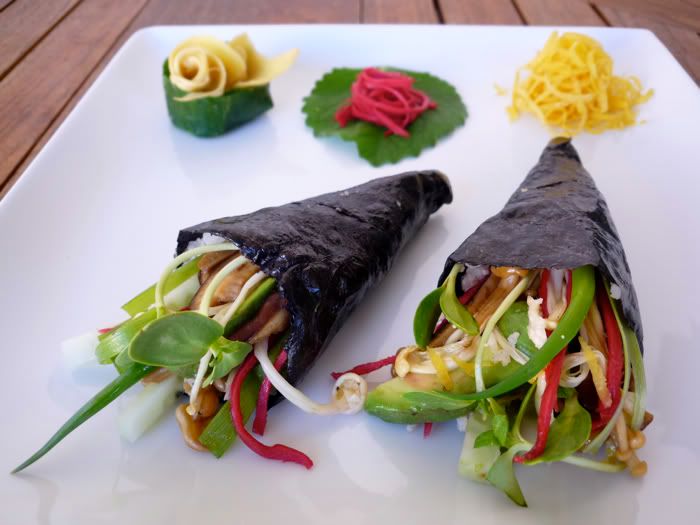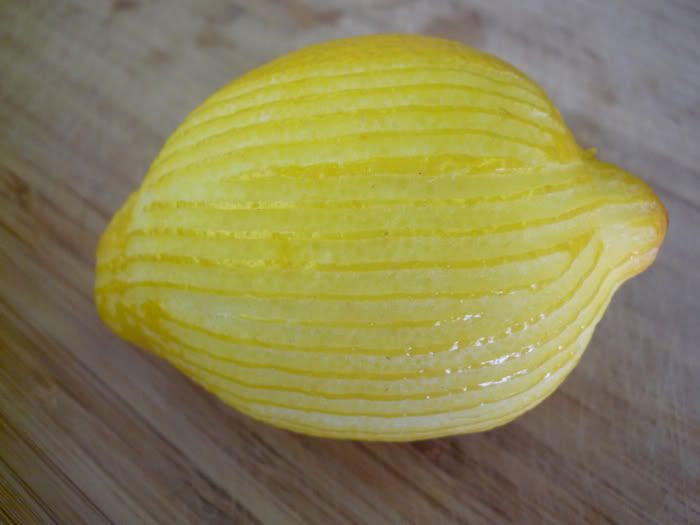 We've recently become fascinated with Japanese attention to detail and studied a sushi encyclopedia to try out the garnishes for the plate. Cucumber peel, ginger pickled with and without beet juice, oregano leaf, and lemon curls.
Pickled ginger:
1-2 large gingerroot – peeled and sliced as thin as possible
about 2 tablespoons of sea salt
1 1/2 cup raw apple cider vinegar
3/4 cup agave nectar
1/2 cup beet juice
In a bowl, combine the ginger with salt. After letting it sit for around 5 minutes, rinse and drain. Mix 2/3 of the total amount of ginger with 1 cup of apple cider vinegar and 1/2 cup of agave. Slice the rest of the ginger in thin strips, mix with the remaining vinegar and agave, and add beet juice. Refrigerate both types of pickled ginger for at least 1 day. Drain and squeeze before use.
Marinated mushrooms:
1 cup shiitake mushroom caps – sliced
1/2 pack enoki mushrooms (optional)
1/4 cup nama shoyu
2 tablespoons olive oil
Mix all the ingredients and marinate for 1 hour.
Jicama "rice":
6 cups jicama root – roughly chopped
1/2 cup pine nuts
1 1/2 tablespoons sea salt
1/4 cup brown rice vinegar
3 tablespoons agave nectar
In a food processor, pulse the jicama and pine nuts until they resemble rice grains. Put the "rice" between two stacks of paper towels in order to absorb the juice. Combine with the salt, vinegar and agave and dehydrate at 115F for 2 hours, mixing occasionally.
The rest:
Untoasted nori sheets – cut in half
2 ripe avocados – sliced
1 bunch sunflower sprouts
2 green onions – thinly sliced
Put the sheet of nori shiny side down, take a spoonful of "rice" and spread on the left side of the sheet. Place all the ingredients onto the "rice" diagonally. Start wrapping from the left corner, making a cone shaped roll. At the end, wet the nori at the tip to secure the shape.
Sesame Sauce (optional):
This sauce usually does not come with sushi, but we've been craving for this particular combination.
4 tablespoons sesame tahini
4 tablespoons freshly squeezed lemon juice
2 tablespoons nama shoyu
2 tablespoons purified water
Combine all the ingredients thoroughly in a jar or mixing bowl. Serve as sauce on top or dip.
Although the recipe appears complicated, it's not – many of the ingredients (the pickled ginger and marinated mushrooms) can be prepared beforehand.