This post is also available in: French
Here's the thing, we are in love. Butterflies in the stomach, silly smiles, breath taken away – the whole deal. Our crush? San Francisco.
San Francisco with its tasty, Eucalyptus kissed air, views that become more stunning around each corner, Victorian houses much like pastels in an artist's box, mindblowing farmers' markets, friendly locals, and contagious West coast positivity.
We were charmed even before stepping off the plane, while marveling at the velvet-like hills on our descend into the city.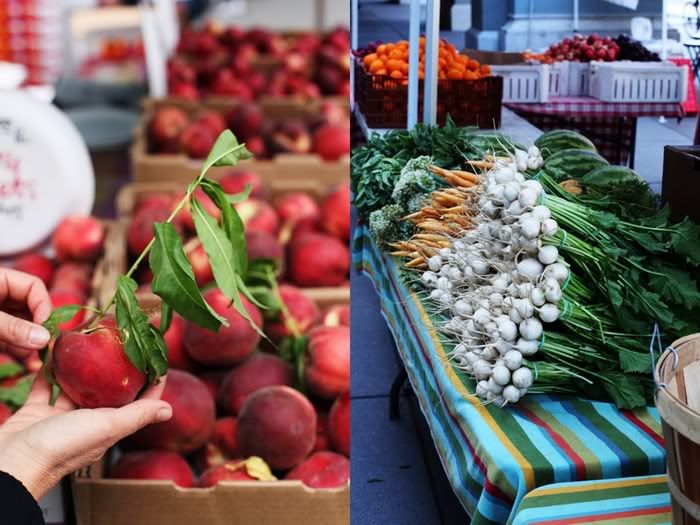 At the Ferry Buidling market
We tried to go everywhere and see everything, which is quite a lot. Let's get down to business and talk about our favourite places.
 Muir Woods
First off, the Ferry building, a waterfront marketplace full of artisanal shops. We went there every day out of the five days in San Francisco, no joke. Think specialty cheese, bread, coffee, pastry, and a whole lot of other unique items. There is also an outdoor farmers' market on Tuesdays, Thursdays, and Saturdays. No wonder we couldn't get out of there.
Every morning we would get green juice from one of the grocers inside the building. Another amazing indulgence was a candy-cap mushroom popsicle from Far West Fungi, a specialty mushroom shop. Decaf cappuccino from Blue Bottle is always very good.
    The majestic Pacific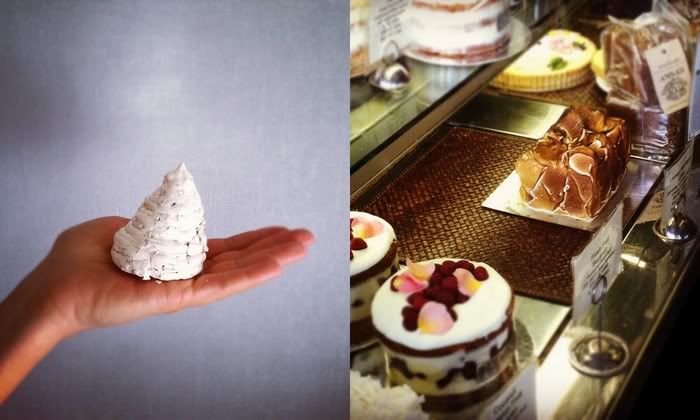 Cacao nib rocher / lemon meringue cake at Tartine bakery
Apart from the Ferry Buidling, the Mission district completely stole our hearts, neighborhood wise.
Tartine Bakery is in the Mission, and while we heard a lot of positive things about it, we had no idea what kind of crazy treat we were in for. The energy of that place is so happy, you feel it even when standing in line and eyeing the decadent cakes, croissants, scones, and tartines. There is live music on Friday evenings, and every single thing sold is beyond delicious. They have two beautiful cookbooks, which I highly recommend if you are into bread, pastry, or just great food photography.
Bi-Rite Market is right down the block from Tartine, a very nice neighborhood grocery with local produce and lots of other foodie-friendly stock.

Muir beach overlook / Far West Fungi mushroom shop at the Ferry Building
Happy 75th birthday, Golden Gate
Impressive porcini mushrooms at Far West Fungi
Veggie soup / garden roll at Cha-Ya vegan Japanese
Another noteworthy and far healthier place in the neighborhood was Cha-Ya, a vegan Japanese restaurant. They offer clean food, letting the ingredients speak for themselves. We ate there twice and each meal was truly memorable and left us with a light, nourished feeling.
  Rose garden in Golden Gate Park
Other notes:
– XOX Truffles in the North Beach/Washington Square area – free small truffle with any drink, our favourites were red wine and earl grey truffles
– The view from Hamon Tower at the de Young museum is great, especially at sunset. Also, the Jean Paul Gaultier retrospective is on view now and well worth the visit.
– SFMOMA has a really nice collection, not as overwhelming as, say, the NYC MoMA. It is possible to see the whole thing in one day, and the building is cool.
– San Francisco is a transit first city. It is so pleasant to see places, where public transportation works so efficiently. We didn't miss having a car once. Wish this was more common in the U.S.