I must confess, I never liked gathering blackberries. Their bushes are covered with sharp little thorns that make the process a bit unpleasant. But I'm always the first to approach a basket of freshly picked berries, even if I was no help at harvesting them. Their sweet and sour flavours are quite addictive and speak so clearly of summer.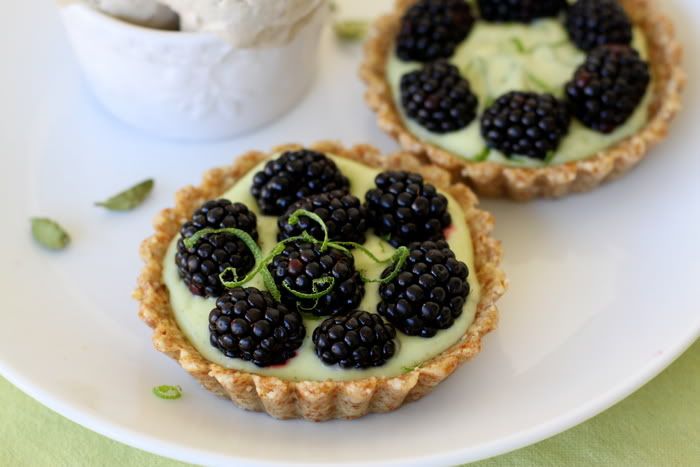 These miniature tarts came to us intuitively, through dreams of lime green and dark violet slowly blending, and we both knew that we had to make them, without much discussion. The lime cream rests on the subtle almond crust, while the richness of the two is offset by the fresh blackberries.
And the ice cream… Cardamom captured our hearts ever since the Plum and Cardamom Biscotti, and has become something of an obsession. So of course, with our new ice cream maker, we had to attempt cardamom ice cream. And it did exceeded all of our expectations.
Paloma enjoyed the dessert without the almond crust, and ate with such enthusiasm that the camera had a tough time keeping up with her.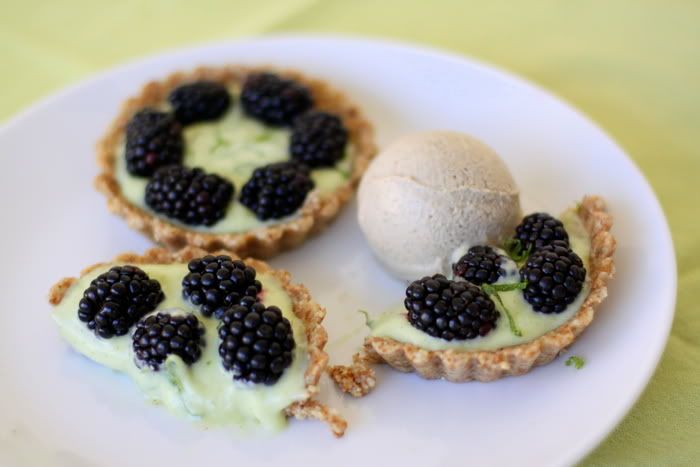 If you don't want to bother with the crust, then this is also the version for you -just top the ice cream with the fluffy lime mousse and blackberries.
Lime Cream
1 cup meat of young Thai coconut
juice and zest of 1 1/2 limes
1/4 cup coconut oil
1/4 cup light agave syrup
1/4 avocado (optional)
Combine all the ingredients in a blender (preferably high speed) until smooth. Before serving, chill in the refrigerator until the mixture thickens.
Almond Crust
2 cups almond flour OR 2 cups whole almonds, finely ground
1/4 cup agave syrup
1/2 cup coconut oil
In a bowl, mix all the ingredients thoroughly. 3 inch tart shells with removable bottoms work best for this. If yours don't have a removable base, line the shells with plastic wrap and evenly distribute the almond mixture by pushing it into shape. Chill in the refrigerator for 30-40 minutes (the coconut oil will harden and keep the crusts together). After making sure that the crusts have hardened, carefully remove them from the tart shells. Keep refrigerated or frozen.
Almond Flour
2 cups whole almonds
Soak the almonds overnight. Drain, rinse, and dehydrate at 115F until dry – approximately 12 hours. Pulse in a food processor until flour-like consistency is achieved. Keep refrigerated.
Miniature Tart Assembly
Assemble right before serving. Otherwise, keep the shells, cream, and berries separate to avoid a soggy crust. Spoon the lime cream into the crust and arrange the fresh blackberries on top in any way you prefer. Garnish with lime zest.
Cardamom Ice Cream
2 cups meat of young Thai coconut
1 cup coconut water
1/4 cup coconut oil
1 cup cashews
9 dates
8-10 cardamom pods – crushed, green shell discarded
2 vanilla beans – both seeds and pods
In a high speed blender, combine all the ingredients until smooth. Chill well and put into an ice cream maker for 25 minutes or however long your brand of ice cream machine suggests.
Happy weekend!