This post is also available in: French
Recently, we attended a birthday party that left me incredibly impressed and full of hope for the future. In fact, it was the first children's party, where I didn't need to bring special treats for Paloma and worry about what she might grab from the table.
Our birthday boy, Stuart, is lovingly called blue bird by his parents. Accordingly, the theme of the party was just that – a blue bird.
Stuart's mom, Laura, took care of every single detail. There were two birthday cakes, bird shaped of course, one was for Stuart to play with and the other – for everyone else to enjoy. Laura used an organic flour mixture and substituted regular milk with the coconut kind.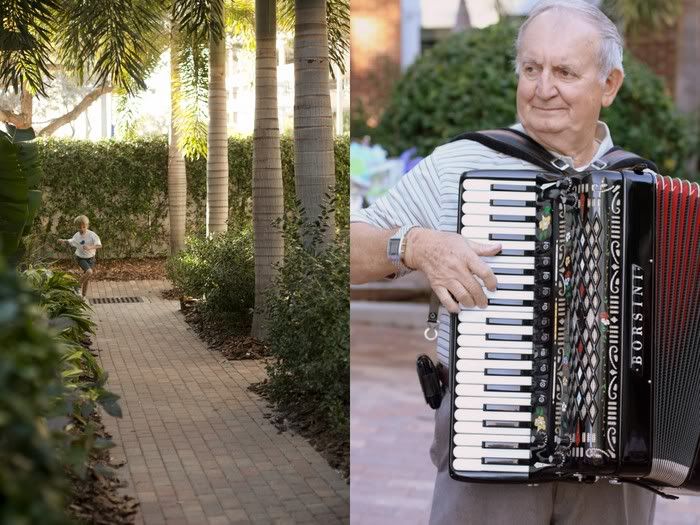 Everything from fresh and yummy Mediterranean wraps to the birthday cake, was carefully thought out, nutritious, and beautiful.
Blue and white stamped paper bags looked so inviting filled with homemade sweet potato fries and kale chips. Kids discovered the kale chips and munched on them enthusiastically even after the cake was served.
The ice tea and chia-banana-chocolate pudding tasted amazing. And in addition to the feast, we were delighted with the live music performed by an accordion player from Serbia.
The party favours were incredible – Laura's special cookies. The combination of texture, spices, and freshness of flavours was the perfect example of taste and health in one gingersnap.
Natalie and I brought some 3D flavour to the party. Natalie's twitter board, a reference to the blue bird, gave guests an opportunity to "tweet" their wishes to Stuart.
I made fruit tarts using seasonal Florida strawberries and blueberries, as well as blackberries, raspberries, sour cherries, and blackcurrants. Kiwi and oranges joined the team too. I tried to make the tarts as festive and colourful as possible, calling for a rainbow of fruits as a welcome sign of spring.
Happy Birthday, Sweet Stuart!
Special thanks to Anastasia for the photo contribution.
Fruit Tarts
Tart shells
(makes about six 3.5″ tarts)
1 cup raw almonds
1/2 cup unsweetened coconut flakes
1/2 cup golden raisins, or pitted dates
1/4 cup golden flax seeds
In a high-speed blender, mix all the ingredients until well combined and until the mixture sticks together when pressed with fingers. You can do it in a food processor as well, but pre-grind your flax seeds in this case. Do not blend the ingredients too much to avoid them becoming too oily.
Place a generous 1/3 cup of the mixture in each tart shell with a removable bottom and press evenly against the bottom and sides of the shell. Place your tarts in the freezer for about an hour before serving, this will make the removing process much smoother. The shells can also be dehydrated if you want them to be stronger. In this case, soak almonds overnight and rinse well. Mix all the ingredients in a food processor, making sure to use ground flax seeds. Dehydrate the shells overnight at 115F. Remove from the forms and dehydrate until dry throughout.
Vanilla Cream
1 cup meat of fresh young Thai coconut
1 cup cashews – soaked for 4 hours
1/2 cup raw light agave syrup
1/2 cup purified water
seeds of 1-2 vanilla beans or 2 1/2 tablespoons vanilla extract
pinch of salt (optional)
squeeze of fresh lemon (optional)
1/2 cup coconut oil – liquified
Combine all of the ingredients in a high speed blender until very smooth, adding coconut oil at the end with the motor still running.
Assembly
Fill 1/3 of each tart shell with the vanilla cream and top with fruit or berries. Optionally, sprinkle with ground pistachios.
I used a variety of berries – fresh raspberries, strawberries, blueberries ,and blackberries, as well as frozen sour cherries and black currants. I love the last two especially in all kinds of desserts for their truly unique flavour and color. If using frozen berries, thaw in a colander over a large bowl. Optionally drizzle with the sweetener of choice and dehydrate for an hour or two.