Paloma turned two on Friday, and we can hardly believe how fast time flies. Last year, for her first birthday, we had a big party with lots of guests and even more food. I believe we started cooking a whole week before the date in order to get everything prepared!
This time was very different. We just returned from Chicago (will write about that soon) and simply had no time for putting together a party. We wanted to keep it low key and family only, but a few close friends promised to come over and celebrate anyway, even if we had nothing to feed them.
Being food obsessed as we are, we couldn't let them leave hungry, so we came up with a few sweet dishes that take little time in preparing, and threw them together as fast as we could. First, we served our favourite Baby Spinach and Strawberry Salad, which is always a winner. A box of ripe mangos was waiting for us when we returned home from traveling, so the wonderful Mango Chili and Coconut sorbet was created. We mixed a separate serving for Paloma, without chili, but after she reached into my plate and tried the spiced sorbet, it was clear that no kids' version was necessary. She loved the spice! The chocolate truffles are another crowd pleaser. People always enjoy them and can never believe that they contain no cream or butter, as rich as they are.
Paloma was in heaven with all the attention and presents. Perhaps her favourite one was a set of animal nesting dolls that we got at the beautiful P.O.S.H. in Chicago. She played with them all day before the guests arrived.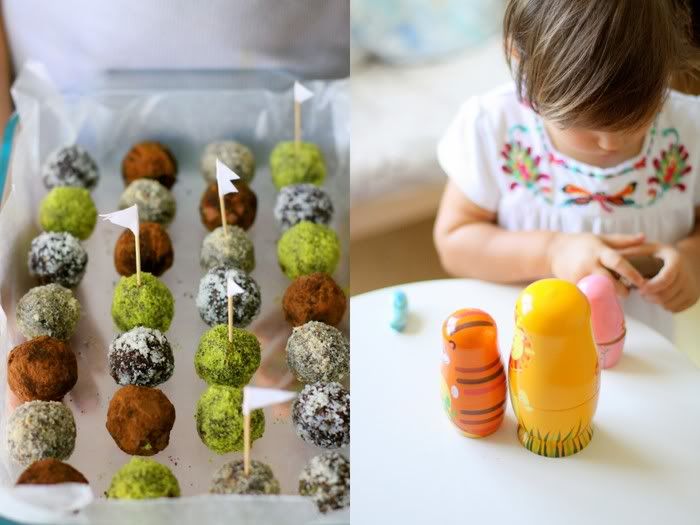 Lastly, I wanted to share some very exciting news. We were invited by the awesome creative director at G Living to be among their contributing Green Chefs. We've always loved the site and were very happy with the invitation. See our introductory post here, and the Fig and Hazelnut Pizza post here.
Mango Chili and Coconut Sorbet
5 mangos – peeled and pitted
1 cup unsweetened dry coconut flakes
juice of 1 1/2 limes
1 1/2 cups purified water
6-8 tablespoons raw agave nectar
3 or less teaspoons chili powder
dash of cayenne pepper
In a high speed blender, combine all the ingredients. Chill well and put into an ice cream maker for 25 minutes or however long your brand of ice cream machine suggests. Freeze for at least 2 hours before serving.
Chocolate Truffles
(Makes 28 small truffles)
15 dates – pitted
1 cup almonds
1 cup unsweetened dry coconut flakes
2/3 cup walnuts
2/3 cup rolled oats
2 tablespoons raw cacao powder
2 tablespoons carob powder
1 tablespoon maca powder
1 tablespoon mesquite powder
2 teaspoons coconut oil
1 teaspoon nutmeg
1 teaspoon cinnamon
For dusting
ground pistachios
ground almonds
small coconut flakes
cacao powder
In a food processor, thoroughly mix all the ingredients until moldable. Form the truffles. Roll into ground pistachios, ground almonds, small coconut flakes, and raw cacao – many possibilities here. Keep refrigerated.