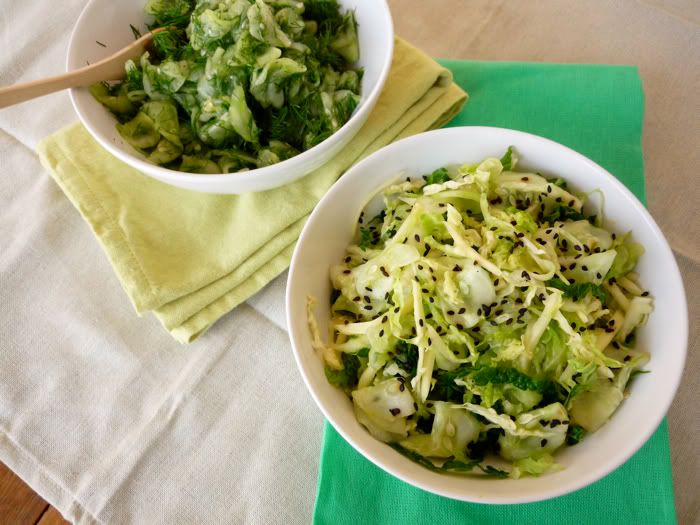 During the summers at our Russian dacha, meals were always accompanied by small, curiously shaped cucumbers that we picked from the garden that very day. Sometimes they were so perfectly sweet, that we would simply cut them in half and sprinkle with a bit of salt. Other times, we would toss a basic cucumber and tomato salad. Either way, this vegetable served as a cooling, hydrating, and nutritional companion to any summer meal. Cucumbers are at their best from May to July, and while we are at the peak of their season, here are two undemanding cucumber salads. One is a deserved favourite, and the other – a new addition. They are simple in preparation, and work well as side dishes or as snacks, on top of crackers.
I've always liked to pair cucumbers with dill, but came across the idea of combining them with apple cider vinegar in Carol Alt's book.
Cucumber and Dill Salad (an old favourite):
5 large, or 10 small pickling cucumbers – peeled and thinly sliced
2 tablespoons of each sea salt, apple cider vinegar, and cold-pressed olive oil
1 bunch fresh dill – chopped
1/2 onion (optional) – chopped
Gently mix the cucumbers with salt in a large bowl, cover with a plate and put a jar full of water on top. Leave to press for 2 hours, or more. Drain the pressed liquid, then squeeze more by hand to discard most of the juice. Mix the cucumbers with the rest of ingredients and enjoy.
Ginger Cucumber Pickles (a Japanese salad):
3 medium cucumbers
1/2 cup cabbage – finely shredded
1/4 inch piece fresh ginger – peeled, and cut very thinly into strips, or grated
1 teaspoon sea salt
sesame seeds for garnish
sesame oil for drizzling (optional)
Mix all the ingredients in a bowl and repeat the same pressing method, as in the Cucumber and Dill Salad. Garnish with sesame seeds, drizzle with sesame oil.