This year, we are giving edible presents. Since I spend so much time in the kitchen, it makes sense to prepare delicious and healthy treats for our loved ones.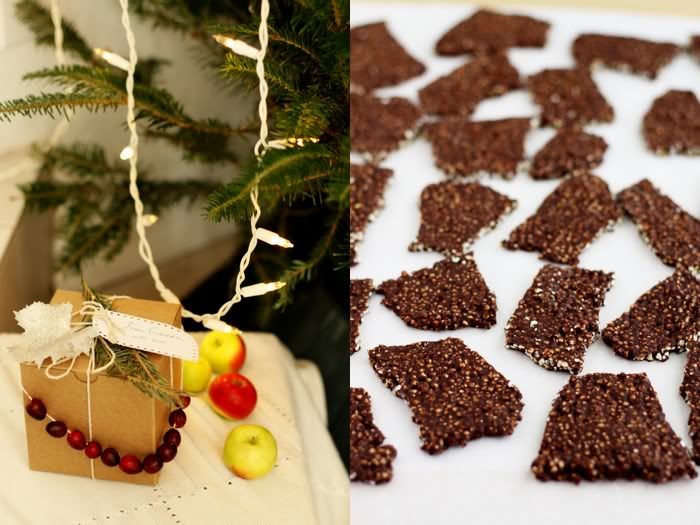 We weren't going to blog about this, but when I tweeted a photo of the chocolate bark I was making, there were a lot of requests for a post. So, why not?
I came up with this buckwheat and quinoa chocolate bark, which is very easy to make, but really tasty and nutritious. This recipe also allows for endless possibilities – you can add nuts, any dried fruit, or keep it very simple like we did.
The chocolate itself is very rich and satisfying, and mixing it with grains makes it more airy and perfectly crunchy.
I also included little jars of homemade almond butter and fresh cranberry jam in our packages.
Hope you enjoy these gift ideas and have fun with your own preparations.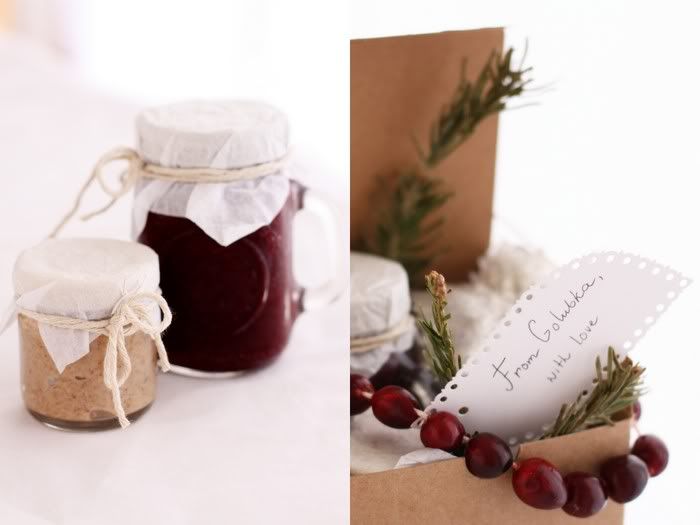 Buckwheat and Quinoa Chocolate Bark
(Makes about two 14″x 14″ trays)
3 cups raw cacao butter – shaved
3 tablespoons sunflower lecithin (optional, known to stabilize and good for you)
1 1/2 cups raw cacao powder
3/4 cup mesquite powder
6 tablespoons maca powder
7 tablespoons agave, or more to taste
2 1/2 cups buckwheat – soaked overnight and dehydrated
1/2 cup quinoa (optional) – sprouted (here the quinoa has to be sprouted, as it is too hard when not)
Melt the cacao butter on a double boiler. Mix in the lecithin until completely incorporated. Mix in all the powders and agave.
In a bowl, mix the chocolate with the buckwheat and quinoa until the grains are completely covered. Spread onto Teflex sheets or trays, lined with parchment paper. Place in the freezer until the chocolate sets. Brake into pieces of desirable size. Keep refrigerated.