If you've been reading Golubka for a while, you might have noticed that we are a bit obsessed with cooking in layers. Whether it's a savoury meal, salad, or dessert, we sure love to layer.
If I think about it, this way of cooking certainly evolved from memories of our kitchen back in Russia and my mother's culinary experiments. Many delicacies were cooked or served in layers – that's what makes them so appealing to us.
The layering allows for fitting more flavours into one dish, and therefore more complex results. This napoleon certainly is on the complex side, a bit grown up, if you will.
I love infusing things with tea, it always helps achieve new, unique flavours. The tea, that we use on the mushrooms is called Lapsang Souchong, which is traditionally dried with smoke over burning pine-wood. This method gives the tea a wonderful, rich and smoky taste.
The coconut crust tastes just like real phyllo dough. It takes opening a few young coconuts, but you'll get to enjoy all that rejuvenating coconut water in the process.
It is entirely possible to simplify this dish. You can take out the smoky tea, for instance. Or substitute the caramelized onion cream with a simple cashew cream instead.
We served this napoleon with a salad of fennel, citrus, and avocado. It turned out to be a very satisfying meal to have in this cool weather.
Before we let you go to enjoy your Thanksgiving, we'd like to share a few links.
There is an interview with me on Healthy Happy Life, thank you Kathy!
Golubka is among other wonderful blogs mentioned in Bon Appetit's article on gluten-free and vegan Thanksgiving.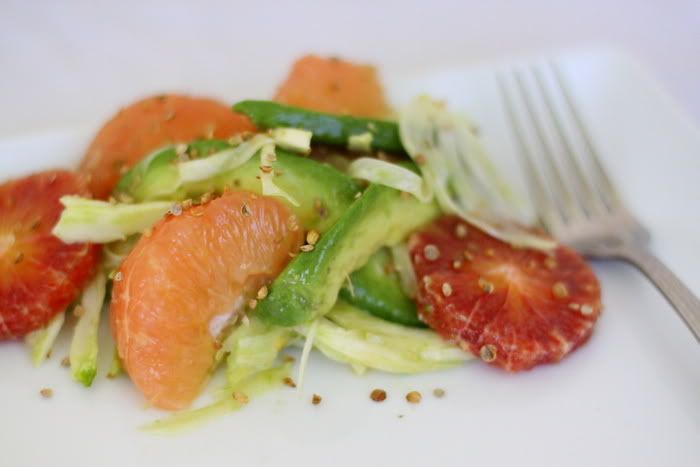 Coconut Crust Sheets
3-4 cups fresh meat of young Thai coconut
1 cup coconut water – more if needed
turmeric, paprika, and basil – to achieve different colours
Blend all the ingredients in a high-speed blender until completely smooth, adding more coconut water if needed. The amount of coconut water and resulting coconut crust can vary depending on the coconut meat quality. Thicker meat, from more mature coconuts, will require more water, and therefore will yield more crust.
If making the napoleon in different colours, like ours, divide the mixture into 3 parts. Leave one in the blender and add turmeric, paprika, or basil to achieve the desired colour. Remove the coloured mixture onto a Teflex dehydrator sheet, and continue with other colours, one at a time. Spread each coloured mixture onto a Teflex-covered dehydrator tray, and dehydrate at 115F for 2 to 4 hours, until the the surface is dry. Flip over and carefully peel away the Teflex sheets. Cut each coconut sheet into 8 rectangles, or into any size and shape you prefer. Take care, as they will be very thin and delicate. Dehydrate for another 30 minutes or so, to make them completely dry.
Caramelized Onion Cream (adapted from Raw Food/Real World)
3 medium onions – sliced thinly
juice of 1 lemon
1/8 cup nama shoyu
1/2 cup brown rice vinegar
1/4 cup Jerusalem artichoke syrup or raw agave syrup
sea salt and freshly ground black pepper – to taste
1 small red chili pepper
3 cups walnuts – soaked for about 2 hours
1 clove garlic – coarsely chopped
Cover the onions with warm water and lemon juice for 30 minutes, then drain and rinse thoroughly. Combine the nama shoyu, vinegar, and syrup. Pour this mixture over the onions and let sit for 30 minutes. Drain, leaving a little liquid, and spread on Teflex-lined dehydrator trays. Dehydrate at 115F for 24 hours or until crispy. Then blend the onions in a high speed blender with 1 1/2 cups of purified water, chili pepper, and a pinch of salt.
In a food processor, pulse the walnuts and garlic with a pinch of salt to achieve tiny granules. In the food processor, add the onion mixture to walnuts and mix until a paste-like consistency is achieved.
Smoky Mushrooms
1/2 tablespoon loose Lapsang Souchong tea leaves – available at specialized tea stores
1 small shallot – peeled and diced
1/2 tablespoon nama shoyu
1 tablespoon umeboshi plum vinegar – you can use apple cider vinegar or another type of vinegar instead
1/4 cup light white wine
1/2 cup olive oil
1 large tomato cut in chunks
1/4 teaspoon freshly ground black pepper
1/4 teaspoon sea salt
about 2 cups of oyster mushrooms or any mushrooms of your choice
Blend all the ingredients, except the mushrooms, in a high-speed blender until smooth. Mix in with mushrooms (slice them if needed), and marinate in the refrigerator for a couple of hours, or overnight. Dehydrate at 115F for an hour or two.
Assembly
Start with laying down the coconut sheets one on top of another, three pieces at a time. Top each layer with onion cream and mushrooms, followed by another set of coconut sheets. Alternate your layers until all coconut sheets are used up, unless you're making more than one napoleon. The assembly depends on the size and number of coconut pieces you cut, and the design of napoleon that you decided upon. In any case, finish with a coconut layer, sprinkle with crushed coriander and pistachios and optionally garnish with fennel fronds. Let it sit in refrigerator for about an hour before serving. The napoleon holds very well in the refrigerator for a couple of days. Although it is very good if served right away, it becomes even better after some time in the fridge, when flavours are fully integrated.