The other day, we were taking a walk on the beach and recollecting our many summers spent on the Black Sea shore. Sochi (where the 2014 winter Olympics will be held) was where we usually stayed with family, in a charming old house. Whole days were spent on the beach, bathing in the gentle water and soaking up the sun, completely content. Summer in Sochi is truly magical, with warm windless days, chilly evenings, fireflies, and water temperatures that are refreshing yet welcoming. And that is where we got our yearly dose of figs.
In our hometown, figs were a rarity – expensive and shipped from afar. But Sochi was a different story. Come the "velvet season", at the end of August, and the many fig trees in the streets and backyards exhibited the plump fruit. For some unknown reason, the locals did not care for them. So we became fruit thieves in neighbor's yards, justified by the fact that the figs would go to waste without our rescue. It's a known fact that the less the time between harvesting and eating, the better the flavour. And freshly picked, those figs tasted like honey, and their sweetness lingered on our lips all season long.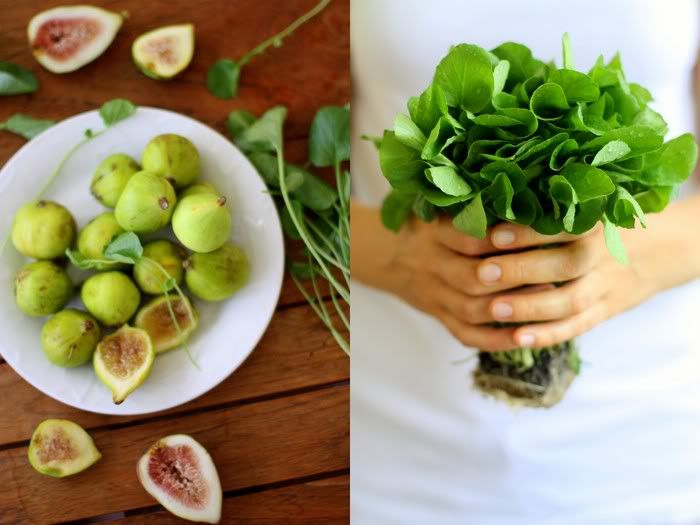 The other true jewel of those times in Sochi was hazelnut. Hazelnut trees were abundant and beautiful with their trios of ready to pick nuts hidden in green cocoons. We would take bags of freshly harvested hazelnuts to the beach and crack the nuts with smooth sea rocks. They made for an unforgettably tasty snack. Folk medicine is rich with tales of the nut's healing powers. In fact, one such remedy calls for the mixture of figs and hazelnuts to be taken at the end of the meal to aid digestion.
Now that figs have come into season, we decided to build this pizza around them with the addition of hazelnuts, caramelized onion, and basil sauce.
P.S. Have I mentioned that we have a Twitter?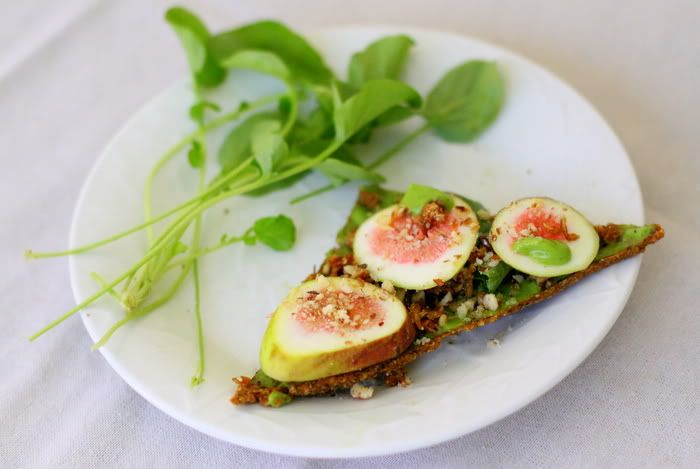 Pizza Crust
1 medium yellow squash or zucchini – roughly chopped
1/2 onion – roughly chopped
6 halves of sun dried tomatoes
1 date – pitted
juice of 1 orange
1/8 cup nama shoyu
3 cups buckwheat – sprouted
2 cups sunflower seeds – sprouted
1 1/2 cup flax seeds – ground
In a food processor, combine the vegetables, date, orange juice and nama shoyu until well mixed. Add the sprouts in batches and blend thoroughly. Lastly, add the with flax seeds and mix until smooth. Spread thickly on Teflex sheets and dehydrate at 115F. After 2 hours, cut into desired crust shapes. Dehydrate for another 12 hours, then remove the crusts from teflex sheets, flip, and dehydrate for another 4 hours or until dry. Keep refrigerated until ready to use in airtight glass containers.
Balsamic Glaze
4 large figs
1-2 dates – pitted
1/4 cup balsamic vinegar
Puree all ingredients in a food processor or high speed blender.
Caramelized Onions
10 large onions – sliced thinly
juice of 2 lemons
1 1/2 cup dates – pitted
6 tablespoons nama shoyu
4 tablespoons olive oil
1/2 cup brown rice vinegar
1/2 cup water, or more for thinning
1 cup hazelnuts
Cover the onions with warm water mixed with the lemon juice for 30 minutes. Rinse well and drain. Combine the rest of ingredients except the hazelnuts in a blender and add to the onions. Let it sit for about 30 minutes, drain the excess liquid, and dehydrate at 115F for 15 hours or until crisp.
In a food processor, pulse the hazelnuts into small pieces. Reserve about 1/4 cup for assembly. Add the onions to the processor and combine well. Add 2 tablespoons of the balsamic glaze and blend to reach a grainy consistency.
Creamy Basil Sauce
1 cup packed fresh basil leaves
juice of 1 orange
1 small avocado
1/4 teaspoon salt
juice of 1/2 lime
pepper to taste
1/3 cup olive oil
In a blender, combine all ingredients except olive oil. Slowly add the oil with the blender still running.
Pizza Assembly
about 20 small figs
1 bunch watercress
1 cup of sunflower sprouts (optional)
1/4 cup hazelnuts reserved from caramelized onions
Slice the figs and glaze with the balsamic. Dehydrate for 1-2 hours (optional). Spread the basil sauce on the crust, and arrange the watercress leaves, caramelized onions, and glazed figs on top. Sprinkle with sunflower sprouts and ground hazelnuts.