This post is also available in: French
Both pizza and flatbread are very popular in Argentina. When researching Argentinean cuisine, I learned about faina, which is flatbread made with garbanzo or chickpea flour. Faina is often served as an appetizer, but also, surprisingly, on top of pizza. In this case the dish is called pizza a caballo, or horseback pizza. Napoletana pizza, served with sliced tomato, garlic, and olives is another Argentinean favourite.
We drizzled our flatbread pizza with chimichurri – the characteristic Argentinean sauce, which is mostly used for grilled meat. But I love chimichurri on everything, it's so simple, delicious, and can enhance the flavour of almost any dish. There are tons of variations to this sauce, and I used one of the most basic versions – just parsley and garlic.
The crust recipe emerged from the idea for my gluten and dairy free bread. It took many experimental pizzas to get it to everybody's liking.
I like to lightly dust the pizza with raw coconut flour for the most authentic look and additional, slightly sweet flavour.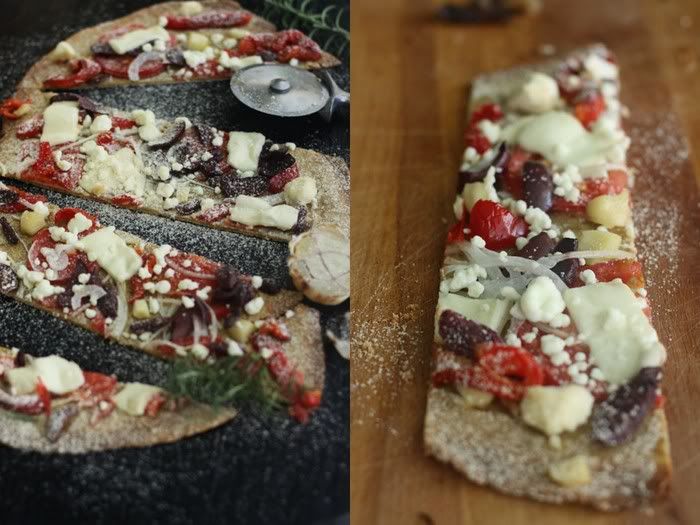 Flatbread Pizza Crust
1 1/2 cup sprouted quinoa
1/4 cup sprouted amaranth
1 cup raw sprouted oats (or the same amount of quinoa and amaranth combined)
1/4 cup golden flax seeds
1/2 cup sprouted sunflower seeds
1/2 cup hemp seeds
1 cup purified water
1/4 cup Irish moss gel
1 teaspoon salt
1 tablespoon honey
juice of 1 lemon
1/4 cup olive oil
To sprout or germinate, soak quinoa, amaranth, oats, and sunflower seeds in purified water overnight. Rinse thoroughly and dehydrate at 115F until completely dry.
Start pre-heating your oven at 350F. In a high-speed blender, combine the grains and flax seeds, grind into a flour and pour into a food processor. Next, grind sunflower seeds into a flour in a high-speed blender, at a lower speed, taking care not to turn them into butter. You can also use a coffee grinder and work in batches. Add the sunflower flour to the food processor, followed by hemp seeds.
Combine water, Irish moss gel, salt, honey, and lemon juice in a high-speed blender until smooth. With the motor still running, add olive oil to incorporate. Turn the food processor on, mixing your dry ingredients together. Then start slowly pouring the wet mixture into the dry one through the tube. When the mixture becomes completely incorporated, your dough is ready. Place about 1/5 of it a flat surface covered with thoroughly oiled parchment paper. Flatten the dough with your hands and cover with another sheet of parchment paper. Roll into even and thin crust, using a rolling pin. It is important to make sure that the crust is as thin in the middle as at the edges. Prick the crust with a fork several times. Bake at 350F for 10 minutes. To make sure that your crust bakes evenly, use a pizza stone if you have one, or just place an oven-proof dish with water on the rack underneath your crust.
Toppings
1 roasted garlic
1-2 tomatoes – sliced
1 onion – thinly sliced
1 roasted bell pepper – sliced
1/2 fresh bell pepper (optional) – sliced
10 olives of any kind – pitted and sliced
Queso Blanco and crumbled goat cheese – to taste
For a vegan version, you can substitute with your favourite vegan cheese
Chimichurri
1 cup firmly packed fresh flat-leaf parsley – finely chopped
3-4 garlic cloves – finely chopped
2 tablespoons fresh oregano leaves (optional) – finely chopped
1/2 cup olive oil
2 tablespoons red or white wine vinegar
1 teaspoon sea salt
1/4 teaspoon freshly ground black pepper
1/4 teaspoon red pepper flakes
Place parsley, garlic, and oregano into a small bowl. Stir in the olive oil, vinegar, salt, pepper, and red pepper flakes. Adjust seasonings if needed. Serve right away or refrigerate. Holds well for a couple of days.
Assembly
Smear roasted garlic on top of your pre-baked crust. Top with the rest of the ingredients and bake for another 10 minutes. Optionally, dust with raw coconut flour, sprinkle with chimichurri, cut and serve.
P.S. This flatbread is also very good with any kind of greens on top, such as kale, spinach, arugula, etc.