This post is also available in: French
Here is our version of Italian lasagna, which is light, delicate, and made with fresh coconut meat "pasta" – no flour or eggs involved. The result is amazing – the pasta comes out very delicate and subtle in taste and complements the peppers perfectly.
Light roasted garlic creme and toasted almonds complete the lasagna and make it irresistible. If you're not vegan, it is also nice to add some good quality crumbled goat cheese. Just put a little bit on each layer, together with the rest of the ingredients.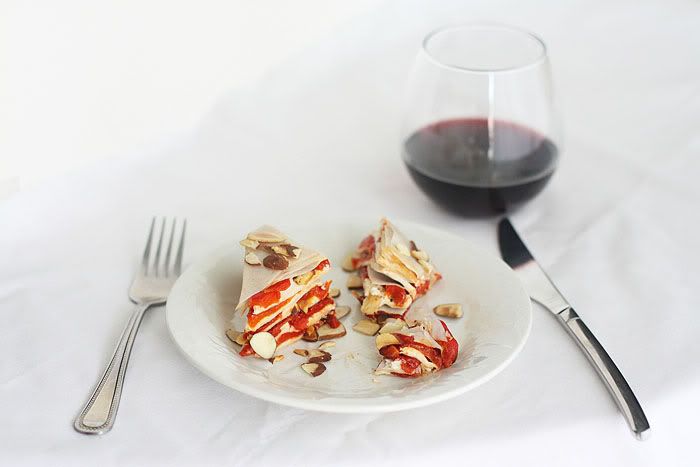 Roasted Pepper Lasagna
(Makes 8 lasagna triangles)
Coconut pasta
3 1/2 cups fresh meat of young Thai coconut
1 cup coconut water, or more
pinch of salt
Blend all the ingredients in a high-speed blender until completely smooth, adding more coconut water if needed. The amount of coconut water and resulting coconut pasta can vary depending on the coconut meat quality. Thicker meat, from more mature coconuts, will require more water, and therefore will yield more crust.
Spread mixture onto Teflex-covered dehydrator trays and dehydrate at 115F for 2 to 4 hours or more, until pasta is dry enough and ready to be separated from the Teflex sheets. Flip over and carefully peel away the Teflex sheets. Cut each coconut sheet into 4 even squares. Take care, as they will be very thin and delicate, don't over dry them before cutting. Dehydrate for another 30 minutes or so, to make them completely dry. The coconuts that I'm getting lately are pretty thick inside, so I ended up with 3 1/2 14″ x 14″ trays of pasta, or fourteen large squares. You can start layering the lasagna immediately or store the pasta in the refrigerator, separated by parchment paper.
Roasted Pepper
4-5 large red bell peppers – washed and dried
Preheat your broiler. Place peppers onto a baking sheet under the broiler. Wait a couple of minutes for the skin to start burning. Turn the peppers, exposing uncooked sides to the broiler, until the skin is blackened and wrinkled all over. Check frequently, there is no need to burn peppers longer than you have to in order to remove the skin. Take care not to burn yourself in the process. Let peppers cool completely. Remove the skin and seeds and slice into stripes.
Roasted Garlic
4 garlic heads or more to taste
olive oil for drizzling
sea salt, freshly ground black pepper
Preheat oven to 400F. With a sharp knife, cut the top of each garlic head exposing the inside of each clove. Drizzle with olive oil, sprinkle with some salt and pepper, wrap it into parchment paper, or place it into a special garlic baking dish. Roast for 30 minutes, or until soft inside.
Roasted Garlic Creme
1 cup raw cashews – soaked 4 hours or more
1 cup meat of fresh young Thai coconut
1/2 cup purified water
1/2 cup coconut oil
roasted garlic cloves – to taste
sea salt and freshly ground black pepper – to taste
In a high-speed blender, blend all the ingredients until smooth. Store refrigerated.
Assembly
Start with laying down the coconut sheets one on top of another, two pieces at a time. Top each layer with roasted garlic cream using squeeze bottle, pipping bag, or just a spoon. Add some additional roasted garlic and crumbled goat cheese for a stronger flavour. Continue with roasted pepper slices and a few slivers of toasted almonds, followed by another set of coconut sheets. Alternate your layers until all coconut sheets are used up. Finish with a coconut pasta layer, optionally garnish with more cream and toasted almonds. Let it sit in refrigerator for several hours or overnight before slicing. I cut a large square into four even squares, and then cut each of them in half diagonally. You should end up with eight triangular lasagna pieces. The lasagna holds very well in the refrigerator for a couple of days. Although it is very good if served right away, it becomes even better after some time in the fridge, when the flavours are fully integrated.