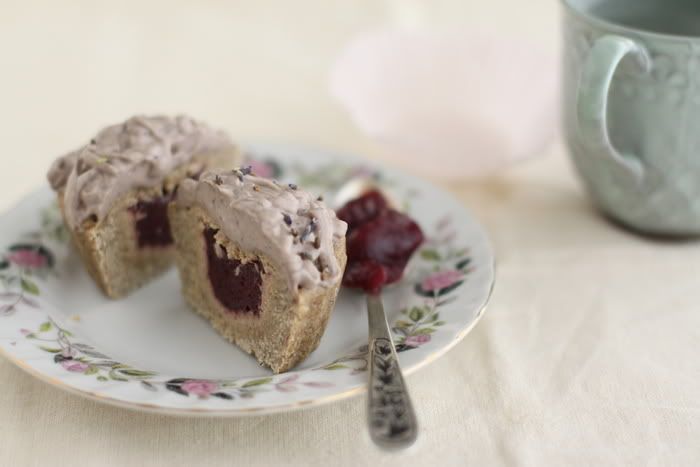 We always get so busy this time of year. I don't know what it is about fall that does that to us, but probably the combination of back to school madness and the end of lazy heat and abundant daylight. But I know that excuses are no fun to read about, so here are some muffins.
There was a time when I used to bake and experiment with healthy varieties of muffins almost every weekend. (Orange-almond and mustard-cheddar probably stand out the most in my memory.) There is nothing quite like a batch of freshly baked muffins on a Saturday morning. And so the time came to try out an unbaked version.
We made these muffins a little while ago, at the peak of the grape-fig season, but just got around to posting about them. The good news is that you can substitute Concord grapes and figs with pretty much any seasonal fruits.
That being said, the time of year when figs and grapes are readily available is arguably my favourite time. We eat the two for almost every meal and can never get enough.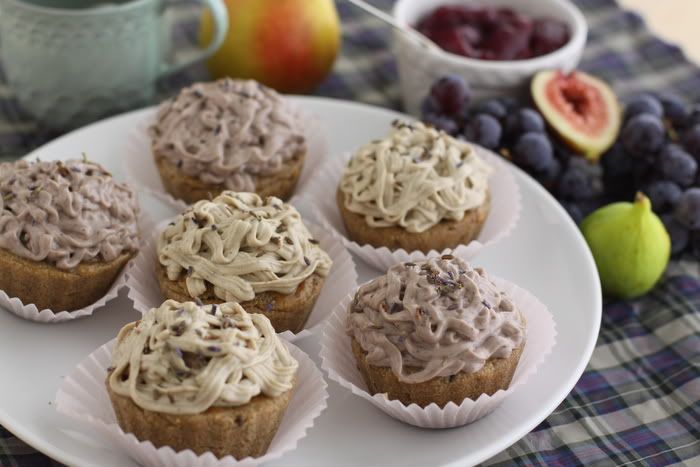 The muffins are lovely – the dough turned out soft, which is always a challenge when working with this type of flour. The magical ingredient here is my favourite Irish moss, which makes for crumbly, soft dough.
We are enjoying the season very much and hope you do as well. Cannot wait to share some new things with you very soon.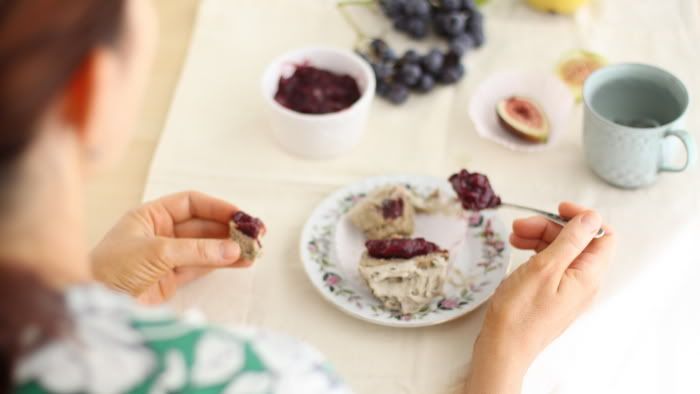 Concord Grape Jelly
1 1/2 cups Concord grapes
3 tablespoons agave syrup, honey, or other sweetener of choice
juice of 1/2 lemon
1 cup Irish moss gel
To make Irish moss gel, rinse Irish moss thoroughly and soak in hot water for at least 10 minutes. Blend in a high-speed blender with enough purified water to reach a smooth gel-like consistency. Keep refrigerated.
To make the jelly, blend the first three ingredients together in a high-speed blender. Run through a fine-mesh sieve, discarding small particles of seeds and skin. Pour the liquid back into the blender, add Irish moss gel, and blend again until well incorporated and smooth. Keep refrigerated.
Pear-Vanilla Cream
1 cup raw cashews
1-2 ripe pears
2-4 tablespoons purified water
1 teaspoon vanilla paste or seeds from 1/2 vanilla bean
Combine all the ingredients in a high-speed blender until smooth and creamy. Refrigerate until ready to use.
Grape-Fig Cream
Same as pear-vanilla cream, just add some concord grapes and/or Black Mission figs instead of pears to reach the desired lavender colour.
Lavender Muffins
(makes about 8 small muffins)
1 cup oat flour
1 cup buckwheat flour
1/4 cup or more ground dry lavender florets
1/2 cup maple syrup powder
1/4 cup Irish moss gel
1/4 cup date paste or lavender infused honey
1 tablespoon vanilla extract
2 or more tablespoons purified water
To make oat and buckwheat flour, soak raw oat and buckwheat groats overnight, rinse well, and dehydrate at 115F until completely dry. Grind in a high-speed blender, or in a simple coffee grinder in batches. Keep refrigerated in an air-tight glass container.
To make muffins, sift together the first four ingredients in a large bowl. In a high speed blender, mix the rest of the ingredients until smooth, adding more water if needed. Add the wet mixture into the dry mixture, combining well.
Fill about 1/3 of each silicone muffin cup with the muffin dough, using a wet spoon. Wet your fingers to make a dent in the middle, pushing the dough evenly to the sides. Fill with grape jelly, top with more dough, evening out on top with a wet spoon.
Place the muffins in the dehydrator set at 115F overnight. Remove from the silicone cups, and dehydrate for another 8-12 hours. Cool completely and top with the pear-vanilla, or grape-fig creme. Sprinkle with lavender and enjoy.