This post is also available in: French
We really love cheese – hard and soft, aged and young, raw, smoked, goat and sheep, from France, Spain, Italy, or Greece, with berries and truffles or without, and the list goes on. Cheese-making has always fascinated me as an ancient craft. There are so many ways of going about it, and so many possibilities to be considered. To me, cheese is the hardest thing to give up if eliminating dairy from my diet.
I've been curious about making nut cheese for a while, but the thought of fermentation at room temperature scared me away, as things can go wrong easily. For the first try, I decided to make soft cheeses using acidophilus, in a process similar to coconut yogurt-making. This is quite a bit easier than making hard nut cheese, which we would love to post about eventually.
I read up on the art of the cheese plate, and many sources suggested offering all three of the most common cheese kinds – cow, goat, sheep. Our variety came from almonds, macadamia, and cashews, the three darlings of the nut world.
The (above) almond cheese was inspired by a variety we often enjoyed back in Russia. In the Caucasus mountain region, there is a strong tradition of adding herbs, salt, and pepper to a soft, homemade cheese. I added Cerignola olives for the saltiness, lots of fresh dill, and it tasted like coming home.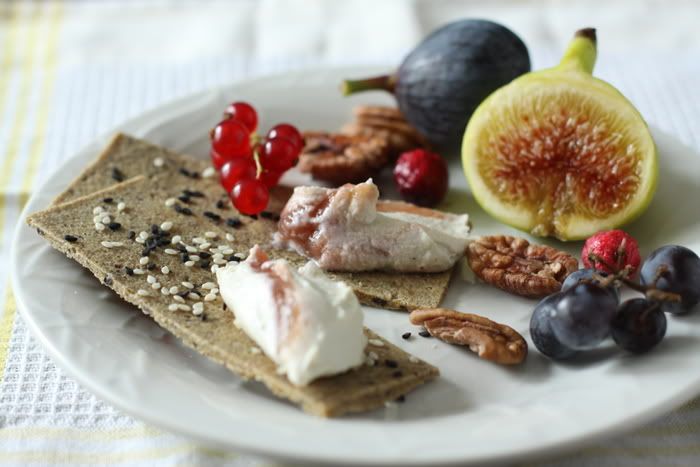 The cashew cheese was inspired by a heavenly fresh goat cheese that I couldn't get enough of in Paris. It was filled with figs and had an amazingly light texture. This one is a sort of dessert cheese, and the light fig jam gives it a whole new dimension.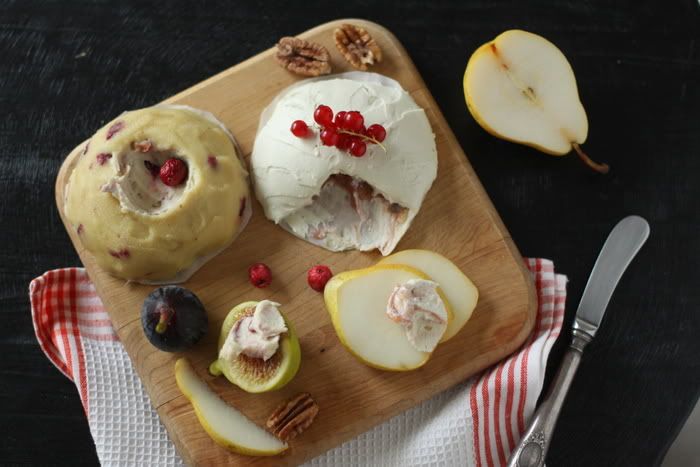 And finally, the macadamia cheese with freeze dried cranberries. After letting this one sit for a while, the cranberries become re-hydrated and add nice tart notes to the slightly sweet flavour of macadamia.
Our cheese plate included the jewels of late summer – concord grapes and figs. I can't get enough of both this time of year and will share some more recipes with them soon. Plain flax crackers, sprouted pecans, olives, cranberries, red currants, and pears completed our cheese plate.
I was thrilled that it wasn't difficult or time consuming at all to make, but most enjoyable to share with friends.
Now I need to learn to make hard nut cheese, and if you happen to know good recipes or helpful techniques, please share them in the comments. Thank you so much, and enjoy this beautiful season.
Cheese Base
1 cup nuts – cashews, almonds, or macadamia
2 tablespoons olive oil
3 tablespoon freshly squeezed lemon juice
3-4 tablespoon non-dairy acidophilus
1 teaspoon raw honey
1 garlic clove
pinch of salt
Soak cashews and almonds overnight. For a better colour, remove the skins from almonds. In a high-speed blender, combine all of the ingredients separately for each type of nut until very smooth. Leave to sit at room temperature for at least 2 hours.
Fig Jelly
1 cup fresh ripe figs
2 tablespoons raw honey or another sweetener of choice
2 tablespoons freshly squeezed lemon juice
1/2 cup Irish moss gel (thoroughly rinsed and soaked Irish moss, blended together with just enough water to rich a smooth gel consistency)
Combine all the ingredients in a high-speed blender, let cool in the refrigerator before using.
Alternatively, you can use a dry fig puree.
Cashew and Fig cheese
On parchment paper, for easy transfer, mound some of the cashew cheese into a desired shape. Top with fig preserve, and carefully cover with more cheese. Carefully transfer into a container with a lid and refrigerate overnight.
Almond Cheese with Dill and Olives
In a medium bowl, mix almond cheese, chopped fresh dill and your favourite chopped olives, salt and freshly ground black pepper to taste. Mix gently and transfer the cheese onto parchment paper. Form a desired shape, then refrigerate in a covered container or dehydrate overnight.
Macadamia Cranberry Cheese
Mix macadamia cheese with dried, or freeze dried cranberries, to taste. Transfer to parchment paper and form into a desired shape. Refrigerate in a covered container or dehydrate overnight.