Everyone has that one particular place where they feel most inspired. Where ideas rush into the mind, after which comes excitement and the urge to do and create. For me, this place has always been the kitchen. All the things I see and like in life somehow end up influencing our meals. During my day job, I often think about the foods I will prepare and the ways we will present and photograph them.
And like most inspired cooks, I am very influenced by the season and weather. We come home from the beach, Paloma covered in sand from head to toe, salt in our hair. This is when I can't help but picture what should be on our table after a day in the water and sun.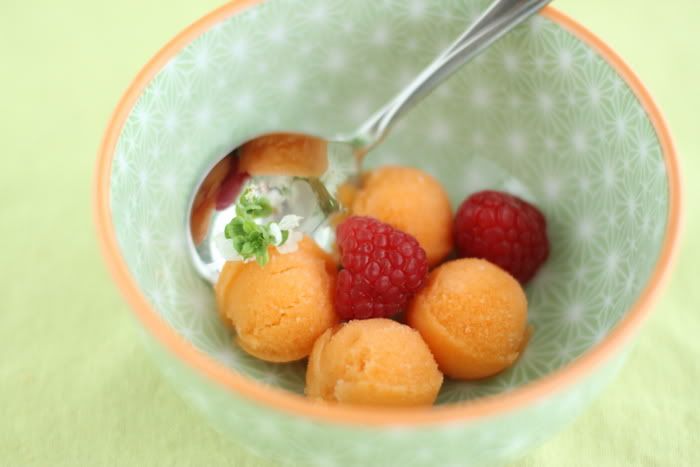 One of our mandatory stops in Paris was Berthillon ice cream on the Île Saint-Louis. Never mind the long line, we returned to it twice. We knew ahead of time exactly what flavours to try, but jet lag made us silly, and we showed up not knowing their French names. After a short communication with a very efficient server, we got what we got, and it wasn't what we planned for, but it was better. Among those unexpected treats was a heavenly grapefruit sorbet that I've been thinking about ever since.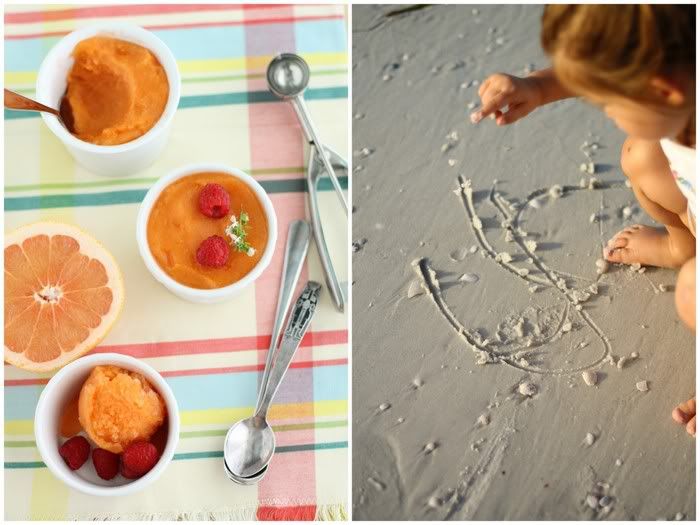 At home, I attempted to make it the way I've done every other sorbet before. But grapefruit behaved differently once frozen, it turned into hard ice. After some investigation, I realized that this specific fruit requires a small amount of alcohol in order to retain a creamy sorbet texture. The alcohol does not freeze and prevents the sorbet from turning hard. (Do you know of any other ways?)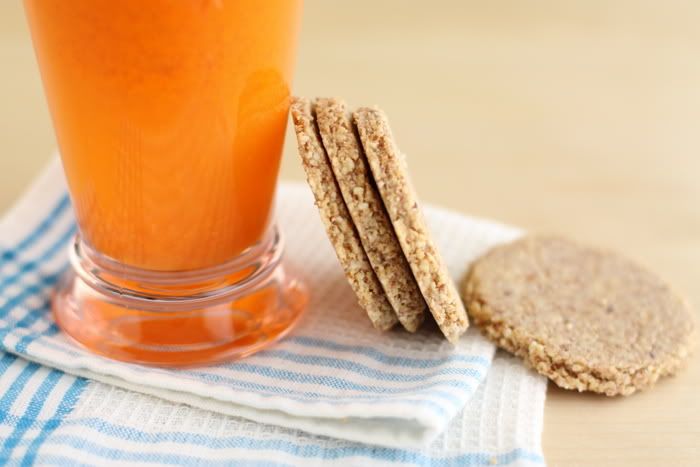 The idea to combine grapefruit with carrot came from one of our favourite juice combinations – carrot, grapefruit, and ginger. I didn't add ginger to the sorbet, but served it with these crunchy ginger snap cookies instead. So good, especially if you don't mind the bitter notes of grapefruit. And how can I not mention the brilliant orange colour? To me, that's the hue that best represents summer, sun, and heat.
Talk about being influenced by the season.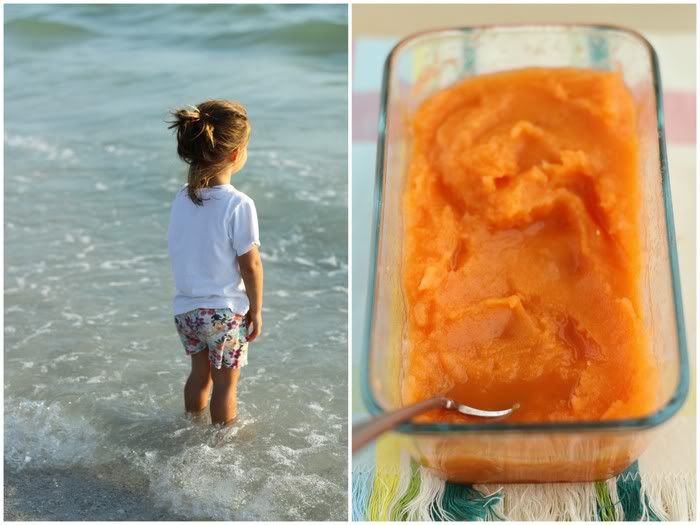 Grapefruit Carrot Sorbet
4 grapefruits – pulp and juice (about 3 cups)
1 cup fresh carrot juice
1/4 cup raw honey or agave
1 cup purified water
3 tablespoons vodka
Blend all of the ingredients in a high speed blender until smooth. Chill well and put into an ice cream maker for 25 minutes or however long your brand of ice cream machine suggests. Freeze for at least 4 hours before serving.
Gingersnap Cookies
2 cups ground raw almonds – preferably soaked and dehydrated
1/2 cup sprouted pecan butter or almond butter
1/4 cup plus 2 tablespoons raw honey or another sweetener
3 teaspoons ground ginger or more to taste
1 teaspoon vanilla extract
pinch of sea salt – optional
In a mixing bowl, combine all the ingredients well to form the dough. Using a rolling pin, roll out the dough between two sheets of parchment paper or Teflex sheets, forming an even thickness. Cut out the cookies of desired shape, and carefully transfer them to screened dehydrator trays. Reform the dough that remains after cutting, then re-roll and re-cut again. Dehydrate the cookies at 115F for about 16 hours or until nice and crunchy.