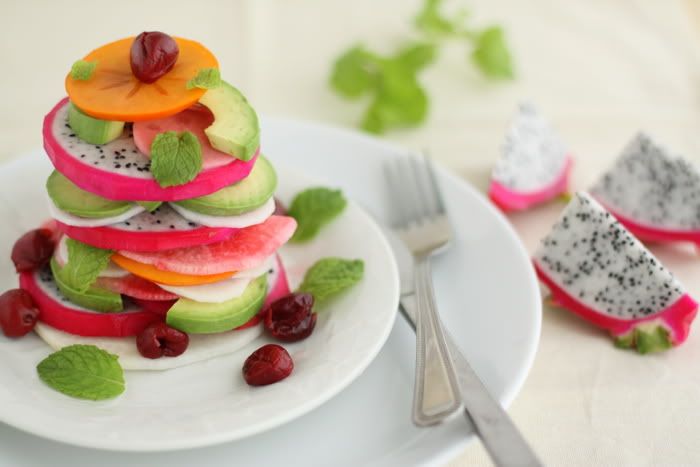 I love visiting Asian markets – they are always full of surprises and things that to me are unknown and curious. As a result, I often leave carrying many more items than I originally plan to buy. This particular time, there were dragon fruit – ripe, hot pink, as if aflame, and absolutely irresistible. I had never tried dragon fruit and didn't know what kind of dish I will use it in, but just had to buy a bunch. I also couldn't pass by my favourite persimmons, which have been unusually abundant this summer at the same markets.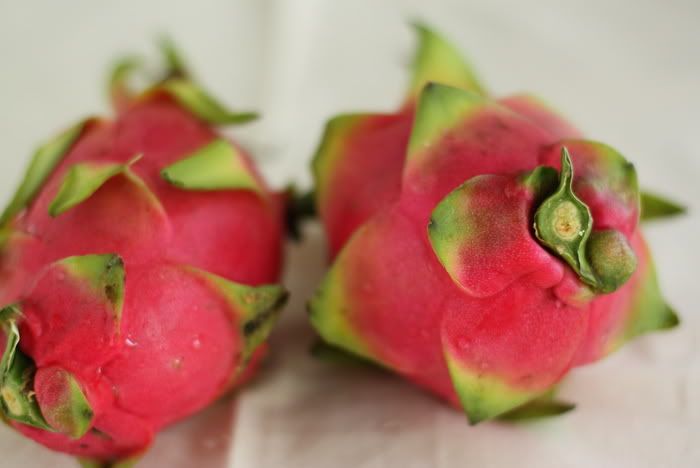 The idea for this salad came later, on my drive back home. It was a total experiment, an attempt to combine soft textures and mild taste of dragon fruit and avocado with sweet persimmon, crisp and tangy pickled roots, and sour cherries. Plus a touch of fresh mint and sesame dressing to complete the bouquet. I wanted to see all those colours and textures layered to make a beautiful, multicoloured dish, similar to a lasagna we posted about last summer.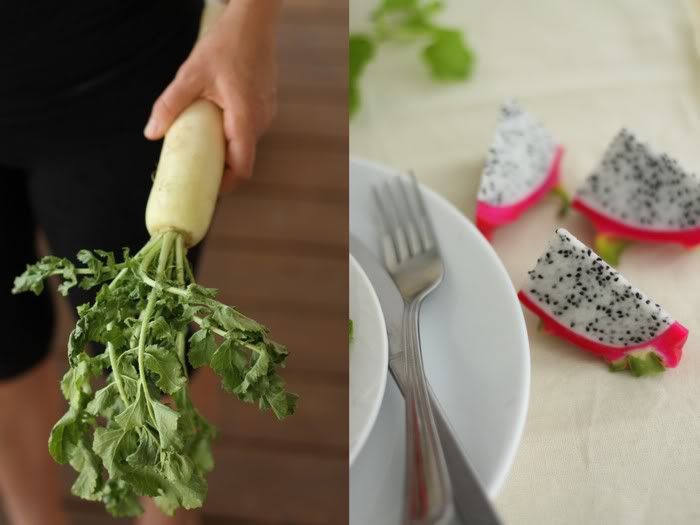 As for sour cherries, they are another summer fruit from back home that I miss very much. I heard that they are sometimes available fresh at markets up north, but have never seen them here in Florida. Whenever I can hunt them down frozen at Eastern European markets, I usually grab as much as I can. They preserve nicely and taste almost the same as fresh, once thawed. Just like black currants, another rarity here, sour cherries have a unique taste and colour that make it difficult to find any good substitute for them.
Pickling the cherries together with jicama and Daikon radish, turns the root slices a beautiful pink, which gives the salad additional tones of colour. In fact, those pickles go well with almost any green salad, if you happened to make more than you need for your dragon fruits.
The preparation here is simple, while the finished product is impressive in looks and taste. Just pickle, mix the dressing, slice, layer, and you are in business.
Paloma couldn't get enough of dragon fruit, which is interesting, considering its neutral taste. She ate a whole one by herself, bringing me the cleaned out pink skins to throw away. I'm always excited when she enjoys a new food.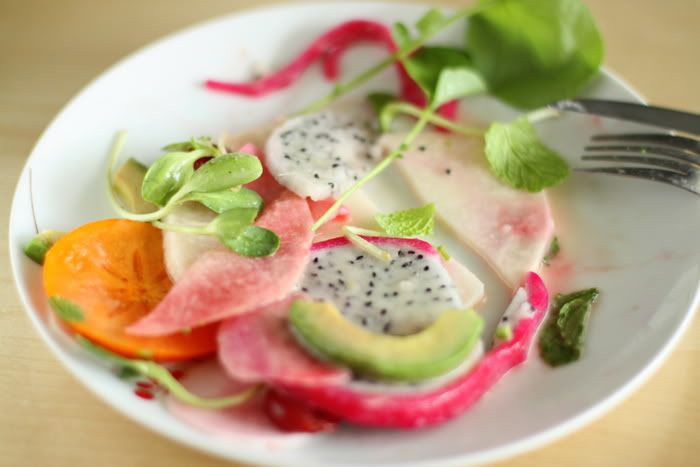 Pickled Cherries, Jicama, and Daikon Radish
1 cup or more fresh or thawed sour cherries – pitted
1/2 medium sized jicama – sliced
a few slices of Daikon radish
1/2 cup raw apple cider vinegar
3 tablespoons raw agave nectar or another sweetener of choice
In a small bowl, combine the apple cider vinegar with agave. Pour over the rest of the ingredients and let it sit for thirty minutes. Drain and keep refrigerated in a covered glass container until ready to serve.
Dragon Salad
2 or more dragon fruits – sliced
1-2 avocados – sliced
1-2 persimmons – sliced (optional)
few sclices of fresh jicama and Daikon radish
pickled cherries, jicama and Daikon radish
fresh mint leaves
Sesame Dressing
1/4 cup sesame oil
1/4 cup chopped ginger
1/4 cup lemon juice
1/3 cup mirin (find it at an Asian market)
1/4 cup agave syrup
Blend all ingredients until smooth.
Assembly
Arrange your layers in any order you like, alternating the ingredients and colors. Carefully pour some dressing over the salad. Optionally, serve with additional greens, like watercress, or arugula, and sunflower sprouts.