This post is also available in: French
Hope everyone in hurricane Sandy's path is staying safe, warm, and dry.
Now to pears – what a perfect fall fruit. I mostly love their mild, grainy taste and versatility. They are great in sweets, but also work as a special addition in savouries. Right now I've got a pear tart going in the oven, but here is another one made earlier this week.
Poaching is a cool way to prepare pears, it makes them sweeter and melt-on-your-tongue soft. Poach them in wine, spiced water, or tea, which is what I did here. Rooibos is a South African tea that I'm very fond of, it's caffeine-free and has a nice, warming taste.
And of course autumn is the time to eat all the cinnamon you can handle. I spiced the poaching tea with cinnamon and ginger and let it reduce to later use as a syrup.
Enjoy and stay cozy.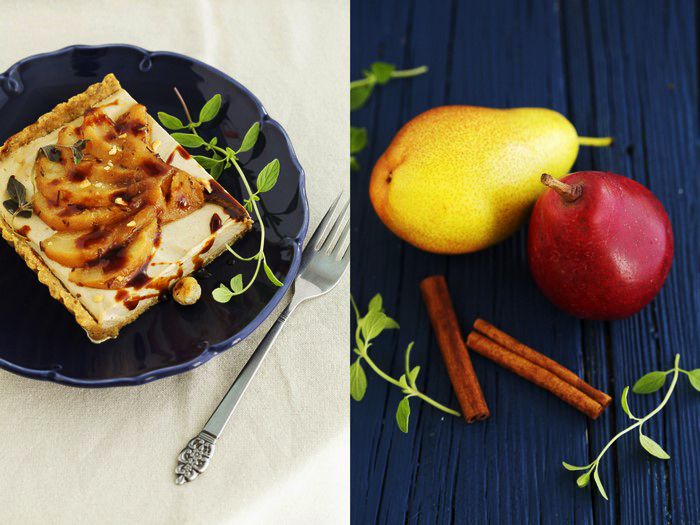 Pear Tart
Crust
1 lemon- zest and juice
1 pear – cored and roughly chopped
1″ piece of ginger root – peeled and roughly chopped
1 tablespoon maple syrup
2 tablespoons chia seeds
3 tablespoons melted cacao butter
1/2 cup coconut sugar – powdered
1/2 tablespoon vanilla extract
1 1/2 cups oat flour
1/2 cup coconut flour
1/4 teaspoon salt
In a high-speed blender, combine the lemon zest and juice, pear, ginger, maple syrup, and chia seeds, set aside. In a bowl, mix cacao butter with sugar and vanilla, then add the pear mixture to combine. In a separate bowl, combine oat and coconut flours with salt, then mix the wet mixture in to make a dough. Press it into an 8″ diameter tart pan or square pan. Dehydrate at 115F for 6-8 hours, remove from the pan and dehydrate more until dry.
Spicy Rooibos Poached Pears
4 ripe, firm pears – peeled, cored, and halved
2 lemons – juice and zest
3 1/2 cups purified water
1/3 cup red Rooibos tea
1 cup coconut sugar
3 tablespoons maple syrup
3-inch piece ginger – peeled and chopped
1 cinnamon stick
Put everything in a large saucepan, bring to a boil. Lower the heat and simmer for 15 minutes. Take pears out, strain the liquid, leaving the ginger pieces and cinnamon stick in. Reduce the poaching liquid for about 30 minutes, until syrupy.
Filling
3/4 cup cashews – soaked for 4 hours
1 2/3 cup nut milk
1/2 cup agave syrup or other liquid sweetener of your choice
3/4 cup coconut oil
0.7oz/19g Irish moss – rinsed thoroughly and soaked in hot water for at least 10 minutes
1 tablespoon coconut sugar
3 cardamom pods – seeds crushed in a mortar and pestle
1 teaspoon ground cinnamon
1/2 teaspoon ground nutmeg
2 tablespoons poaching syrup
In a high speed blender, combine cashews with 2/3 cup of nut milk, 1/4 cup agave, and half of the coconut oil until smooth. Set aside, don't wash your blender. Blend 1 cup of nut milk with the Irish moss, coconut sugar, spices, poaching syrup, and the remaining half of coconut oil. Pour into a large bowl, fold in the cashew mixture, and mix well to incorporate. Fill the crust, let cool in the refrigerator to set. Top with 4 pear halves. Use the rest as a pudding topped with the remaining pears, sprinkled with the poaching syrup and toasted hazelnuts if you wish.