We haven't posted a drink recipe here for a while now. That's a bit strange, since we enjoy some kind of shake or juice every day. Let's correct that situation.
Making a smoothie is a clever way of packing many nourishing ingredients into one glass. They're especially great for kids, who will love their pretty colouring and fruity taste. Paloma drinks almost any kind of smoothie, and it is a great opportunity for me to bring variety to her diet.
I like to get creative with these drinks, as in the case of this layered one, featuring two superberries from opposite sides of the world.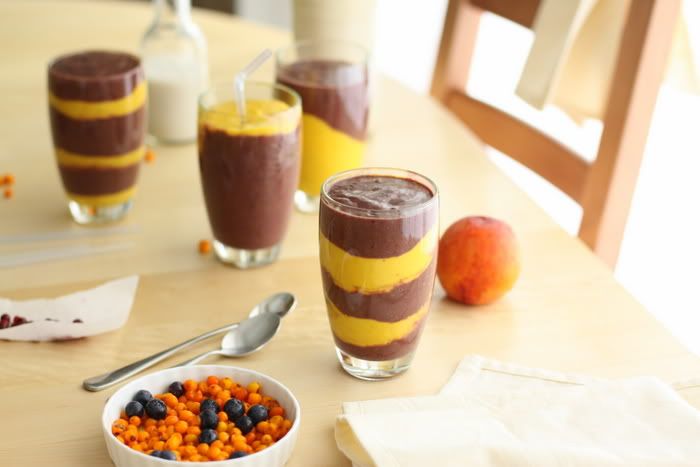 I was delighted to find frozen sea-buckthorn berries at the Eastern European market the other day. I've forgotten all about them, since I've been away from that part of the world for a while now. Seeing the beautiful little berries brought back all kinds of memories.
In Russia, sea-buckthorn is seen as a highly medicinal, healing plant. Foraging the berries is challenging, because the branches have sharp thorns. That never stops people from gathering them enthusiastically during the season, however. Folk tales insist that even a bad scratch from the thorns will never be infected due to the special medicinal juices oozing from the plant. The berries are often made into preserves, jams, and even oil is extracted from the plant. Our grandmothers believed that sea-buckthorn can cure any ailment, from a common cold to ulcers and diabetes.
And now to the superberry of the New World – açaí. This one is probably old news to most, as it has been popping up everywhere in the recent years – in juices, supplements, and cosmetics. Açaí is native to Central and South America and is not only very good for you, but also delicious. The best way to enjoy it is in the form of frozen puree (we use Sambazon brand), which has no additives.
We have to thank Green Kitchen Stories for introducing us to this product and for their great recipe of the açaí bowl. As they predicted, the bowl became our obsession and one of Paloma's most beloved breakfasts.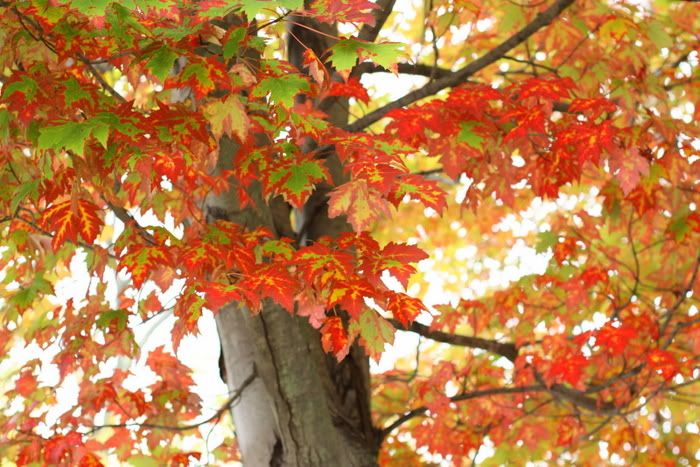 Layering the two smoothies does not only make for a pretty result, but also leaves you with a glass of great flavours, amazing colour, and the combined unique benefits of these two berries. The fact that you are most likely to find both of these berries frozen, means that you can enjoy them during any season. We did it while staring at the beautiful turning leaves. Cheers to autumn!
Sea-buckthorn Smoothie
2 cups pineapple chunks
1 ripe banana
1 cup diced ripe mango
1 cup sea-buckthorn
3 tablespoons raw honey or agave
1 1/2 cups nut milk or coconut water
Combine all the ingredients in a high-speed blender. You can eliminate the sea-buckthorn and you will get a tropical smoothie that is very good on its own.
Açaí Smoothie
(adapted from GKS)
2 packages of frozen acai Sambazon puree
2 ripe bananas
2 tablespoons hemp protein
1/2 cup frozen blueberries or strawberries
1/2 cup nut milk
Run the frozen acai packages under hot water. Cut one end of the package – the puree should slide out easily. Cut it in chunks and combine in a high-speed blender with the rest of the ingredients.
To assemble, gently pour the smoothies into glasses, alternating the layers. Tilt the glass if you want to create slopes.