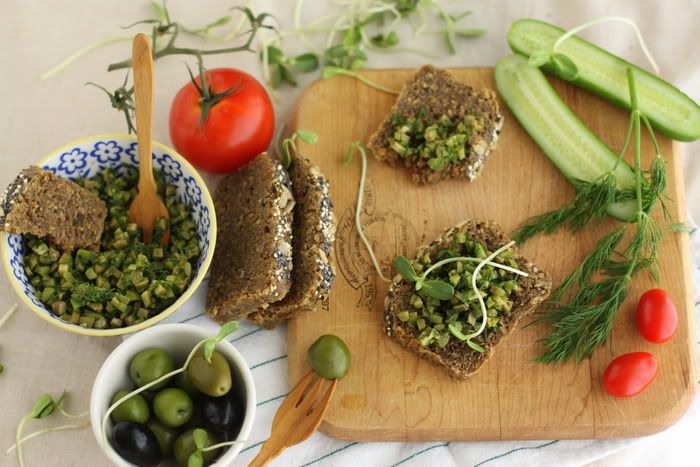 I spent the other weekend visiting Paloma's big sister in New England. I was looking forward to seeing beautiful foliage, which we lack here in Florida. We got a snowstorm instead. Sunday morning surprised us with fresh snow laying on the yet green lawns, and sparkling in the bright sun. We were the lucky ones who didn't loose power. It was very exciting to be able to catch a little bit of two seasons in one short trip, especially because we hardly experience them in Florida.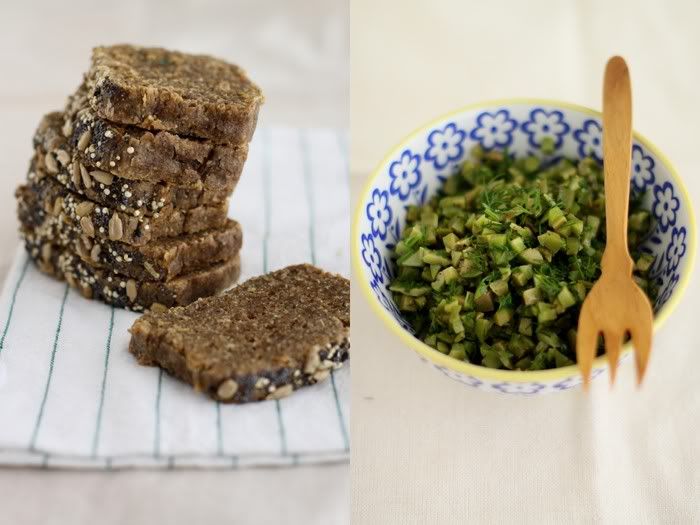 As for being back home, we opened the windows and turned off the air conditioner this weekend. The air is finally crisp and even chilly enough to get us thinking of building a fire in our fire place. (Yes, ironically, we have a fire place!) The next thought, of course, is of comfort food.
At this time of year it has to be something rich, nourishing, earthy. Bread.
I've been looking forward to sharing this recipe very much, only because it is really good. Raw bread is tricky. I've made a few varieties before this one, but none tasted quite right. There is always a certain strange note, which gives away the fact that the bread hasn't been baked.
Well, the caramelized onions change everything. They make the bread flavourful, wholesome, and entirely bread-like.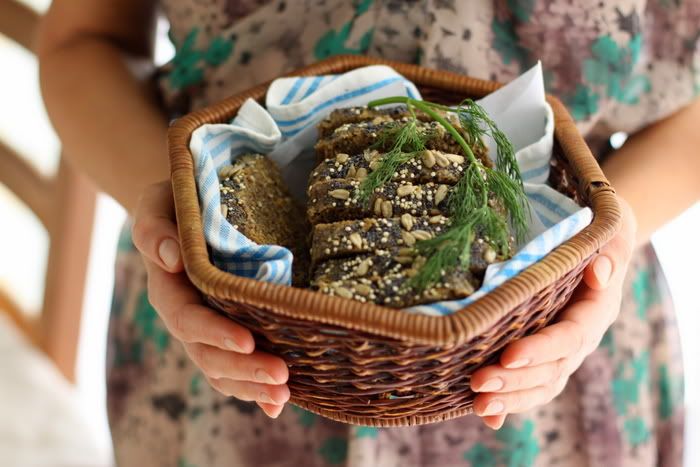 This bread does not need much in terms of toppings. It can easily be enjoyed on its own, eaten like an onion pie. But there can never be enough olives, as far as I'm concerned. We always have a jar of whole olives in the fridge. Paloma eats them as a snack in daycare, and they are great in all kinds of salads. This tapenade is incredibly quick and easy to make, and wonderful on any breads or crackers of choice.
Cozy up and enjoy the season.
Caramelized Onions
5 large onions – sliced thinly
juice of 1 lemon
3/4 cup dates – pitted
3 tablespoons nama shoyu
2 tablespoons olive oil
1/4 cup brown rice vinegar
1/4 cup water or more for thinning
Cover the onions with warm water mixed with the lemon juice for 30 minutes. Rinse well and drain. Combine the rest of ingredients in a blender and add to the onions. Let sit for about 30 minutes. Drain the excess liquid. Dehydrate at 115F for 15 hours or until crisp.
In a food processor, add 1/2 cup of soaked and dehydrated pecans or walnuts, and pulse together with the caramelized onions into medium sized pieces – this step is optional. Set aside.
Onion Bread
(adapted from Immer Wachsen)
1 cup raw, sproutable, gluten-free oats – soaked and dehydrated
1 cup raw sunflower seeds – soaked and dehydrated
1 cup psyllium husks
1/2 cup flax seeds
1/2 cup hemp seeds
1 teaspoon sea salt
2 cups purified water
1/4 cup olive oil
1/4 cup Irish moss gel
1 tablespoon raw honey
juice of 1 lemon
Combine all the dry ingredients in a high-speed blender, grinding into flour. You may need to do it in two batches. Alternatively, use a coffee grinder to grind the grains and seeds. Pour the flour into a food processor.
Combine the rest of the ingredients in a high-speed blender until smooth. Add the liquid to the flour mixture in a food processor and mix together. Transfer the mixture into a medium bowl, add the caramelized onions and combine well.
Shape the bread into a desired form, using your hands (wetted) or a spoon. Drizzle with honey and sprinkle with sunflower/sesame/poppy seeds and sprouted quinoa.
Dehydrate at 115F for about 8 hours, then slice into pieces and dehydrate further until dry enough, or to you liking.
Green Olive Tapenade
1 1/2 cups green olives such as Castelvetrano or Green Cerignola – pitted
1 tablespoon freshly squeezed lemon juice
1/4 cup olive oil
1 handful fresh dill or parsley
freshly ground black pepper
Chop the olives and herbs into small pieces and mix in the rest of the ingredients. Or combine everything but the herbs in a food processor, adding the herbs at the end to combine.