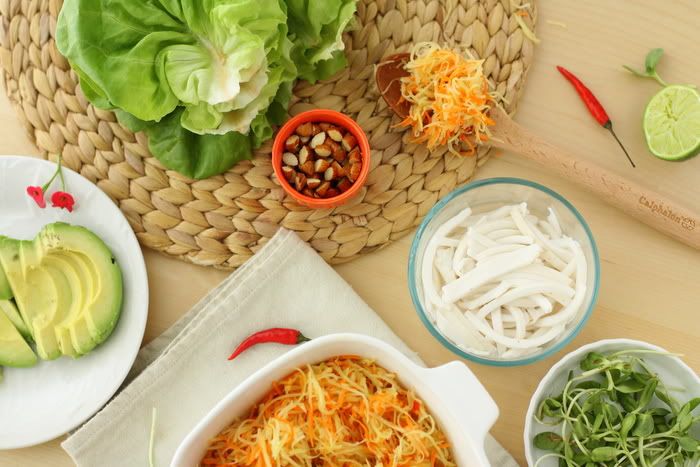 Here is another dish that I crave during the hottest months of the year. These wraps are great for long, lazy summer conversations. Just place all the components in the middle of the table and let your friends participate, assembling their own portions.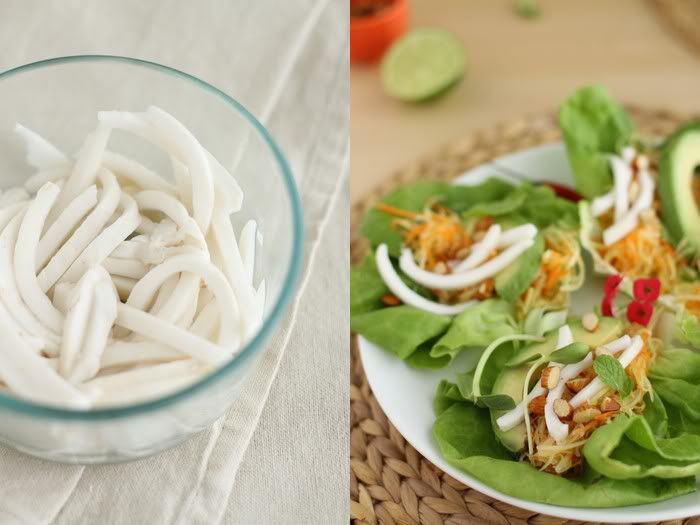 These wraps were very much inspired by Vietnamese cuisine, where the flavours are bright and fresh with plenty of herbs and, often, a great crunchy texture.
The julienned green papaya salad adds the said crispness, and a spicy kick comes from the added chili pepper and ginger. The bold flavours of the salad are then balanced with rich and creamy avocado and coconut meat. Top it off with salty almonds and sprouts, and you'll have a light and very refreshing summer lunch or dinner.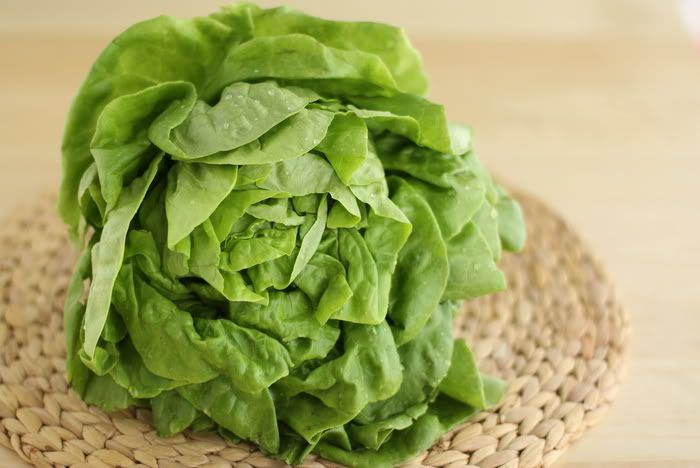 As wraps, we like to use Boston lettuce leaves, they are very pretty and soft, and work wonderfully with the rest of the ingredients. But any other leaf or even rice paper would do just fine.
The great thing about this dish is that many of the components can be prepared ahead of time, and the assembly is a breeze.
We are in New York at the moment, amazed by the splendor of local produce. We'll tell you all about it next week. Hope you enjoy your weekend.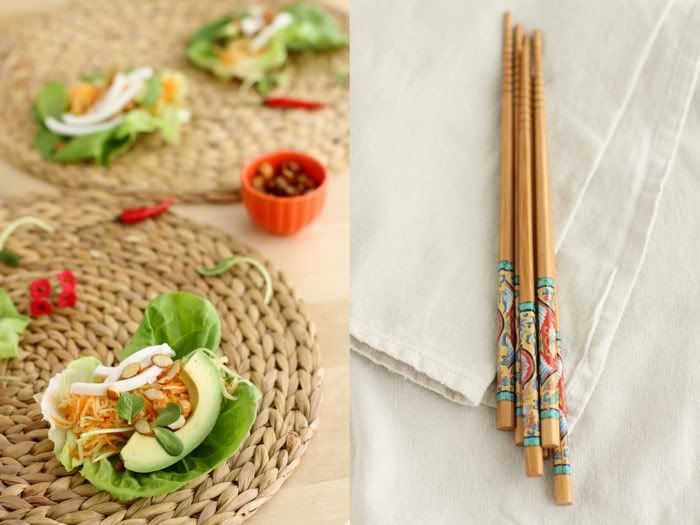 Vietnamese Summer Wraps
(adapted from Raw Food/Real World)
Julienned Salad
1/4 cup nama shoyu
1/4 cup mirin
1/4 cup freshly squeezed lime juice
1 tablespoon sesame oil
2 tablespoons agave syrup
1 small chili – seeded and minced
1 small green papaya-peeled, seeded and thinly julienned
1 large carrot – thinly julienned
a carrot sized piece of daikon radish- thinly juliened
1/4 cup fresh ginger – thinly julienned
sea salt
In a small bowl, whisk together the nama shoyu, mirin, lime juice, sesame oil, agave, and minced chili. Pour the mixture over the julienned vegetables, sprinkle with salt and toss to combine. Let sit for at least 30 minutes. Drain before serving.
Assembly
1/2 cup chopped almonds – preferably soaked and dehydrated
1 tablespoon (any) nut oil
sea salt
1 head of Boston lettuce or another wrapper of choice
1 cup meat of fresh young Thai coconut – sliced (can be omitted, just add more avocado)
1 ripe avocado – peeled, pitted, and sliced
1 handful fresh basil and/or mint leaves
1 handful sunflower sprouts
Mix the almonds with oil and salt to taste, set aside. Separate the leaves, wash and dry gently with paper towels.
Place a small amount of the julienned salad in the middle of each leave, add avocado slices, coconut meat, herbs and sprouts, and sprinkle with salty almonds. Carefully fold in the sides and enjoy.