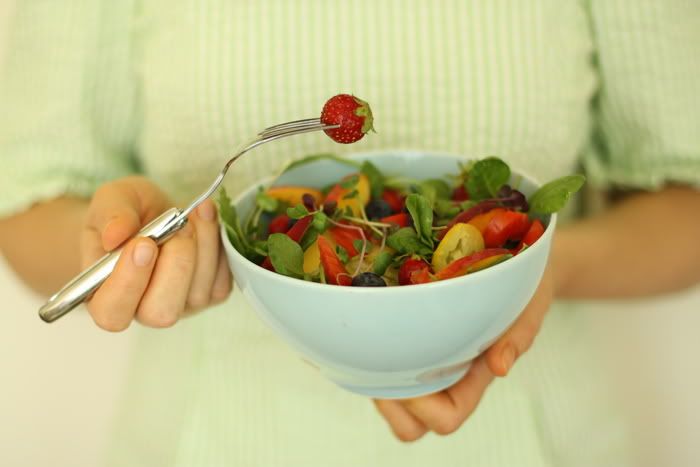 Last weekend, I got a chance to travel to New York, a city I love very much. I had a few particular places to visit in mind and, unsurprisingly, they were mostly food-related. Pure Food and Wine, Chelsea Market, Hangawi, the list went on. But most of all, I couldn't wait to explore the Union Square Greenmarket.
I'd been to the Greenmarket once before. It was in the dead of winter, and I was amazed by the variety of potatoes and other root veggies being sold, and how the vendors braved the cold, wrapped in layers of clothing.
Goodies from the market, like a Dutch still life painting.
The summer market, of course, is a completely different experience. The stands are overflowing with colour and assortment, there is abundance all around. To me, it's paradise, a candy shop. I'm not sure how much time I spent at a certain microgreens tent, trying to pick the prettiest of the twenty offered kinds (which is impossible), but I am pretty sure it was an inappropriately long while. In case you are wondering, radish microgreens took the prize.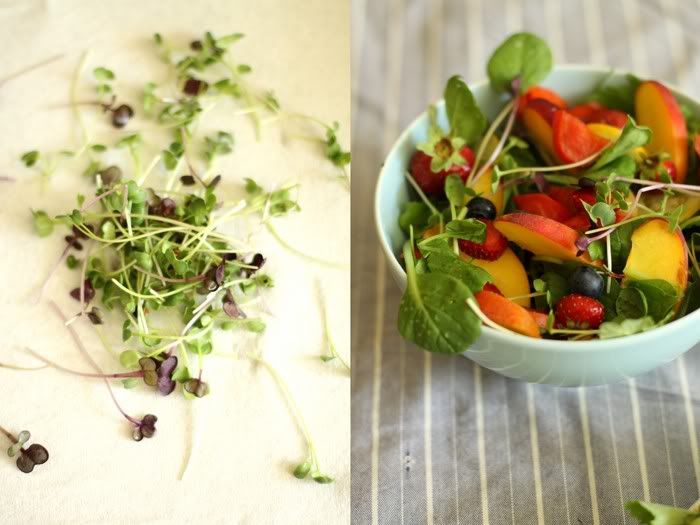 I loved the crowd, in their straw hats, with loaded canvas bags, smelling the peaches for ripeness, digging through mounds of heirloom tomatoes to find the prettiest, carrying home beautiful bouquets of flowers. And the vendors – so passionate, friendly, ready to talk about their product and how to prepare it for best results.
This heirloom tomato display was especially picturesque, they were huge and plump, and so beautifully coloured.
We took it all in, making many rounds, snapping photos, picking the best produce. And imagining what to prepare for lunch. It had to be something simple, as we were away from our usual kitchen appliances, and the produce just spoke for itself.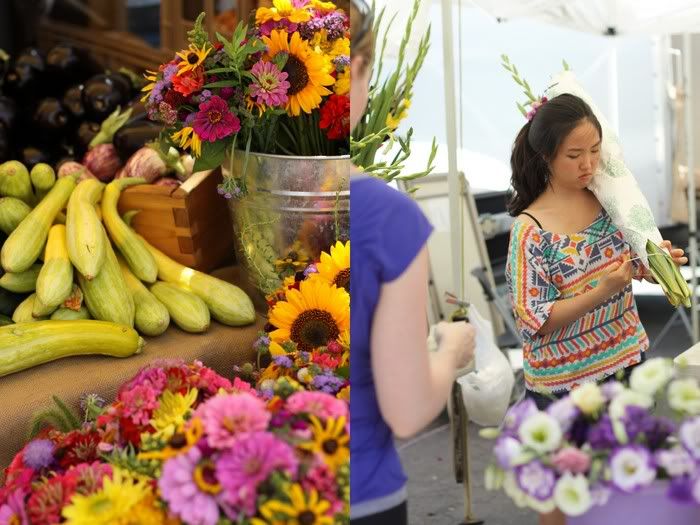 This girl was selling flowers and had flowers in her hair.
A salad with fresh, tender greens, heirloom tomatoes, sweet peaches and berries, topped with microgreens, is what we made. It was as if the greenmarket was miniaturized and placed into a bowl.
For the dressing, we used lavender, honey, and apple cider vinegar. There was a lavender vendor at the market, and upon approaching her tent, we were surprised with the delicious and calming scent of her dried lavender bouquets – absolutely irresistable. The slightly sweet dressing added another hint of summer to the mix.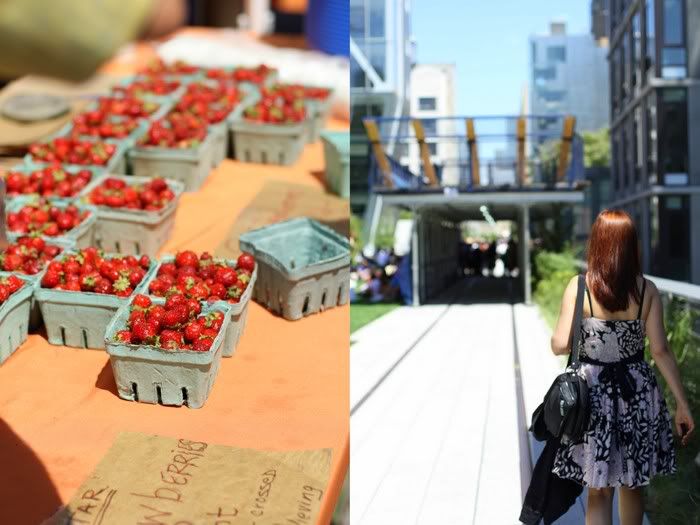 After the market, we were set with food for the next couple of days, although tempted to eat it all at once.
I was so glad to see that such a beautiful, positive place existed. The people shopping there looked excited to be buying the wonderful, fresh produce, grown mindfully.
I only wish there was a market like this in every town.
   This tomato left us speechless.
Another highlight of the trip was finally having dinner at Pure Food and Wine. I've talked so much about my admiration for Sarma Melngailis, the proprietor of the restaurant. Her cookbooks are always on my kitchen table, with many bookmarks sticking out of all sides.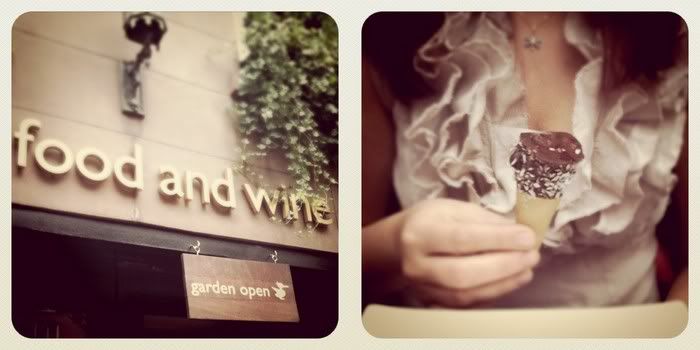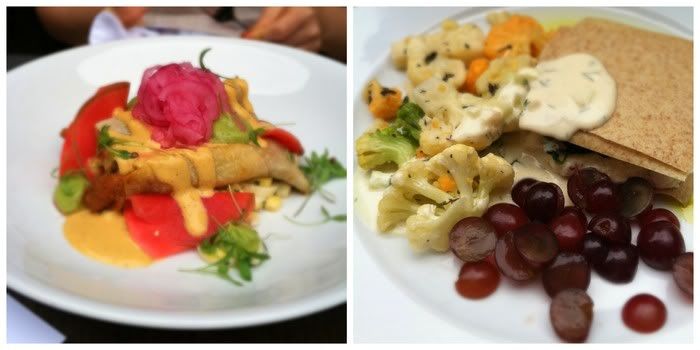 Hen of the Woods Tacos al Pastor and Spanakopita with Spinach, Almond Feta, and Cucumber Yogurt at Pure Food and Wine
Our meal was incredible, accompanied by the cozy setting in their famous garden. It seemed very natural that such fresh and beautiful ingredients came together to make something so tasty. And the dessert, a chocolate ice cream trio with Indian spices, was a perfect finish to a perfect evening.
One evening, we made squash blossoms stuffed with eggplant.
Also, tasty popsicles on the High Line, Van Gogh's delicious brushstrokes at the Met, morning and evening walks through Central Park, and a bit of summer thunderstorms thrown into the mix.
It's always so nice to be able to get away and experience a change of setting, even if only for a few days. It was a great weekend.
Market Berry Salad
(Serves 2 -4)
market fresh baby greens – any variety
1-2 heirloom tomatoes – sliced
2 ripe peaches – sliced
handful of strawberries – sliced if needed
handful of blueberries – optional
handful of microgreens – any variety
Lavender Dressing
6 tablespoons olive oil
2 tablespoons apple cider vinegar
1 tablespoon lemon juice
2 tablespoons raw honey
1 teaspoon Dijon mustard
1 teaspoon dried lavender flowers – ground or whole
In a small bowl, whisk all the ingredients together and let infuse for about 30 minutes. Pour over the salad, and enjoy.