This post is also available in: French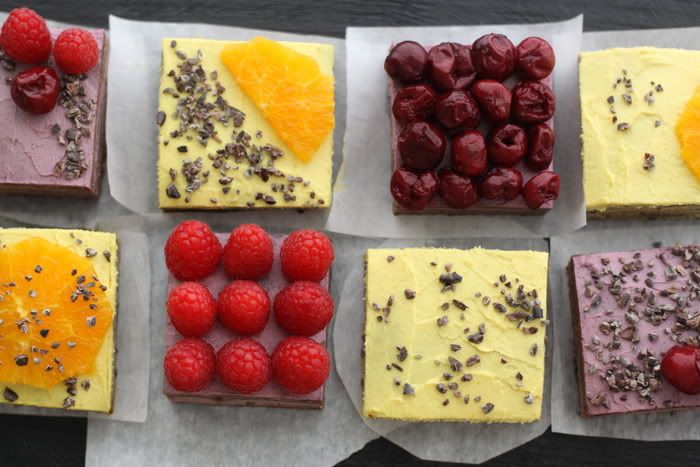 We thought it would be nice to share a comforting treat, when a large part of the country is waiting for Irene, and so many people are stuck indoors. This time around, we've been lucky enough to stay out of the storm's way. But having lived in Florida for almost a decade, we know how painful hurricane business can get.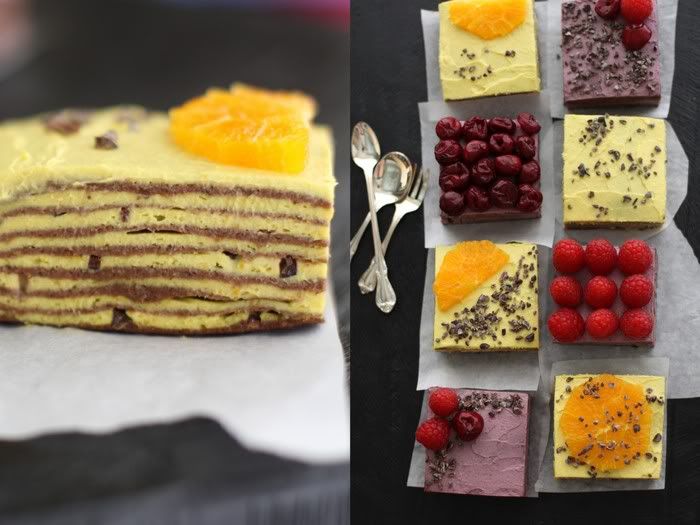 When I think of cozying up at home, the first thing that comes to mind is a steaming cup of tea. I like all kinds – green, black, mate, rooibos, and oolong – it all depends on the season and mood. And tea happens to be the perfect accompaniment to a rich, chocolate dessert.
I think it's safe to say that these layer cakes are our favourite raw dessert out of all I've made. We loved them. So much, in fact, that I prepared them twice already.
I put together those chocolate layers with what I had on hand that day, by just throwing different ingredients into a blender and hoping for the best. Don't you just love when a recipe, that was created on the go turns out well? Coming up with the flavours for the yogurt cream was easy, chocolate is always so enhanced, when combined with either orange or raspberries (or any red berry, really).
First time around, I used rare, frozen berries like black currants, cowberries, and black sour cherries, along with regular fresh raspberries. Black currants and sour cherries give that rich colour and unique, tart flavour to the cream. On the second try, I only used raspberries and blueberries, and the cakes still turned out quite delicious, though a bit less striking in appearance.
And the orange cakes – well, those got the popular vote, as no one could resist the zesty flavour next to the creamy textures and dark cacao layers.
Time to cozy up with a cup of tea. Please stay safe!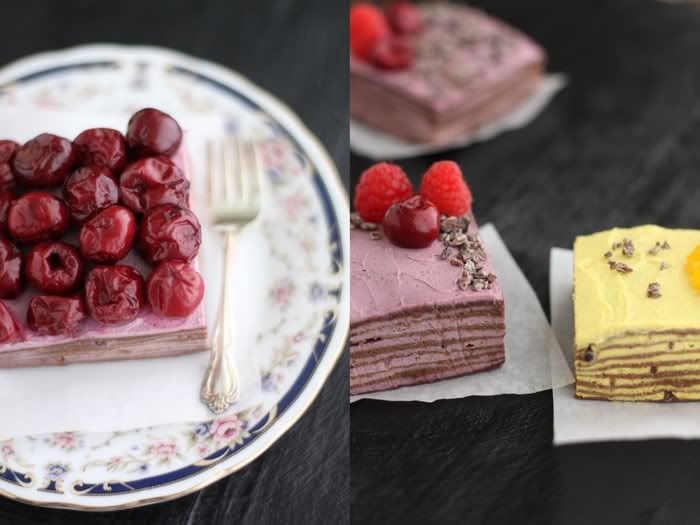 Chocolate Layer Cakes with Black Cherry and Orange
Chocolate layers
3 cups nut or coconut milk
6 tablespoons cacao powder
4 tablespoons cocoa nibs
2 tablespoons vanilla extract
2 tablespoons coconut flakes
1/2 cup coconut oil
1 cup sprouted pecan butter or almond butter
3/4 cup sweetener of your choice (I used Jerusalem artichoke syrup)
1/2 cup almond flour
1 1/2 cups ground flax seeds
3 tablespoons maca powder (optional)
2 tablespoons lucuma powder (optional)
In a high speed blender, combine all the ingredients until smooth. Spread evenly on 5 Teflex lined dehydrator trays. Dehydrate at 115F for about 6-8 hours, or overnight. Flip and peel the Teflex sheet away, then continue to dehydrate on screens only until completely dry. Cut each cracker into 4 pieces, you should end up with 20 total.
Yogurt Cream
1 cup macadamia nuts- soaked overnight
1 cup cashews – soaked overnight
2 tablespoons light agave syrup
1/2 cup water
2 tablespoons vanilla extract
2 tablespoons raw honey
zest of 2 lemons
2 tablespoons freshly squeezed lemon juice
1/2 teaspoon nutritional yeast
pinch of salt
8 tablespoons Bio-k acidophilus
1 cup coconut oil
2 tablespoons sunflower lecithin (optional) – really good for you
In a high speed blender, combine all of the ingredients until smooth and creamy.
Orange Cream
1/2 of the amount of yogurt cream
zest of 3 oranges
1 orange – peeled and cut into chunks
In a high speed blender, combine all the ingredients until smooth. Refrigerate for 1-2 hours before spreading.
Berry Cream
half of yogurt cream
any berries of your choice – add until you achieve the desired colour
If using raspberries or blackberries, puree them first, then run through a fine mesh sieve to remove the seeds.
In a high speed blender, combine all the ingredients until smooth. Refrigerate for 1-2 hours before spreading.
Assembly
Spread a thin layer of the cream on chocolate crackers layer by layer, sprinkling with cocoa nibs on top of each layer. You can use all 10 pieces to make a 10 layer high cake each – orange and berry. Or you can make 8 layer cakes, like we did, and eat the remaining crackers for a snack.
Refrigerate the prepared cakes for 1-2 hours until set and ready to be cut. Cut each cake into 4 even pieces with a sharp knife. Decorate with cocoa nibs, orange slices and berries. Keep refrigerated until ready to serve.