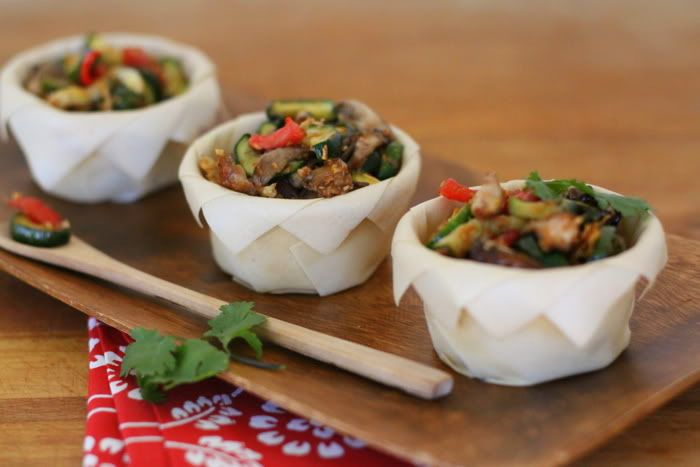 I made this dish before the coconut disaster took place. I'm still not entirely sure what happened, but young Thai coconuts have completely disappeared from our Asian markets, which are my main source of affordable cases of coconuts that I buy quite frequently. Store owners explain that there is a shortage in Thailand, and the coconuts are now so expensive that none of our local vendors are willing to carry them. A reader in Thailand, though, said that she didn't notice any shortage. There, coconuts cost as low as a buck or less in some cases! What a dream…
If you happen to know a good online, or other source for this beloved ingredient, please let us know. We appreciate it.
Now back to our dish, which is another nostalgic recreation of an old time favourite. It used to be broiled vegetables in filo pastry cups, topped with shaved Parmesan. This new version truly resembles the original, but possesses more interesting and complex flavours. The combination of fresh vegetables, caramelized in a sweet and sour marinade, and the delicate texture of the coconut cups is remarkably satisfying.
Optionally, you can colour the cups by adding turmeric, paprika, beet, or basil to the coconut mixture, but we liked them plain the best.
And the highlighter yellow and orange? That is the result of mixing macadamia nuts with yellow and red bell peppers, some lemon, and nutritional yeast to make a bright macadamia cheese. No artificial dyes, yet the colour is scandalous!
Finally, only a few days are left until the voting on Saveur's Best Food Blog Awards closes. We are nominated in the Special Interest Category, you can vote here. Thanks so much for your support if you choose to vote for us!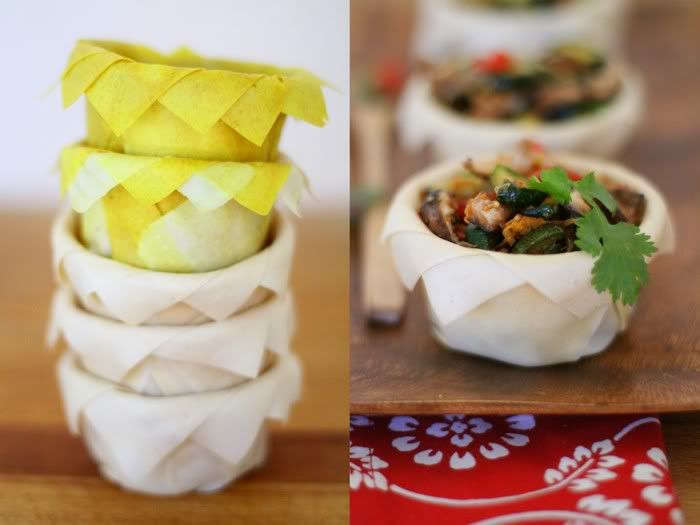 Caramelized Vegetables
1 medium eggplant – peeled and cubed
about 5 fresh shiitake, or 1 portabello mushrooms – stemmed and sliced
1 medium zucchini – sliced in half-moons
1 medium tomato – cut in medium chunks
1/4 red onion – finely chopped
3 garlic gloves – crushed
Marinade
2 tablespoons freshly squeezed lemon juice
2 tablespoons olive oil
2 tablespoon agave syrup or other preferred sweetener
1 teaspoon sea salt
Mix together all the marinade ingredients. Place the vegetables in a glass container with a lid and pour the marinade over them, mix well. Leave overnight at room temperature, then drain, reserving some liquid. Spread the vegetables on Teflex-lined dehydrator trays, dehydrate at 115F for 1-2 hours. Rotate trays once half-time through. At the end, no liquid should be left, but the vegetables shouldn't be dry. Discard the crushed garlic cloves and serve right away. Or refrigerate in an air-tight glass container until ready to use.
Crispy Coconut Cups
(makes about 6-7 cups)
3 cups meat of fresh young Thai coconuts
2-4 tablespoons of coconut water
In a high speed blender, mix the coconut meat and water until completely smooth. Spread thinly on Teflex-lined dehydrator trays. Dehydrate for 2-4 hours at 115F until dry to touch. Flip over and peel away the Teflex sheet. Dehydrate for another 15-30 minutes on the screens, until completely dry, but still pliable.
Cut each coconut sheet into 16 even squares. Lightly oil ramekin cups. Place one square on top of the next, twisting them so the corners are offset. Place in ramekin and press down. Repeat with the remaining squares to form a cup. Dehydrate at 115F until dry and crispy.
Bright Macadamia Cheese
(adapted from Raw Food/Real World)
1 1/2 macadamia nuts
1 1/2 cups chopped red or yellow bell pepper
3 tablespoons lime juice (if using red pepper) OR lemon juice (if using yellow pepper)
1 1/2 teaspoon sea salt
1 tablespoon nutritional yeast – optional
Chop macadamia nuts by pulsing them in a food processor a few times, do not remove from the processor. Using a high-speed blender, puree the bell pepper, lime/lemon juice and salt. Pour over nuts, add nutritional yeast and process until well combined, but still a little chunky. Spread on Teflex-lined dehydrator trays and dehydrate for 6-8 hours. Break the cheese into pieces, flip over, and dehydrate for another 1-2 hours. Store in an air-tight glass container in the refrigerator.
Assembly
Spoon caramelized vegetables into coconut cups right before serving. (Keep the vegetables and cups separate before serving). Optionally, drizzle with your favourite aromatic oil such as macadamia, truffle, or other nut oil. Garnish with cilantro leaves and macadamia cheese. I also used some left over caramelized onions from our turkey tarts for garnishing. I make these onions quite often, as Paloma loves to eat them instead of crackers.
Enjoy!