Hello there, I'm fresh off the plane from Europe, London-Cologne-Paris-London. Home just in time for my friend N.'s 60s themed birthday tea party.
You may remember N.'s son's birthday that we posted about a while back. N. throws the most beautifully thought-out parties, where every detail is pitch perfect and fun. It goes without saying that I'm always excited when she asks me to make the dessert.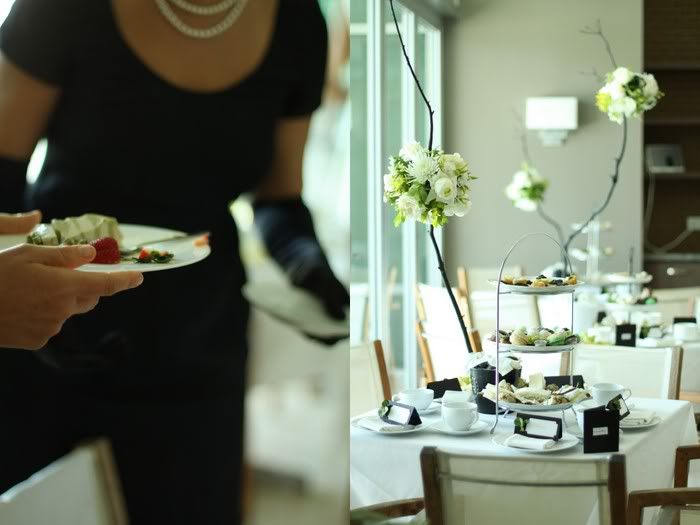 Tired because of jet lag and the overwhelming amount of memories I carried away from Europe, I wanted to make a cake that is unfussy in preparation, but still elegant and tasty.
My choice fell on pudding cake, a simple dessert perfect for afternoon tea.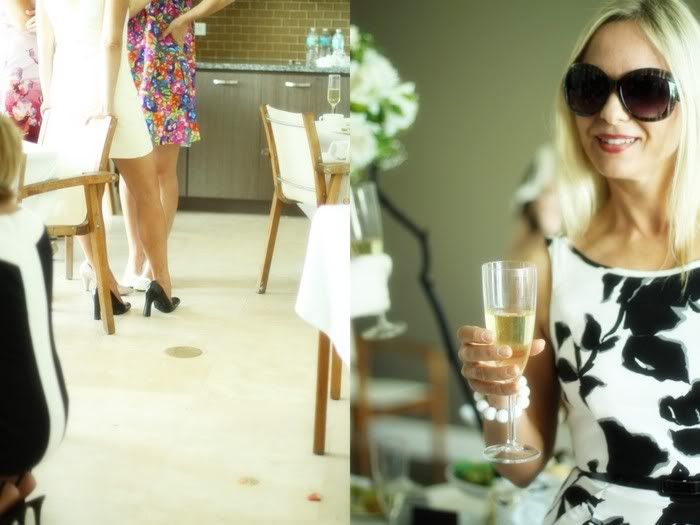 N., an interior design ace, often starts with a colour story and builds a whole world around it. This time it was green, white, and black.
For the cake, I went with green and white stripes. The pudding is initially off-white, its main base being macadamia nuts, coconut milk, and banana. And what better way to achieve the green colour than by adding matcha (green tea) powder? Quite appropriate for a tea party.
The dome shape and minimal decoration was inspired by Fauchon cakes that I saw in Paris. Fauchon is a sort of luxury food supermarket, where much emphasis is put on packaging and design. They carry both sweets and savouries, and their patisserie is mind-blowing and very innovative. In addition, the food is delicious.
Fauchon's cakes are unlike anything I've seen before. The shapes are often extremely simple – domes or very flat rectangles. The decorations seem to be placed instinctively, with a sort of raw confidence that I wish I had more of when it comes to decorating and plating food. One side of a Fauchon cake may be completely covered with edible gold leaf, while the other one remains bare. There is no visible strategy, an effortless feeling that makes for some of the most elegant desserts I've ever seen.
I worked with a dome shape, a thin pistachio crust, and very minimal decoration with strawberries, letting the striped cake speak for itself.
I really enjoyed the party theme, 60s. I'm almost embarrassed to admit what a huge Mad Men fan I am. Any excuse to put a Bardot tease in my hair and paint my eyes like Twiggy seems like a good one.
There were beautiful vintage gloves, clip ons, sweetheart necklines, and bright lipstick. A girls' paradise – it's a good thing it was girls only this time.
The pudding cake is light, nutritious, with subtle hints of matcha, ideal for green-tea ice cream lovers. Alternatively, the pudding can be easily eaten for breakfast.
The birthday girl was happy with the cake, and the guests seemed to enjoy it as well. All good fun, the best possible way to fight jet lag.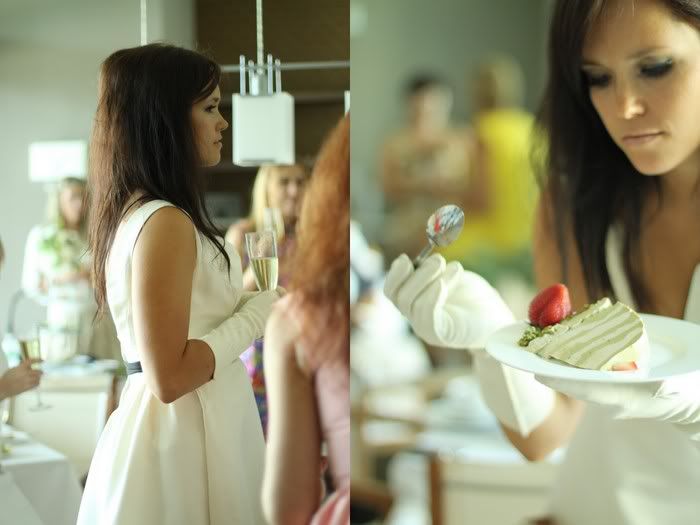 Striped Tea Time Pudding Cake
(adapted from Living Raw Food)
This amount is for a dome mold 8 1/2″ in diameter and about 5″ deep (we used a regular mixing bowl)
Pudding
4 1/2 cups macadamia nuts – preferably soaked and dehydrated
4 1/2 tablespoons coconut butter
6 grams or about 3/4 cup Irish moss – soaked in hot water for 10 or more minutes and drained
3/4 cup raw agave syrup or more if you like sweeter
1 1/4 cup sliced banana
2 1/4 cups coconut milk – see panna cotta recipe
3 teaspoons vanilla extract
1 1/2 vanilla bean – seeds
matcha powder – to taste
Crust
about 1 1/2 cup raw pistachios
1/2 cup dried coconut flakes – untoasted
1 teaspoon matcha powder – optional
2 tablespoons raw agave syrup or more until sticky
In a food processor, blend the macadamia nuts and coconut butter until smooth. Place the macadamia mixture into a high-speed blender and combine with the rest of the ingredients, except the matcha powder. Divide the mixture in half. Leave one half white. Add matcha to the other half and combine in a blender to achieve the desired colour and taste. Take care to add the matcha in small portions, as it's very strong in colouring and taste. A little matcha goes a long way.
For the crust, combine all the ingredients in a food processor.
Pour the two mixtures into your mold, alternating between green and white to achieve the stripes. Refrigerate for a few hours or overnight.
If you are using the type of cake mold, which you'll have to flip (like we did here), distribute the crust onto the bottom after refrigeration and before flipping. If you are using a springform pan, which requires no flipping, form the crust first, pour the mixture over it, and then refrigerate. When set, the pudding should slide right out of the form. Optionally, garnish with fresh berries and ground pistachios.