I am ever-captivated by the creativity and extravagance of Japanese cuisine. I could stare at this set of photos for hours on end, mesmerised and intrigued by the mysterious ingredients and the form they take. Only the Japanese can make food so aesthetic, vibrant, and unique – all at the same time. The combination of ancient traditions and brave modernism bring their food culture to untouched heights.
Here, we combined maki-sushi rolling techniques with our favourite spicy Thai wrap recipe.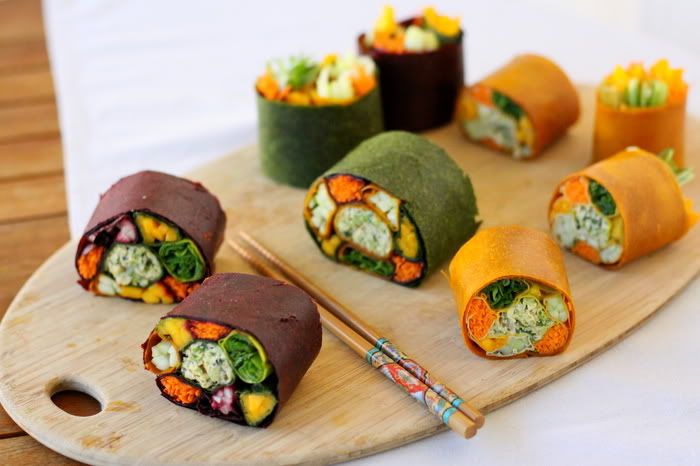 The result was exactly what I've imagined and dreamed of making – a flavourful and striking dish. This particular rolling technique is called Rokusha or colour wheel, a very appropriate title.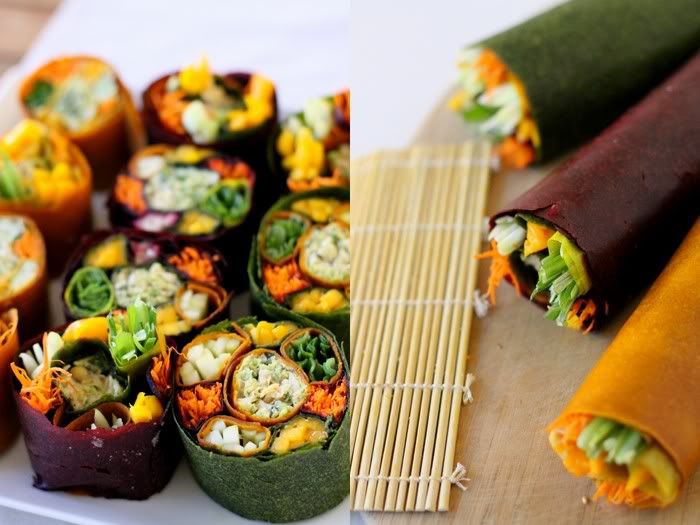 The colourful wrappers alone can be eaten as a snack, kid-approved by Paloma. (The same recipe was used to make the edible leaves that accompanied our Halloween cookies).
I am always in a state of excitement when cooking, but preparing this dish left me especially exhilarated – so much visual stimulation!
Green Wrapper
3 cups zucchini – cubed
meat of 1 fresh young Thai coconut
1/4 cup water of young Thai coconut
1/4 cup ground golden flax seeds
1 bunch cilantro
salt and pepper to taste
Yellow Wrapper
flesh of 2 ripe mangos
2 1/2 medium carrots
meat of 1 fresh young Thai coconut
1/4 cup water of young Thai coconut
1/4 cup ground golden flax seeds
1 teaspoon turmeric
Purple Wrapper
1 small papaya OR 1 large mango
1/2 small beet root
meat of 1 fresh young coconut
1/4 cup ground golden flax seeds
If you decide to make the rolls exactly like ours, you might need to double the amount of ingredients for your wrappers in order to have enough wrapping material for each group of ingredients within each colour roll.
Blend all the ingredients for each colour wrap separately in a high speed blender. Spread thickly on Teflex sheet-lined dehydrator trays, and dehydrate for about 3-4 hours, or until dry to touch. Flip and peel away the Teflex sheets. Dehydrate for another 30 minutes to an hour, until the underside is completely dry, but the wraps are still pliable. The dehydration time, thickness, and final colour can vary significantly, depending on the quality of produce used.
Filling
(adapted from Raw Food/Real World)
1/2 cup chopped raw cashews
1 tablespoon sesame oil
1/2 teaspoon sea salt
1/4 cup agave syrup
1/2 cup lemon juice
2 tablespoon chopped ginger
1 small chili – seeded and chopped
11/2 tablespoon nama shoyu
1 cup raw almond butter
1/2 head savoy cabbage – shredded
1 handful cilantro
1 handful basil – torn
1 handful mint leaves
1 large carrot – cut into thin strips
1 large mango – cut into strips
1 cucumber – seeded and cut into strips
Mix cashews with sesame oil and salt. Set aside.
Puree the next 5 ingredients in a high speed blender. Add the almond butter while the blender is still running, at a low speed.
Using your hands, thoroughly combine the shredded cabbage with the blended mixture, salted cashews, and herbs.The rolling technique used here is called Rokusha or colour wheel, and you can find step-by step rolling instructions in a sushi encyclopedia. Start with rolling the spicy cabbage for the center in any color wrap you prefer. Then roll each of the remaining ingredients individually. Arrange them around the center as shown in the photos. Using a sushi mat, roll everything together into one whole wrap. Wet the edges of the wrappers to help them stay together. Let the rolls sit in refrigerator for at least 30 minutes. Using a very sharp knife, cut into pieces of desired thickness, or eat whole as a wrap.