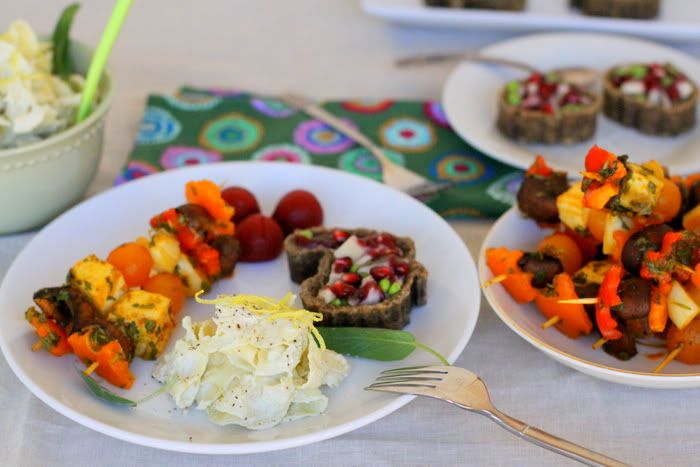 Oh Thanksgiving, how it snuck up on us this year. It seems as if just yesterday it was summer, and now there is a chill in the crisp blue air and we are entering the season of winter holidays. Our favourite.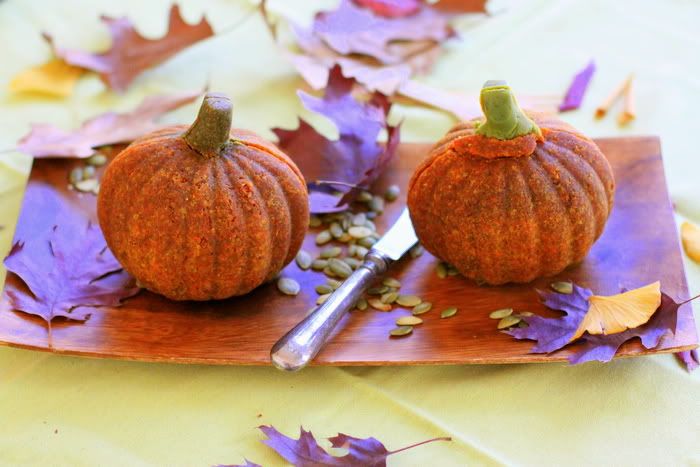 Family, friends, cooking, sharing, and being grateful for it all are all the things that I adore the most. Which is precisely why I love Thanksgiving.
I realize that the holiday is about abundance and tradition. This colourful dinner is about a new, albeit delicious, abundance. The kind that will satisfy your belly, nourish your body, but won't leave you reaching for the antacid drawer. As for tradition, here at Golubka we always try to push the envelope and come up with tasty and healthy alternatives. That is our own little tradition.
Begin with turkey-shaped tarts filled with caramelized onions, mushrooms, fava beans and pomegranate sauce. A great combination of hearty flavours.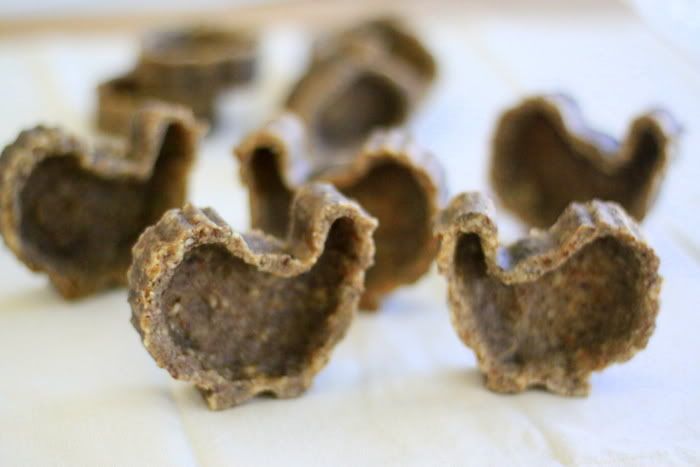 Then, try a parsnip pasta – a winter root vegetable marinated in wine, and mixed with a creamy sauce of macadamia, sage and thyme.
Continue with vegetable skewers – any vegetables of your choice marinated in an aromatic mixture of oils, herbs, and spices. And what is Thanksgiving without a good cranberry sauce? Ours contains Irish moss, so that it can be presented on a plate in perfect little scoops. Just like ice cream.
And for dessert – pumpkin pie. A pumpkin spice crust filled with a coconut and carrot custard.
Have a happy Thanksgiving!
Eat well and rest well.
Veggie Kebabs
(You can use any vegetables you like)
2 each orange and red bell peppers – cut into different holiday shapes
1 package crimini mushrooms – cut in halves or quarters, depending on the size
yellow grape tomatoes
1 onion – cut into 1″ pieces
1 eggplant – cut into 1″ pieces
Marinade
(adapted from The Raw 50)
1 cup olive oil
2 tablespoons coconut oil
1 red bell pepper – chopped
juice of 2 limes
2 tablespoons grated ginger
2 teaspoons minced garlic
salt – to taste
1 cup fresh cilantro
Soak wooden skewers in water for 30 minutes.
Mix all the marinade ingredients, except the cilantro, in a blender. Add the cilantro and pulse to incorporate. Thread the vegetables on the skewers, and pour marinade over them. Place kebabs in the dehydrator to marinate at 95F for 2 hours or more.
Turkey Tarts
Tart Crust recipe here
Filling
(adapted from Raw Food/Real World)
3 medium onions – sliced thinly
juice of 1 lemon
1/4 cup nama shoyu
1/2 cup brown rice vinegar
1/4 cup Jerusalem artichoke syrup OR raw agave syrup
3 cups walnuts – soaked for about 2 hours
1 clove garlic – coarsely chopped
sea salt and freshly ground black pepper – to taste
1 small red chili pepper
Cover onions with warm water and lemon juice for 30 minutes, drain and rinse thoroughly. Combine nama shoyu, vinegar, and syrup. Pour the mixture over onions, and let sit for 30 minutes. Drain, leaving a little liquid, and spread on Teflex-lined dehydrator trays. Dehydrate at 115F for 24 hours or until crispy. Blend the onions in a high speed blender with 1 1/2 cups of purified water, chili pepper, and a pinch of salt.
In a food processor, pulse the walnuts and garlic with a pinch of salt to achieve tiny granules. In the food processor, add the onion mixture to walnuts and mix until a paste-like consistency is achieved. If needed, add water, salt and pepper.
Topping
(adapted from Raw Food/Real World)
1/2 lb king oyster, trumpet, or any mushrooms of your choice
1/4 cup Jerusalem artichoke syrup OR raw agave syrup
3/4 cup brown rice vinegar
1 cup purified water
2-4 sprigs fresh rosemary
2 sprigs fresh thyme
1 garlic clove – crushed
1 shallot – coarsely chopped
2 teaspoons black peppercorn
2 teaspoons coriander seeds
1 red chili pepper – coarsely chopped
1 cup shelled fresh fava beans OR green peas OR chopped asparagus (if you can get a hold of fresh fava beans, they look and taste the best in this recipe)
Clean the mushrooms and cut into bite-sized pieces. Sprinkle with salt to taste.
Mix the syrup, vinegar, water, and a pinch of salt, and pour the mixture over the mushrooms. Crush the fresh herbs with the help of mortar and pestle. Combine with the rest of the ingredients, with the exception of fava beans, in a piece of cheesecloth. Tie the sides of the cheesecloth together and immerse in the marinade.
If using fava beans, slice them lengthwise to make 2-3 pieces. Sprinkle with a pinch of salt, and let sit for at least 30 minutes.
When ready to assemble the tarts, drain the mushrooms, discarding the rest of ingredients in cheesecloth, and combine with fava beans.
Assembly
Divide the filling between tarts. Most likely you'll have extra filling, which makes for an excellent spread. Finish with the topping, fresh pomegranate kernels, and pomegranate sauce.
Pomegranate juice
Score the skin of a pomegranate to make 8 parts. Fill a large bowl with water, and break the fruit into 8 pieces holding it under water. Separate the kernels from the skin and white parts under water. The kernels should fall on the bottom of the bowl, while the rest will rise on the surface. Discard the skin and white parts, and drain the kernels using a colander. In a high speed blender, carefully pulse the kernels, releasing the flesh and juice, but not breaking down the seeds. Strain through a fine strainer and discard the seeds.
Pomegranate Sauce
4-5 fresh figs OR soaked dry figs
1/2 cup pomegranate juice
salt -optional
splash of aged balsamic vinegar-optional
Parsnip Pasta
(adapted from Living Raw Food)
4 medium parsnips – peeled and sliced thinly with a spiral slicer, mandoline, or a sharp knife
1/4 cup Pinot Grigio OR other light wine
1/4 teaspoon saltIn a bowl, combine all the ingredients together and let marinate for a few hours at room temperature.
Macadamia Herb Cream
2 cups macadamia OR pine nuts – soaked for 1 hour or more
1/2 cup purified water
1/4 cup Pinot Grigio
1 small shallot – peeled and chopped
about 8 sage leaves
1 tablespoon thyme leaves
zest of 1 lemon
1 1/2 tablespoon freshly squeezed lemon juice
1 tablespoon white truffle oil OR walnut oil
pinch of ground nutmeg
sea salt
In a high speed blender, combine all the ingredients until very smooth. Add more water if needed. Adjust salt. Thoroughly coat the marinated parsnips with the cream.
Cranberry Sauce
8 ounces fresh cranberries
1/2 cup pomegranate juice
1/4 cup Jerusalem artichoke syrup OR raw agave syrup
1 teaspoon orange zest
1 tablespoon freshly squeezed lemon juice
1/4 cup Irish moss – soaked in hot water for at least 10 minutes
In a high speed blender, combine all the ingredients until smooth. Refrigerate until the sauce sets.
Pumpkin Pie
Crust recipe – same as pumpkin Halloween cookies here
Pumpkin tops – same as matcha Halloween cookies here and raw matcha chocolate (raw cocoa butter, agave, and matcha)
Filling
1 cup fresh carrot juice
1/2 cup meat of young Thai coconut
1/2 cup Brazil nut milk OR any other nut or coconut milk
1/2 cup raw agave syrup
1/2 cup coconut butter
1/4 cup date paste
1/2 tablespoon vanilla extract
1/2 tablespoon ground cinnamon
1 teaspoon ground ginger
1/4 teaspoon ground nutmeg
1/8 teaspoon ground cloves
1/2 cup Irish moss – soaked in hot water for at least 10 minutes
In a high speed blender, combine all the ingredients until smooth. Refrigerate for several hours, or until set and ready to be spooned into the crust.
You can make pumpkin shaped pies by using 3d molds, or make a traditional pie by pushing the crust into shape in a pie dish and topping with the filling.After seeing some bad press on agave syrup, I started to try more alternative sweeteners like Jerusalem artichoke syrup. It's less sweet than agave, and has a specific taste, but I really love it.