This Halloween is not only the first one that Paloma can understand as a holiday, but, in a way, the first one for me. Although I've been living in the U.S. for twelve years, not having a young child and growing up without this tradition left me somehow indifferent to all the festivities. This year, everything's changed.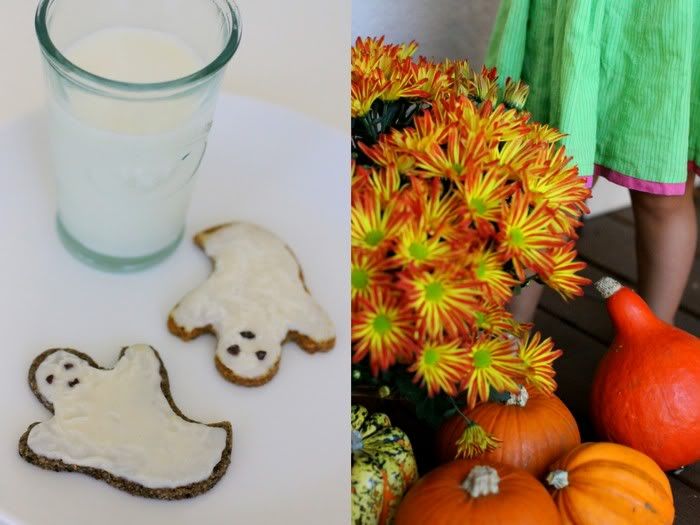 Paloma is in daycare now, and is very curios about all the Halloween decorations and pumpkins that they've acquired. It's funny how having a little kid can bring back the long gone excitement of the holidays.
I loved the challenge of making these raw cookies, playing with the shapes and colours. As for the flavours, I wanted to evoke true autumn tastes like pumpkin spice, carrot cake, nutmeg and clove, as well as include some new additions like matcha, mango, and black sesame. I was thrilled when everyone who tried the cookies loved the result.
This was a chance for me to experiment with sprouted oat flour, which I've been meaning to do for a while. I started with making a basic dry mix, and then added different ingredients for various cookie flavours.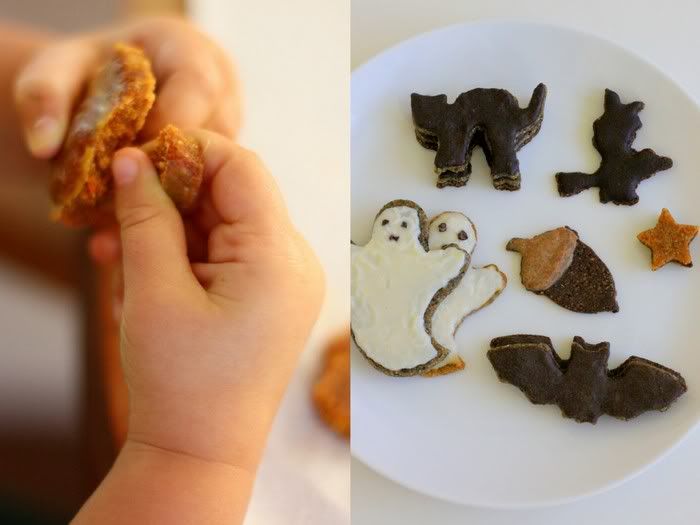 Matcha powder (green tea powder) is another ingredient that I just started using. It's been getting lots of great publicity, as I always see tempting matcha recipes on food blogs and in magazines. Delicious!
The multi-coloured oak leaves are also edible. Made of fresh coconut meat, flax seeds, and various fruits and vegetables – the recipe is coming soon!
These are quite nutritious and work well as breakfast cookies. Paloma was thrilled to have one for breakfast along with the usual green smoothie.
I came up with three types of frosting – chocolate, caramel, and coconut butter. Some cookies were simply glazed, and some – layered similarly to Oreos.
Happy Hallowe'en!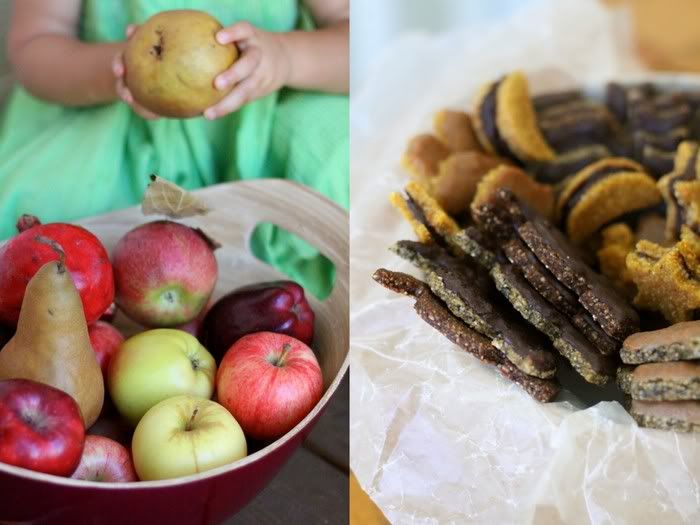 Basic Mix
2 cups almond flour
2 cups sprouted oat flour
1/2 cup ground rolled oats
1 cup maple syrup powder
pinch of salt
Pumpkin Cookies
2 cups basic mix
1/2 cup raw almond butter
1/2 cup freeze dried carrots – ground
1/2 cup date paste
3/4 cup carrot puree (2 carrots, 1/2 cup freshly squeezed carrot juice, 1/2″ piece fresh ginger root – all pureed in a high speed blender)
1/2 cup carrot pulp left from making carrot juice
1 teaspoon cinnamon
1/2 teaspoon ground ginger
1/8 teaspoon each clove
1/8 teaspoon nutmeg
Matcha Cookies
1 cup basic mix
1/4 cup raw almond butter
1/4 cup date paste
1/2 tablespoon matcha powder
Mango Cookies
1 cup basic mix
1/2 cup oat flour
1/4 cup raw almond butter
1/4 cup date paste
1/2 cup mango puree (dried mango slices soaked in water for 2 hours, drained, and blend with water reserved from soaking)
Chocolate Cookies
1 cup basic mix
1/4 cup raw almond butter
1 tablespoon raw chocolate
1 tablespoon carob powder
1/4 cup date paste
Black Sesame Cookies
1 cup sprouted oat flour
1/4 cup maple syrup powder
1/4 cup raw almond butter
1/4 cup date paste
4 tablespoons coarsely ground black sesame seeds
Frosting
raw chocolate
caramel (in the raw chocolate recipe, substitute raw cocoa powder with lucuma powder and leave out mesquite powder)
coconut butter
The cookies can be shaped into simple squares or circles. Shaping them in figure molds takes some more time, but makes for a pretty result. If one of the mixes turns out too sticky and not firm enough, rolling it between a Teflex sheet and a sheet of parchment paper and drying a little in the dehydrator should ease the cutting/shaping process. Once the cookies are shaped, dehydrate them at 115F until they are dry on the outside and slightly moist and chewy on the inside.