This post is also available in: French
A salad of roots like jicama, fennel, and daikon radish. We're blessed with the growing season in the midst of the winter here in Florida, and I was happy to include some local strawberries, along with pickled cherries and cowberries.
There's a nice balance of sweet, tart, and crispy here, complemented by a dollup of our almond cheese and pomegranate vinaigrette. Despite its striking monochromatic appearance, the salad works best on a bed of baby greens. We've had the most beautiful local greens at our market for the past couple of months. Their freshness and tenderness is incredible – our pay off for hot summer months when nothing grows in Florida.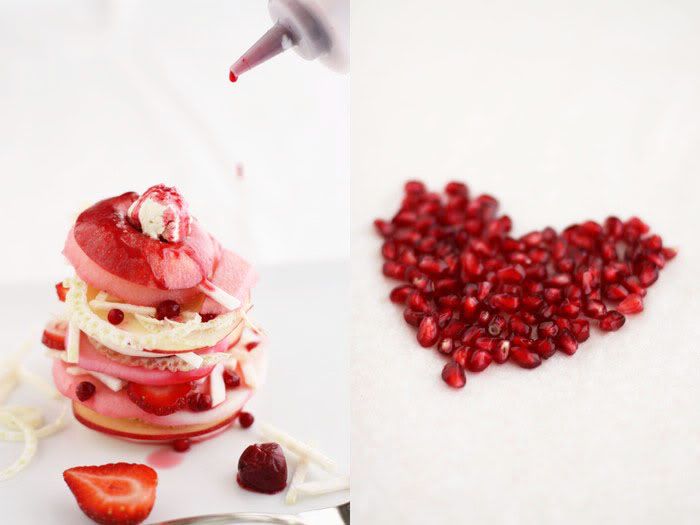 Pickled Cherries, Jicama, and Daikon Radish
1/2 cup raw apple cider vinegar
3 tablespoons raw agave nectar or another sweetener of choice
1 cup or more fresh or thawed sour cherries – pitted (or substitute with fresh pomegranate juice)
1/2 medium sized jicama – sliced or cubed
a few slices or cubes of Daikon radish (optional)
In a small bowl, combine the apple cider vinegar with agave. Pour over the rest of the ingredients and let it sit for thirty minutes. Drain and keep refrigerated in a covered glass container until ready to serve.
Pomegranate Vinaigrette
3 tablespoons of fresh pomegranate juice or pomegranate reduction, for a more intense flavour
1 tablespoon red wine vinegar or apple cider vinegar
1 tablespoon raw honey
salt and freshly ground black pepper – to taste
1/4 cup olive or grapeseed oil
In a mixing bowl, whisk together all the ingredients, with the exception of oil. Add the oil while whisking, in a steady stream.
Fruit and Root Salad
(Serves 2-4)
One or two red crispy sweet apples (Fuji or Gala) – sliced or cubed
1 cup fresh radishes – sliced
salad greens
1 fennel bulb – thinly sliced
1 cup or more fresh strawberries – sliced
few slices or cubes of fresh jicama
pickled cherries, jicama, and Daikon radish
cowberries, or pomegranate kernels for garnish
Place apple and radish slices in a bowl with cold water and some freshly squeezed lemon juice, to prevent apple discoloration and reduce the bitterness of radishes.
Place salad greens in a bowl and top with the remaining ingredients. Include a few dollups of almond cheese and drizzle with pomegranate vinaigrette. Garnish with pickled cherries, cowberries, or pomegranate kernels.