Last week, I promised to make a savoury dish for the next post, but I'd completely forgotten that Easter is just around the corner. And Easter calls for dessert!
This time last year, we went all out for the holiday, and made lots of white chocolate quail eggs to share with friends and family.
This year's project came about much more spontaneously and is therefore less involved.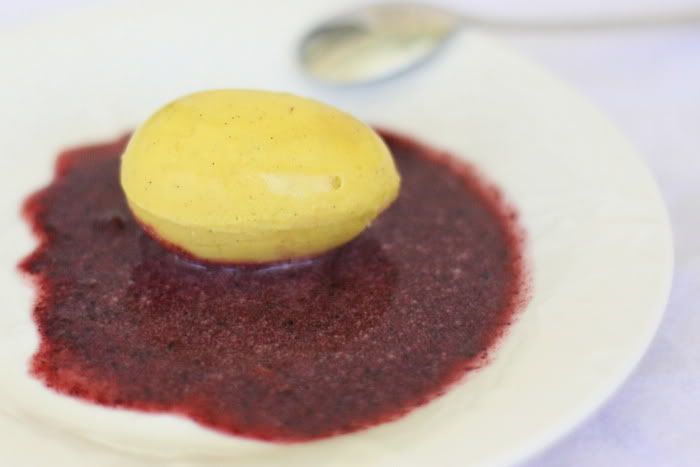 To me, Easter is all about custom. Although I grew up in a secular state (Soviet Union), we always celebrated the tradition of Easter by painting eggs, baking kulich and paskha, and sharing it all with close ones.
Sharing, that was always the most important part, for it's no fun to cook sweet and pretty things when there is no one to eat them with.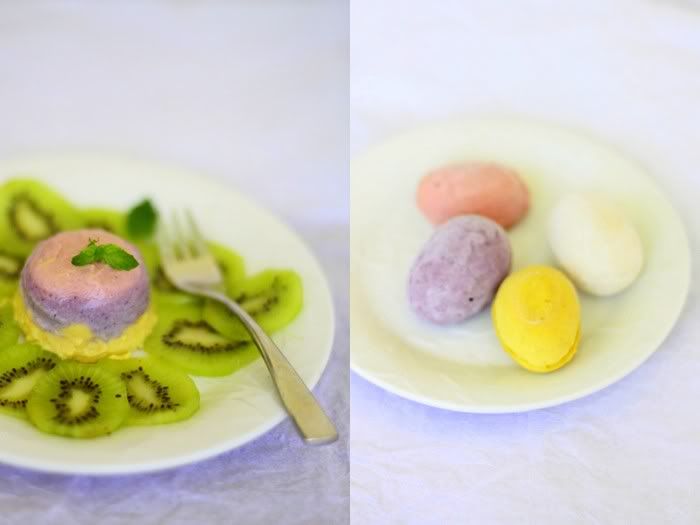 This resulted in a wonderful exchange of culinary ideas. Every family's kulich was always different. Some were tall, some short, with raisins or without, sprinkled or simply glazed. The same story applied to the eggs. Some dyed them with natural colours of beets and onion peel, some hand-painted them, and many of the eggs were so beautifully decorated, that peeling them was truly painful, like destroying artwork.
Perhaps that's why every Easter, no matter how busy I am, I feel obligated to cook and share some kind of treat. But it's a pleasant obligation, one that puts me in a festive mood.
This Panna Cotta is just as one would imagine it to be – creamy, silky, and delicate. It's speckled with vanilla seeds throughout and coloured with wonderful flavours of mango, blueberry, strawberry, and coconut.
Just a little health aside – the base of this panna cotta is Irish moss, which is a type of red seaweed loaded with nutritional benefits. Yes, here we have an algae-based dessert that tastes good! It just reinforces my love for raw cuisine, and I promise that there is nothing seaweed-like in the flavour.
I made a variety of sauces, but my favourite by far was a green kiwi sauce with fresh mint leaves. Its tartness complements the smooth panna cotta with a sweet and sour bite.
Please enjoy and have a happy Easter!
Panna Cotta
(adapted from Living Raw Food)
4 cups coconut milk (see below)
1/2 cup Irish moss – thoroughly rinsed and soaked in hot water for at least 10 minutes
1 cup meat of fresh young coconut
1/2 cup raw agave syrup OR another sweetener of choice
seeds from 2 vanilla beans
1/2 cup coconut oil
To make coconut milk, soak 2 cups of unsweetened shredded dry coconut in 4 1/2 cups of purified water for 30 minutes. In a high-speed blender, blend the coconut and water until smooth. Strain through a nut-milk bag or cheese cloth and discard the solids.
In a high-speed blender, combine all the ingredients with exception of coconut oil until very smooth. Add the coconut oil with the blender still running and continue to blend to emulsify.
I added fresh mango puree (blended mango), blueberries, and raw strawberry preserve to achieve the desired colours.
Cover your molds with a thin layer of agave or maple syrup. Pour the mixture into the molds. If you decide to make the eggs or other 3D shape panna cotta, give the mixture a few minutes to thicken. Spoon the thickened mixture into the molds and, if using a 3D mold, invert them on top of each other. Refrigerate for 6-8 hours. When removing, the panna cotta should slide right out.
Minty Kiwi Sauce
3-4 kiwis
3-4 fresh mint leaves
preferred sweetener to taste
Combine all the ingredients in a blender or food processor. Spoon some on a plate, and place Panna Cotta on top of the sauce. Garnish with sliced kiwi and fresh mint leaves.