Last week, I decided to hop on the adventure that is the Master Cleanse and just recently completed the ten days. Fasting a couple of times a year works for me, it makes me feel lighter, more refreshed, and reminds me to be appreciative of food and its true purpose – to nourish the body and feed the soul. I like to do it during the warmer months of the year, and this time was a sort of Spring Cleaning.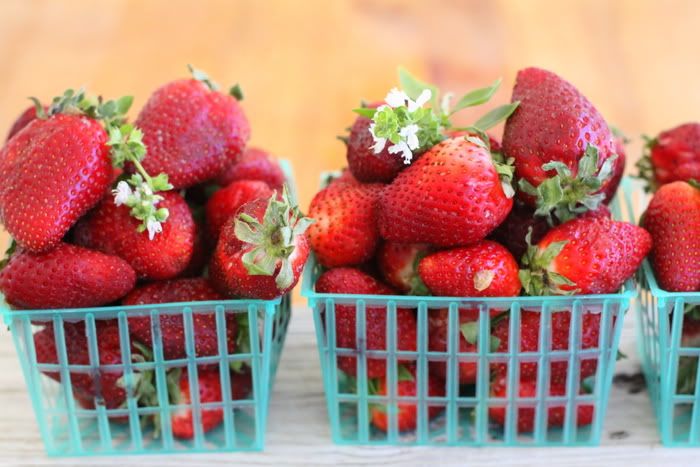 I've been on other juice fasts and feasts before, but this was my first time on the Master Cleanse. I found this program to be much more manageable – it did not make me sleepy or drain all my energy like the aforementioned juice fasts often did. That's likely due to the fact that the cleanse drink consists of two tablespoons of lemon juice, the same amount of grade B maple syrup, and a generous pinch of cayenne pepper, all for a glass of water. Six cups is the minimum for a day. Maple syrup has plenty of sugar and calories, and cayenne pumps up the blood flow, so there are lots of reasons for energy.
Ten days later, I feel great, just like new. Now I just need to do the same kind of deep cleaning to my kitchen!
While I did not get any hunger pains during this program, I did get plenty of cravings. Cooking is my thing, what I think about all the time, so that was only natural. I found myself in silly daydreams about the first thing I'll eat after the cleanse, recollecting special culinary memories, composing new recipes, anything and everything food-related kept knocking on my mind's door. In addition, I had to continue feeding my family, packing lunches for Paloma and keeping it all interesting.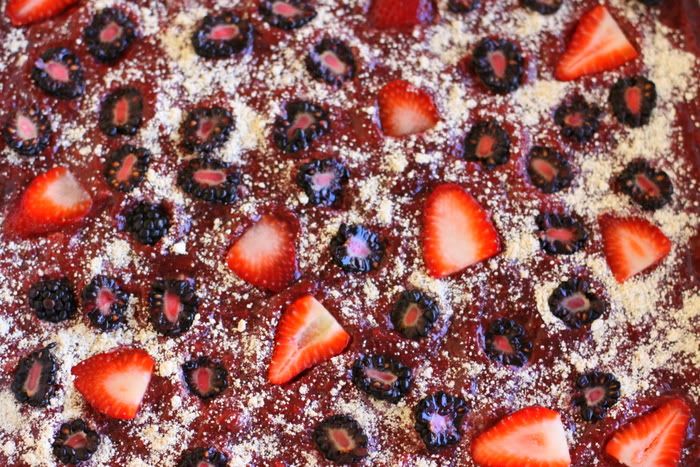 Also, I could not pass by the beautiful local strawberries we've been having at our markets. Pretty, plump ones, with vines still attached. That is when I bit my maple syrup-ed lips and started working on this recipe. A strawberry shortcake of sorts.
I utilized my favourite oat dough, combining it with strawberry puree to get a moist and fruity crust. I then topped it, simply, with the same puree, raw preserve and sliced fresh berries. After some time in the dehydrator, the dough happily hardened on the outside and stayed nicely moist in the middle. All the while, the topping thickened, concentrated, and turned into a ruby jam.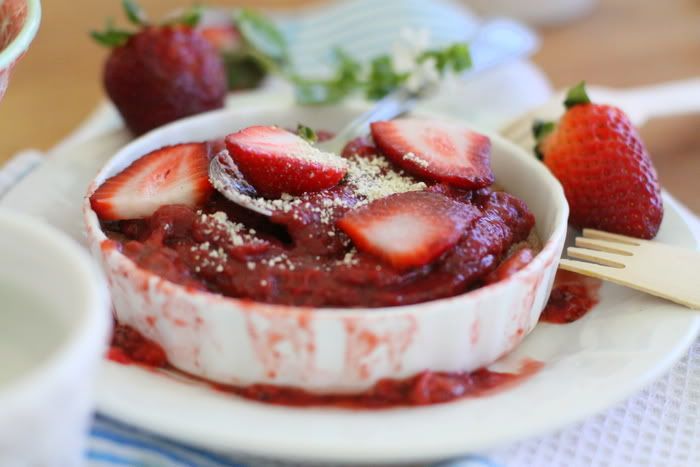 At first, we treated this "shortcake" as dessert and ate it after dinner, appropriately. The surviving cakes, however, became snacks and regulars in Paloma's lunchbox. Oh that lunchbox, I'm not exaggerating when I say that everything I cook ends up in there, our girl's appetite is no joke!
And even though I am now "easing out" of my cleanse with fresh juices and light meals, I let myself have a slice, and really enjoyed it.
I believe there's enough sweetness here to last us all a while. The next recipe will be a savoury, I promise.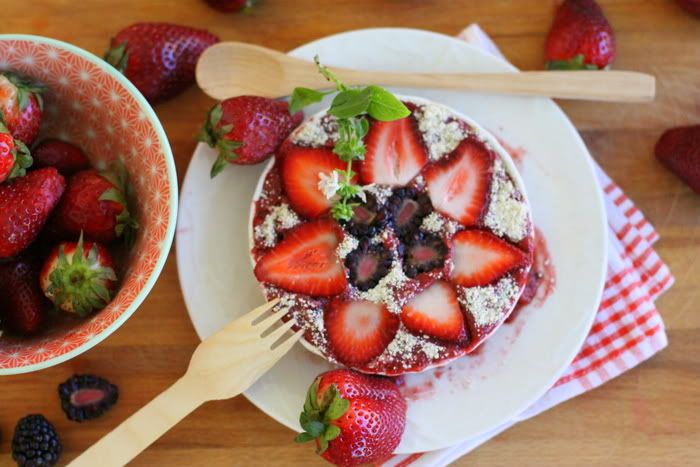 Strawberry Shortcake
(Makes about two standard sized half-sheet pans)
Dough
Same as here
3 cups chunky fresh strawberry puree
To make the puree, pulse fresh strawberries in a food processor until you end up with a slightly chunky puree. Mix the oat dough with the puree. Divide it between two sheet pans covered with parchment paper (or you can use any smaller individual dishes if you'd like) and press into the pans to achieve a uniform layer.
Topping
For the top I used a combination of raw strawberry preserve and fresh chunky strawberry puree. The preserve makes the mixture a bit thicker, and less runny, but I believe that you can get away with using just the fresh puree. You can just dehydrate it by itself for a couple of hours to thicken it up more. You can sweeten the puree/preserve mix to your taste with your favourite sweetener, or just leave it as is. I didn't measure the proportion, or the combined amount. The more berry puree you use, the sweeter and more moist your cakes will be.
Assembly
Divide the strawberry puree between the two pans, or other dishes, and spread evenly on top. Sprinkle with oat flour or ground nuts and decorate with sliced fresh berries.
Dehydrate at 115F for about 20 hours. Remove from pans, peel away the parchment paper, and dehydrate on the mesh screens for another 6 hours or until your cakes are firm enough for you to cut them into desired shapes. Cut or leave as individual cakes, depending on the dishes you are using. After this step, dehydrate for another 2-3 hours or more. The time of dehydration depends on the thickness of your strawberry puree layer. It should be dry to touch, but moist and chewy on the inside.
I noticed that these cakes become increasingly tastier after some time in the refrigerator. Usually, they are the best at the end of a batch, when the crust becomes moist and full of the topping flavour throughout.