Last week, we talked about 3D: Dinner, Decor, Delight, our new venture. We want to say thank you for your input and support, you are all invited. The interest, that our first gathering generated, brought us to planning several future 3D events. We decided to direct the profit to Jamie Oliver's Foundation, whose philosophy corresponds with our goal to show just how enjoyable cooking and eating good food can be. We are especially inspired by Mr. Oliver's commitment to improving school lunches.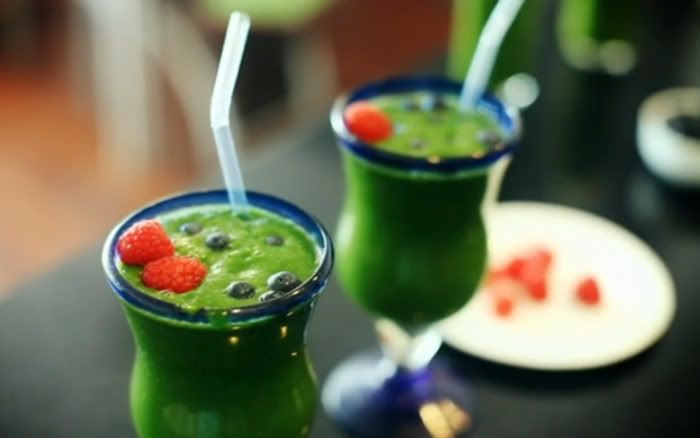 Natalie and I are no strangers to the dilemma of keeping kids' food healthy while still providing the appropriate social environment for them to learn and develop. Starting out, we were fortunate to find a day care run by a very special woman, who was understanding of our dietary requirements for Paloma. She made the transition from eating at home to dining with other children smooth and enjoyable. Since then, Paloma never thought anything much of her food being a little different from the rest. (Thank you Susan, we love and miss you!) Even now, in a big school environment, Paloma is able to drink her green smoothies, while still being part of the crowd. Sasha, being a year younger, caught up to Paloma as soon as his age permitted. Since then, they've shared many smoothies together, all shades of green.
The idea to make this video came to Natalie when we were talking about how much enthusiasm and impatience those two show while the blender is going. They both see the smoothie as a treat, something to look forward to. Ziggy Meilus, our videographer, executed it without a plan or scenario, and we are so thankful for his great work. Once the smoothies were made, Sasha and Paloma went into a sort of trance, gobbling up their drinks. Natalie and I were standing at the side, laughing.
There have been so many inspiring food videos popping up in the community, and we are very excited to finally share one of our own. We cannot wait to do more in the future. Thank you for watching!