Paloma has her own basil plant and takes care of it with pride and a funny crinkle of seriousness on her forehead. She planted it and painted the pot green with the help of her daycare teacher. Things like these always leave me wishing for a big backyard and a garden for her to play in and learn from. Sometimes, when she is not looking, and when I want to give my bigger basil plant a break, I sneak some of her herb for our meals. I did for this pad thai.
I'm not sure why I didn't share this recipe earlier. It has been a staple dinner for us for a while now, very quick and easy in preparation. I don't always make it with white crab mushrooms, but found them at an Asian market the other day and couldn't pass them by with a name like that.
Kelp noodles, something I always have in my pantry, are made out of sea vegetables, which automatically makes them very nutritious. They are neutral in taste, noodle-like in texture, and absorb any sauce they are in. Overall, a great way to enjoy the benefits of seaweed.
Here, the flavours of coriander, almond butter, and coconut oil work wonderfully with fresh herbs and baby bok choy, making one of my favourite dinners.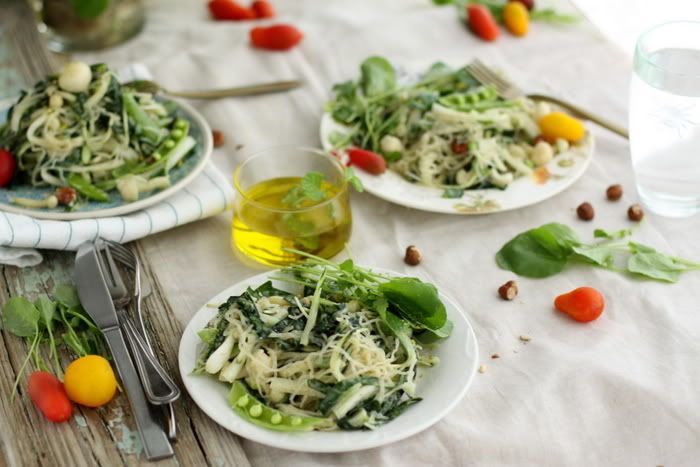 White Crab Mushrooms and Bok Choy
1 bunch of baby bock choy or several leaves of regular bock choy – thinly sliced
1 package of White Crab mushrooms or any other kind you like – separated
1 tablespoon olive oil
sea salt and freshly ground black pepper to taste
Sprinkle the mushrooms and bok choy with olive oil, salt, pepper, and toss to coat. Spread on a Teflex-lined dehydrator tray, and dehydrate for 1-2 hours at 95F.
Pad Thai
2 tablespoons raw almond butter
1/3 cups coconut oil
1 tablespoon Nama Shoyu or Bragg Liquid Aminos
1 teaspoon ground coriander
1/2 jalapeno pepper – seeded
2 teaspoons freshly squeezed lemon juice
1/3 cup purified water
1 package kelp noodles
In a high-speed blender, combine all the ingredients with the exception of kelp noodles to a smooth, sauce-like consistency.
Drain and wash the kelp noodles, and cut them into shorter pieces if you like. In a large bowl, combine the noodles with mushrooms and bok choy. Pour the sauce over and mix thoroughly. Optionally, add fresh green peas, basil, and/or mint leaves. Sprinkle with chopped pistachios or hazelnuts and enjoy.