Before falling in love with raw food, I went through a vegetarian phase, which lasted for several years. My kitchen shelves are still stocked with lots of inspiring cookbooks from that time. One of my favourites was New Vegetarian Food by Christine McFadden. It had a number of smart, tasty recipes that I kept coming back to, and this tart is a tribute to one of them. A sun dried tomato, basil and olive tart.
Let me just say that the recipes for both the original and raw variety of this tart are very close to my heart.
The former reminds me of the time when I just became interested in whole foods. It brings me back to those first few exciting years in the kitchen, when I discovered that nourishing food is also versatile and delicious.
The latter is a source of personal culinary achievement. I love it when a recipe that I've been daydreaming about comes together just the way I imagined. This raw tart tastes almost exactly like the original, or maybe even a bit better.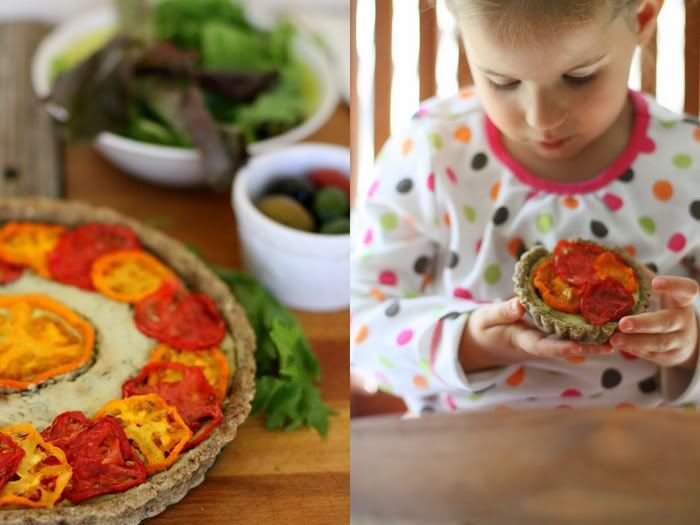 Of course, the original recipe calls for ricotta and parmesan cheeses, eggs and butter. After some brainstorming and careful estimations, I came up with this little tribute, and we loved it on the first try. It's wonderfully creamy, with a subtly spiced crust, and bits of basil, sun-dried tomatoes and black Cerignola olives spread all throughout.
Luckily, it's the season of fragrant, local & organic tomatoes here in Florida – just in time to garnish and bring some sweetness to the plate.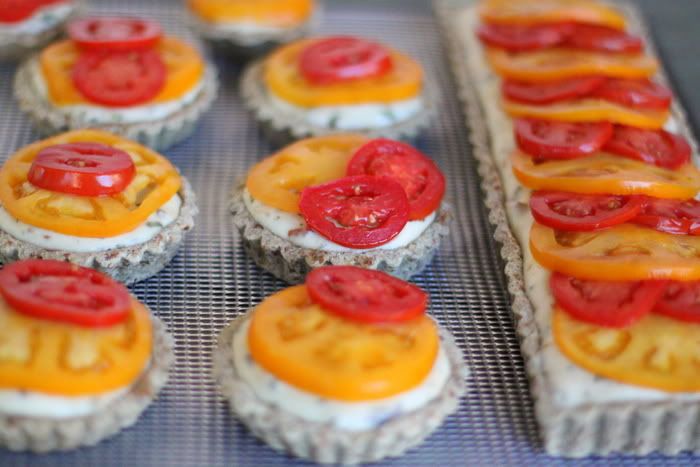 I made several tarts of different sizes, as I usually do with any kinds of tarts, pies, or quiches. There were individual, baby ones for Paloma and for bringing to lunch at work, and bigger ones for the whole family. I also discovered that the tart holds very well in the refrigerator for several days, unlike many other raw dishes. In fact, it becomes even better after it sits and all the flavours become integrated.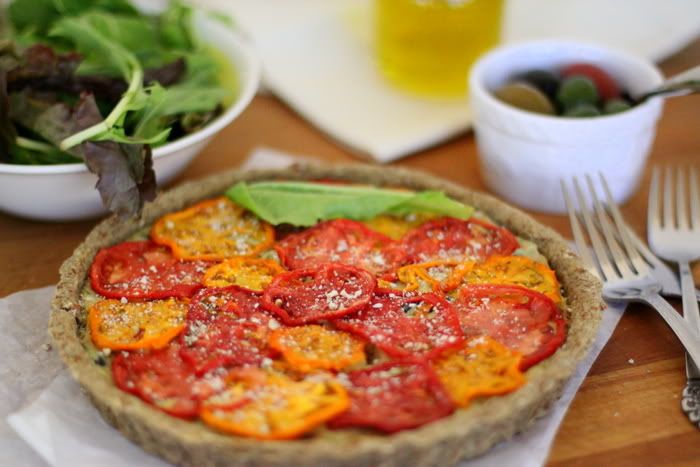 I enjoyed this recipe so much, that I decided to make it for a catering project for my friend's birthday. I served our orange-cinammon crepes, falafel, and this tart. Feeding people is one of my favourite things in the whole world, and I waited anxiously for their reaction. It was exciting to hear that everything was received with plenty of "mmmm – ing."
Paloma and her papa like to eat dinner on the beach, after their evening walk. My husband has mentioned that this dish tastes even better outside.
At home, though, as I witnessed, Paloma was crazy mostly about the crust. I watched her carefully bite around the whole diameter to get the crunchy bits. She's a funny one.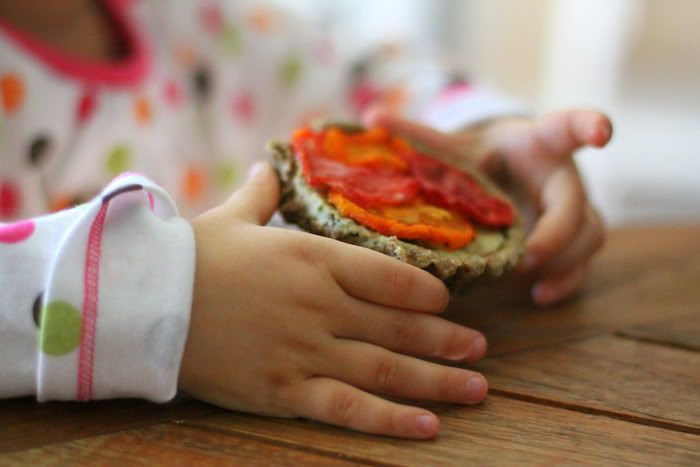 Sun Dried Tomato, Basil and Olive Tart
(Makes approximately two circular 9″ tarts and three 4″ tarts)
Crust
2 1/2 cups almonds – soaked overnight
2 tablespoons nutritional yeast
1/2 cup ground golden flax seeds
1 teaspoon sea salt
2-3 tablespoons purified water
5 tablespoons za'atar spice
Mix all the crust ingredients in a food processor until smooth, adding more water if needed. Press the dough into your tart shells, preferably with removable bottoms. Distribute the dough evenly against the sides and bottom of the shell. Place the tart shell(s) in the dehydrator for 4-5 hours. Gently remove the shell from the mold, and put it back onto a screen-lined dehydrator tray. Dehydrate for another 8-10 hours until completely dry and crispy.
Filling
2 cups meat of fresh young Thai coconut
1 cup water of fresh young Thai coconut
3/4 cup coconut oil – gently warmed in warm water or the dehydrator to soften
1/4 cup Irish moss – washed thoroughly and soaked in hot water for at least 10 minutes
1 cup each raw macadamia and raw cashew nuts – soaked for 2-4 hours
2 tablespoons freshly squeezed lemon juice
2 tablespoons nutritional yeast
1-2 teaspoons salt
about 6 tablespoons purified water
1 cup of chopped olives of your favourite kind (may I suggest Cerignola olives that come with pits and taste velvety)
1 cup of chopped sun-dried tomatoes (this time I made an exception and used tomatoes preserved in olive oil instead of the dry variety)
1 packed cup fresh basil leaves – or more to taste
fresh red and yellow tomatoes for garnishing – optionalIn a high speed blender, combine the coconut meat, water and oil with the Irish moss until very smooth.
In a food processor, mix together the nuts, lemon juice, yeast, salt and water until well combined and fluffy like ricotta cheese. Add the basil leaves and pulse briefly.
In a large mixing bowl, gently fold the coconut mixture into the nut "ricotta", followed by the chopped sun-dried tomatoes and olives.
Pour the filling into the crusts. Dehydrate at 115F for 6 hours, then refrigerate overnight.
Optionally, slice fresh tomatoes thinly and dehydrate on Teflex-lined dehydrator trays just to dry the surface. Garnish the tarts, placing the tomatoes dry side down for the last 1-2 hours of tart dehydration.