We might have mentioned before that Paloma's older sister attends college in New England. We miss her living at home, and always look forward to her arrivals during school breaks, one of which happened to be last week.
I'm sure many of you, who live up North, have experienced this year's brutal winter firsthand. It's been snowstorm on top on ice storm many times around. Meanwhile, here in Central Florida, we're enjoying mild temperatures and sunshine almost every day. That is one of the rewards for surviving Florida's persistent summer heat.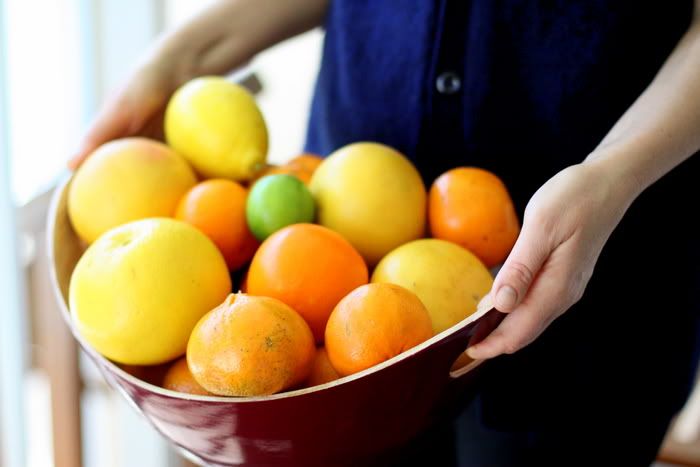 Another benefit of Floridian winter – now is when our growing season finally peaks. The Saturday morning market is overflowing with local greens and vegetables, and the neighborhoods are dressed with bright, orange-spotted trees. We always look forward to this lovely time of year.
I came up with a welcome home brunch that speaks of warmth and sunshine and, hopefully, makes the cold winter seem very distant. Orange-cinnamon crepes, accompanied by a colourful citrus salad with an Earl Grey-orange creme.
Crepes are the ultimate comfort food – delicious and versatile as can be. As always, I had to find a healthier alternative to the original, but one that could truly satisfy our crepe craving. It worked, they turned out not in the least bit less delicious. The cinnamon and orange flavours combine smoothly in a thin young coconut-based crepe.
The shapes and all the different colours of cut citrus remind me of little suns. Appearing on the plate are blood and navel oranges, pink, white and ruby red grapefruit, tangerines, clementines, and limes. A citrus feast.
We're a avid tea drinkers, and this winter has been all about Earl Grey – we just cannot get enough of it. Its wonderful flavour inspired me to experiment with Earl Grey as an ingredient for something other than a drink. The creme that I ended up using it for was a winner with its subtle flavour and beautiful tea-dyed colour.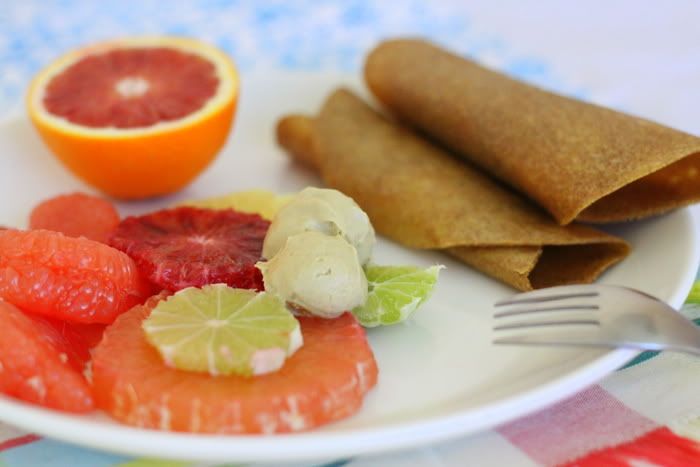 Our cold student arrived late Saturday night, and even Paloma was impatiently waiting for her at the arrivals gate. Sunday morning was full of sunshine, laughter and beautiful, bright food. Nothing like having the whole family under one roof.
She stayed home for a short week, during which we made and photographed all kinds of new dishes. We cannot wait to share them all with you.
Orange-Cinnamon Crepes
3 cups meat of fresh young Thai coconut
1 orange – peeled and cut into large pieces
1/4 to 1/2 cup fresh coconut water
1 cup golden flaxseed – ground
2-3 tablespoons raw agave syrup OR another sweetener of your choice
2 teaspoons ground cinnamon
In a high speed blender, combine the coconut meat with the orange flesh, adding coconut water as needed to achieve a smooth, thick consistency. Transfer to a large bowl and combine with the rest of the ingredients thoroughly. Spread the batter on Teflex-lined dehydrator trays and dehydrate at 115F for 6-8 hours. Flip them over, peel away the Teflex, and dehydrate for another 1-2 hours, or until the surface is dry, but the crepes are still pliable. Cut on a cutting board with a circle cutter or a sharp knife into the size and shape you prefer.
Earl Grey Orange Creme
1 1/2 cup very hot purified water
3-4 tablespoon good quality loose Earl Grey tea leaves
1 cup meat of fresh young Thai coconut
1 cup cashews – soaked for 2 hours or more
flesh of 1 small orange
3/4 cup coconut oil – warmed to liquid form
3/4 cup raw agave syrup OR to taste
1/3 cup date paste – optional
Steep the tea leaves in hot water for about 5 minutes, drain and chill. In a high speed blender, mix the tea with the rest of ingredients until smooth. Refrigerate overnight to thicken.
Citrus Salad
Blood and navel oranges
Pink, white and ruby red grapefruit
Tangerines
Clementines
Limes
Peel, cut and arrange the citrus on the plate. Garnish with fresh mint. Serve with the Earl Grey creme. Optionally, you can separate the grapefruits into segments, cutting and peeling away the membranes to expose the flesh.