This post is also available in: French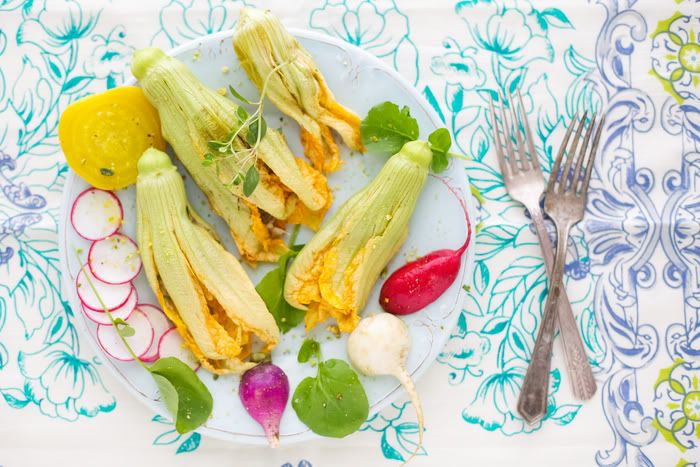 This week we're inspired by summer markets, their amazing bounty and breathtaking color.
It all began when I found Easter egg radishes and zucchini blossoms on the same day and came home ecstatic, ready to get them on our dinner plates.
There is something so entirely lovely about zucchini blossoms and their culinary potential. They have a delicate, slightly sweet taste with subtle hints of pumpkin. When eating them, I often feel as if I am in a fairy-tale – they are flowers, after all.
They were fresh, so I left them raw, although they are also very good sauteed or roasted. For the filling, I went with baked eggplant, herbs, and homemade tahini.
Then there were these very photogenic black raspberries, a gift from a friend up north. A bit like a cross between raspberry and mulberry in taste, they were delicious in homemade ricotta, sprinkled with some coconut sugar.
All this is best eaten outside, at a picnic table or on a porch. Maybe even while the summer sun sets.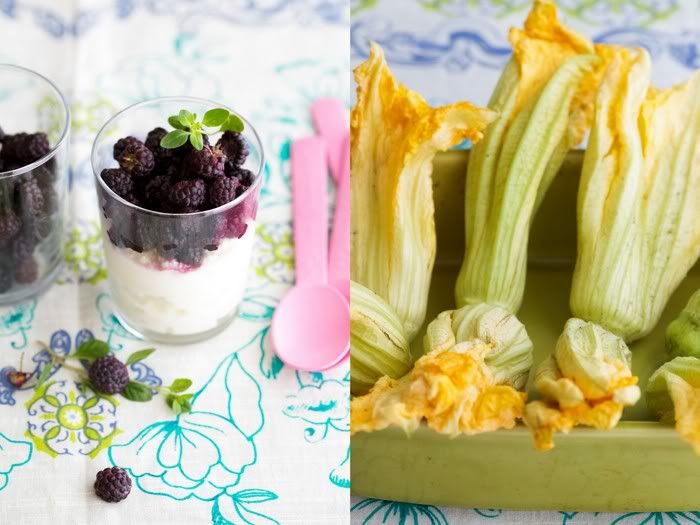 Zucchini Blossoms with Roasted Eggplant
for about 9 zucchini blossoms – gently washed and dried
1 medium eggplant
2 garlic cloves – minced
4 tablespoons cilantro – chopped
juice of 1 lemon
2 tablespoons tahini
2 tablespoons olive oil
salt and pepper to taste
Preheat oven to 375F. Slightly oil the eggplant and prick with a fork a couple of times. Bake for 30 minutes or until soft all the way through. Peel, chop, and place in the food processor with the rest of the ingredients. Pulse several times to make a chunky puree. Adjust salt and pepper.
Carefully stuff the zucchini blossoms with the eggplant and enjoy fresh.