This post is also available in: French
We've talked about our love for leisurely weekend breakfasts before. Make it outdoors and surrounded by friends and family, and you've got the best morning anyone can wish for.
Natalie is one of those people who has the great taste and passion for hosting all kinds of gatherings – breakfast or not. The cozy little garden in the backyard of her family's urban home is where we had this breakfast. We couldn't have asked for a more perfect spot.
A table full of bright and nourishing foods, children running around, plenty of laughs, sunshine, and a weekend ahead – that is the ultimate breakfast experience.
Ever since our Valentine's Day event, I haven't been able to get the idea of using rose in food out of my mind. Its scent and intoxicating taste truly take me to a kind of magical fairy land with every bite. No wonder rose is so widely used in aromatherapy – it definitely has a side effect of happiness.
This time, I decided to make a yogurt parfait with layers of rose and lavender – another love of ours. Of course, you can incorporate any flavours you prefer into this recipe. Blueberry, strawberry, chocolate, or vanilla – it all sounds wonderful to me.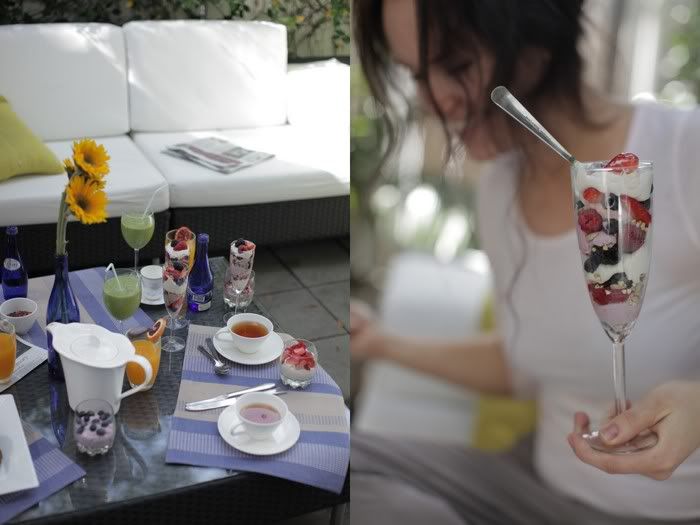 Now close your eyes and imagine layers of fragrant rose yogurt, interlaced with milder ones of lavender, plenty of fresh berries, and some crispy buckwheat and cocoa nibs to complete the experience. Dreamy.

Coconut and Sun-dried Tomato Creme Cheese
On a different note, we're ready to say goodbye to our good camera friend Canon 50D (body only), which has captured plenty of delicious dishes and moments on Golubka. We bought it brand new in July 2010 and have been treating it with much love and respect ever since. Sold.
Rose and Lavender Parfait
6.5 oz (about1 1/2 cups) meat of young Thai coconut
1 1/4 cup coconut water
1/4 cup purified water
3/4 oz Irish moss – thoroughly rinsed and soaked in hot water for at least 10 minutes
1/4 cup cashews – soaked for 2 hours
4-5 tablespoons light agave syrup or another sweetener of choice
1 teaspoon vanilla extract
1/2 tablespoon freshly squeezed lemon juice
pinch of sea salt
3-5 tablespoons dairy-free acidophilus (optional)
1/3 cup coconut oil – melted
Blend 5 oz (about 1 1/4 cups) of coconut meat and all of the coconut water in a high speed blender until a smooth coconut milk is formed. Reserve 1 cup for later. Blend the remaining coconut milk with the purified water and Irish moss until very smooth. Add the reserved 1 cup of coconut milk and the rest of the ingredients, with the exception of coconut oil. Blend thoroughly, adding coconut oil at the end to emulsify.
dried ground culinary rose petals – to taste
100% pure steam-distilled essential rose oil (optional) – one tiny drop
dried ground culinary lavender flowers – to taste
100% pure steam-essential lavender oil (optional) – one tiny drop
fresh berries of your choice
buckwheat crisps
cocoa nibs (optional)
dried rose petals and dried lavender flowers for decoration (optional)
Divide into 2 even portions. Add the ground rose petals and lavender (I used about 4 teaspoons each) and one tiny drop of pure rose/lavender essential oil, if using. Blend to incorporate. Add any flavour and colour you like if you choose to replace the rose and lavender, or leave it plain. Spoon into glasses, alternating the flavours, fresh berries, crisps, and cocoa nibs.

Gluten Free and Vegan Bagels – same recipe as here. This time I added ground coriander and sesame tahini (to taste) to the basic recipe.
Coconut Cream Cheese – recipe here. Sun-dried tomatoes added this time.