This post is also available in: French

Masha with Raspberry and Lemongrass Tiramisu
Well, hello there. Another round of warm gratitude to the wonderful guest bloggers, who have been holding down the fort.
This post is dedicated to my dear friend Masha, who you might have seen on Golubka before, as she is a big and important part of our life. She is a serious yoga girl and loves the warmth of the beach and the great outdoors more than anything. Taking all that into consideration, Natalie came up with the idea of organizing Masha's birthday party around all of her favourite things.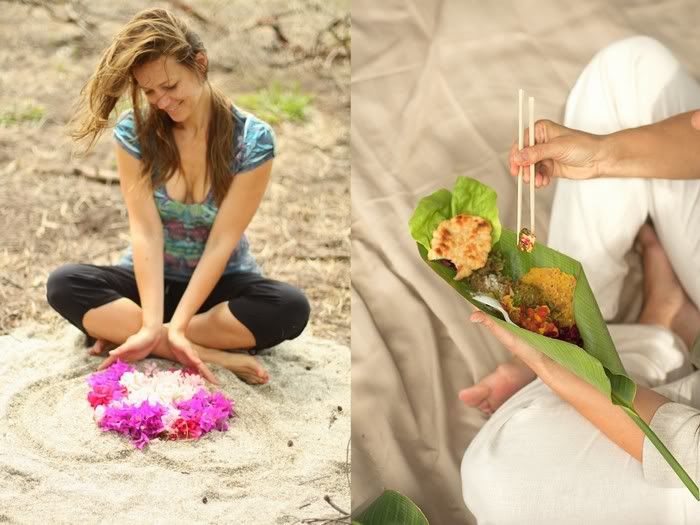 The celebration took place at our beloved beach, with an hour of yoga and plenty of nourishing food to follow. The day before, we had a bit of a weather scare and had to reschedule to early morning in order to avoid a spring storm. Doing yoga while hearing the waves and breathing the salt air was a truly transcendent experience. Our instructor, Laura, captured everybody's heart with her wonderful program. For anyone in the Tampa Bay area, she teaches yoga at the Dali Museum on a regular basis.
When thinking of yoga in food terms, Ayurveda immediately comes to mind. Ayurveda is an ancient Indian medicine, which is quite complex and includes physical and spiritual components. I decided to make a meal that reflects some principles of Ayurvedic cuisine and present it according to doshas or body types.
Each guest was provided with a questionnaire that helped them determine their dosha. Every dish had a sign indicating what dosha the main ingredient is especially recommended for. We were all a bit too curious to only stick to our doshas, but it was fun to learn new things.

Baked eggplant with herbs and spices and turmeric and sesame crepes
Natalie wrote the names of dishes and doshas on river stones, and her banana leaves worked so well as simple plates.
Today we're sharing the recipe for this colourful mango salsa (thanks to Zhenya for the recipe) that can be served with so many things. I loved it with my garbanzo crepes the most. The rest of the recipes are part of a different project, bear with us and we'll share them soon.
Big thanks to Anastasia for help with the photos.
Mango Salsa
2-3 ripe mangoes – peeled and cubed
5-6 medium tomatoes – cubed
1/2 medium yellow onion – minced
1 bunch cilantro – chopped
1/2 jalapeno or more to taste – seeded and minced
juice of 1 lime
sea salt and freshly ground black pepper – to taste
Combine all the ingredients in a bowl. Gently stir to incorporate all the juices and serve right away.
Ayurvedic Menu:
Pistachio Crusted Falafel
Garbanzo beans: Vata, Kapha – moderation, Pitta – excellent
Mango Salsa
Mango: Vata – excellent; Kapha, Pitta – moderation
Cilantro: Vata – neutral, Pitta – good, Kapha – excellent
Baked Eggplant with herbs and spices
Eggplant: Vata – moderation, Pitta – good, Kapha – avoid
Beets in Citrus
Beets: Vata – excellent; Pitta and Kapha – reduce
Minty Yogurt Sauce
Mint: Vata – reduce; Pitta and Kapha – excellent
Saag Paneer
Spinach: Vata – reduce, Pitta – moderation, Kapha – excellent
Gluten-free Naan bread
Buckwheat:Vata – good; Pitta and Kapha – moderation
Turmeric and Sesame Crepes
Vata and Kapha – good, Pitta – neutral
Lemongrass and Raspberry Tiramisu 
Lemongrass: Vata – avoid; Pitta and Kapha – excellent
Cardamom: Vata – good; Pitta and Kapha – excellent