This post is also available in: French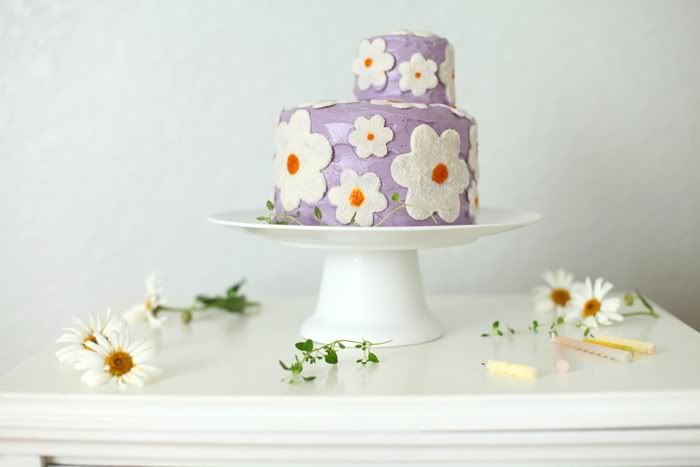 This one is for all the recent graduates. Congratulations, it's quite an accomplishment, what you did! We have our own grad in the family this year. My older daughter just completed four tough years at design school, and I wanted to make something very special to celebrate.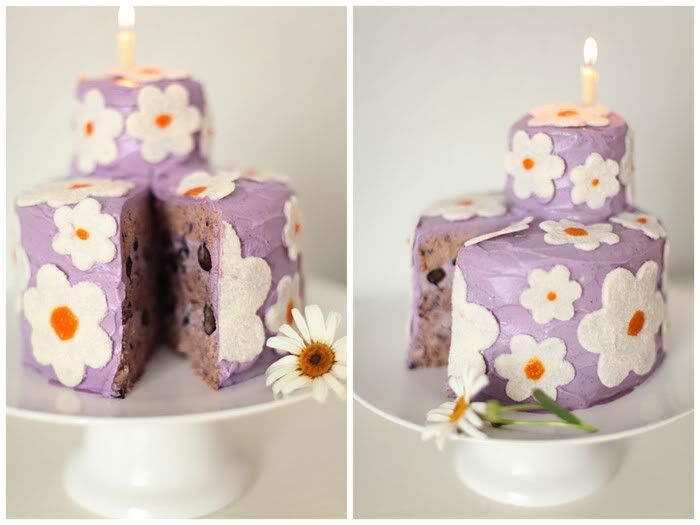 I often get asked about making a raw cake. Not a cheesecake or tart, but a proper layered Cake, capital C and all. This was just the occasion to tackle that.
Daisies have been blooming everywhere recently. Their yellow, festive middles, surrounded by a crown of delicate white petals always put the biggest smile on my face. I got the idea to use the daisy as a decorative element for the cake, as a symbol of spring and the newest of beginnings.
We've got five berry-filled layers of the gentlest texture, cloud-like and airy on your tongue. Then the whole blueberries interject with bursts of cooling freshness.
Paloma was completely enamored with the coconut daisies when I was making them, following along with the whole process, eager to have a taste. Lately, she has been taking much interest in the kitchen, and of course that warms my heart. Paloma made her own mini daisy cake and ate it, too.
Recently, we had the honor of contributing a recipe to a sweet little cookbook called Frugally Delicious. The book focuses on delicious cooking on a budget and is full of tasty recipes from many wonderful blogger contributors. It is honest, beautiful in its simplicity, and full of variety in the recipe index. Hop over to the book's site to learn more.
We are giving away one copy of Frugally Delicious. Simply leave a comment to this post between now and Sunday, June 17th at 12pm EST to enter the giveaway.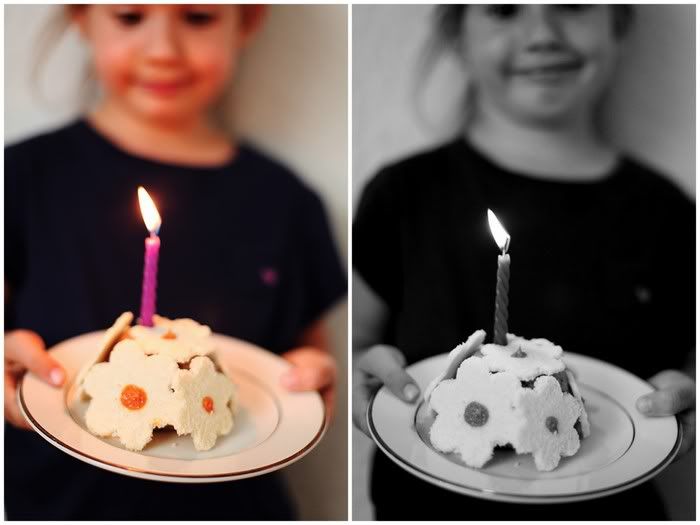 Wild Blueberry Daisy Cake
(makes one 2 level round cake, first level – 6″ diameter x 4″ height, second – 3″ x 2″)
Cake Batter
12 ounces soft dates – chopped
1/4 plus 1 tablespoon coconut oil- melted
1 tablespoon vanilla extract
pinch of salt
4 cups plain almond pulp left from making almond milk
1 1/2 cup fresh blueberries
1-2 tablespoons freshly squeezed lemon juice
In a food processor, blend the chopped dates into a paste, add little bit of water if needed. Don't worry if the paste is not completely smooth. Add coconut oil, vanilla, and salt. Continue mixing. Add the almond pulp, blueberries, lemon juice, and mix well to incorporate. Do it in two batches, if your food processor can't handle the whole amount. You should end up with soft and light to touch cake batter. If your almond pulp is too wet, add a little more of it to your batter. If too dry, add some blueberries, or a splash of almond milk.
Blueberry Frosting
3 cups cashews – soaked for 2 hours
3 cups almond milk
1/2 cup light agave syrup
1 1/2 tablespoons freshly squeezed lemon juice
1 1/2 tablespoons vanilla extract or seeds of 1 vanilla bean
small pinch of salt
wild blueberry powder (optional) – to taste
1 1/4 cup coconut oil – melted
1 cup fresh blueberries
In a high speed blender, combine all the ingredients with the exception of blueberry powder, coconut oil, and blueberries until very smooth. If using, start adding the blueberry powder, to achieve the desired shade of purple. You can also use fresh blueberries to add taste and colour instead. Add the coconut oil at the end to emulsify. Reserve about 2 1/2 cups of for frosting the cake. Transfer the rest to a bowl and mix in the fresh blueberries.
Assembly
Separate the cake batter into four parts – three even ones and one for the small second level of the cake. If using a springform, lightly grease it with coconut oil. If using a cake pan without a removable bottom, line it with plastic or cake wrap. Spread one portion in the bottom of the pan in an even, flat layer. Top with a thick layer of frosting with the fresh blueberries. Put in the freezer for 1-2 hours, or until the cream is firm. Spread another layer of cake batter on top of the cream, following with the second layer of cream. Freeze for another 1-2 hours and finish with the last layer of cake batter. Put the cake in the freezer for 30 minutes before removing from the pan.
For the small second level, repeat the same steps, with only one frosting layer in between two layers of batter.
Frost the large cake first with the reserved frosting. Arrange the small cake on top and frost it. Arrange the daisies on top of the frosting. Keep refrigerated.
Coconut Daisies
These flowers were made by blending the meat of a young Thai coconut with a small amount of coconut water in a high speed blender. I didn't measure the precise amounts, just eyeballed them. Then, I added dried shredded coconut and some agave and blended until I achieved a smooth, thick mixture. Then spread the mixture on Teflex-covered dehydrator trays, dried for an hour or until the surface became dry and I could cut out the flowers with a cookie cutter. After cutting, I left them in the dehydrator for another couple hours, until completely dry and easily separated. Towards the end of the dehydration time, I squeezed some fresh mango puree in the center of each flower, using a piping bag.