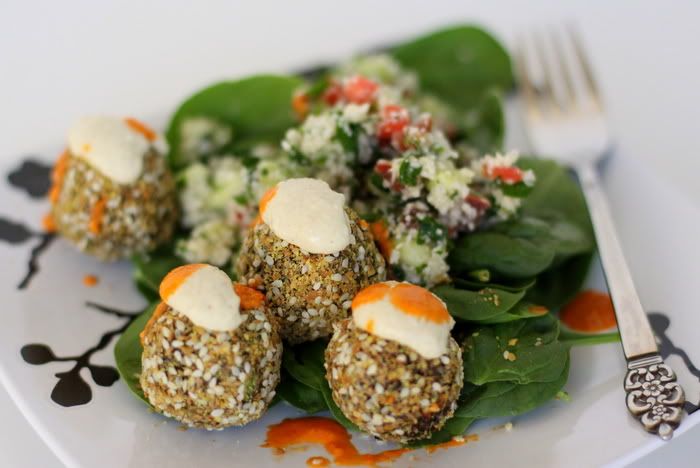 Life has been quite hectic around here lately. I'm sure you know what I mean, we get caught up in the whirlwind of time and soon enough it's been entirely too long since our last post. I often find myself missing this little nook in the world-wide web and sharing all that's delicious and healthy with you, Golubka's lovely readers.
This time it's a simple savoury meal, one that we find ourselves coming back to this winter due to its satisfying, earthy flavours. Falafel and tabouleh. My love affair with falafel started years ago, when my Middle Eastern cuisine loving husband took me out for a falafel pocket with tabouleh, hot peppers and yogurt sauce. I was, of course, hooked. Since then I've made my own falafel the traditional way and, more recently, this much healthier and very delicious version.
As for Paloma, she is often the first one to wipe her plate clean, busily switching between eating with a fork, spoon, and her hands. We often have to remind her to chew her food. She takes after her parents.
We'll be back with more elaborate meals soon, as well as a few stories. But for now, I hope you enjoy this flavourful meal and have a tranquil weekend.
Falafel
(Adapted from Living Raw Food)
2 portobello mushroom caps – cubed
2 medium carrots – peeled and sliced
1/2 small onion – diced
1 garlic clove – sliced
3 tablespoons olive oil
1 teaspoon sea salt
1 cup raw pistachios
3/4 cup raw almonds
3/4 cup sunflower seeds – soaked for at least 30 minutes
1/4 cup chopped parsley or cilantro
3/4 teaspoon ground cumin
1 teaspoon fresh lemon juice
freshly ground black pepper
1/2 cup ground flax seeds
1/4 cup sesame seeds
Mix together the mushrooms, carrots, onion, garlic, 2 tablespoons of olive oil, and a pinch of salt. Spread on Teflex-lined dehydrator trays and dehydrate at 115F for 1 hour. After dehydration, pulse the mixture in a food processor to achieve small pieces. Transfer to a large bowl and set aside.
In a food processor, grind the nuts and sunflower seeds to a crumbly texture. Add the ground nuts, parsley, cumin and lemon juice to the mushroom-vegetable mixture and mix thoroughly, seasoning with salt and pepper. Form into spheres, and roll each one in a mix of ground flaxseeds and sesame seeds. Dehydrate on a screen-lined tray for 2 hours before serving.
Tabouleh
1 large cauliflower head – florets only
3 cups cucumber – peeled, seeded, and finely diced
3 cups chopped parsley or cilantro
3 cups tomato – seeded and diced
1/3 cup scallions – thinly sliced
1/4 cup fresh lemon juice
3 tablespoons olive oil
1 tablespoon sea salt
freshly ground black pepper
Whir the cauliflower in a food processor until finely chopped. Take care to not over-chop it to preserve the crunchy texture. Toss with the remaining ingredients in a large mixing bowl.
Serve on romaine lettuce or baby spinach leaves with the falafel and sauces.
Tahini sauce
(Although this dish tastes best with these sauces, they are optional. You can also use your own favourite sauce.)
1 cup raw sesame tahini
1 cup water
1 tablespoon olive oil
1 1/2 tablespoons fresh lemon juice
1 teaspoon sea salt
Mix all the ingredients until smooth.
Hot sauce
1 red bell pepper – seeded and chopped
4 teaspoons olive oil
1 medium tomato – chopped
1 stalk celery – chopped
1/2 shallot – chopped
2 teaspoons fresh lemon juice
1/2 teaspoon chili powder
1/8 to 1/4 teaspoon cayenne pepper
1/2 teaspoon raw agave nectar
1/4 teaspoon paprika
1/2 teaspoon sea salt
Coat the red pepper in 1 teaspoon of the olive oil and dehydrate for an hour. In a high speed blender, blend the pepper with all the remaining ingredients until smooth.