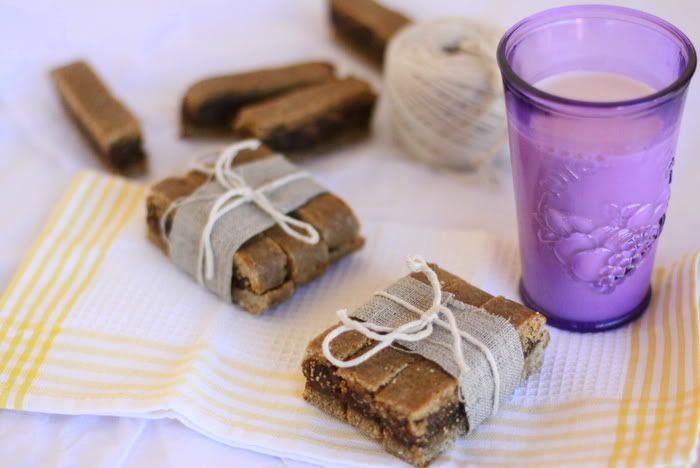 We've got a new staple food. One that often acts as an accompaniment to breakfast tea, or as a snack at work, or a dessert after dinner, or all of the above. It has earned an almost permanent nook in Paloma's lunch box and a thumbs-up from all the friends who've tried it. Needles to say, our new staple tastes good. Delicious and satisfying, to be exact.
Fig bars.
We didn't have Fig Newtons when growing up, but had something similar – a cookie with a chewy, fruity filling. I've often thought about that cookie and craved a more nutritious alternative. Finally, I found the recipe, or, as I often feel with this sort of thing, the recipe found me.
The recipe is adapted from Living Raw Food. It yields moist, chewy, and nourishing fig bars that, dare I say, taste better than any Fig Newton I've tried.
Now, here's a cooking mystery that I've been trying to solve. The original fig bar recipe calls for coconut oil in the "dough" part instead of the almond butter that I used in my adapted version. I've tried to use coconut oil, but it immediately went rancid in the dehydrator. I didn't give up easily and tried to use different brands of coconut oil, but the result was always the same – rancid. I'm puzzled – it never happens when I use coconut oil in other recipes that require dehydration. If you happen to know the reason, please let me know. I'm truly curious.
Edit: Thanks so much for all your help in solving the mystery. It turns out that the sprouted oat flour+coconut oil=rancid formula is universal, literally. Many readers have lost trays of cookies and bars because of it. Some have suggested that it is because of the water in the recipe, some have said that it is because the coconut oil is raw and is not fit to be heated to higher temperatures. Since then, we've also tried to substitute the coconut oil with raw cacao butter and the bars turned out excellent!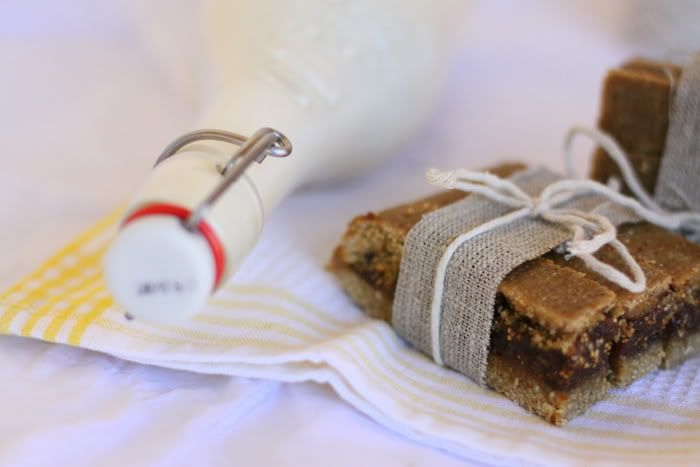 Have a lovely weekend.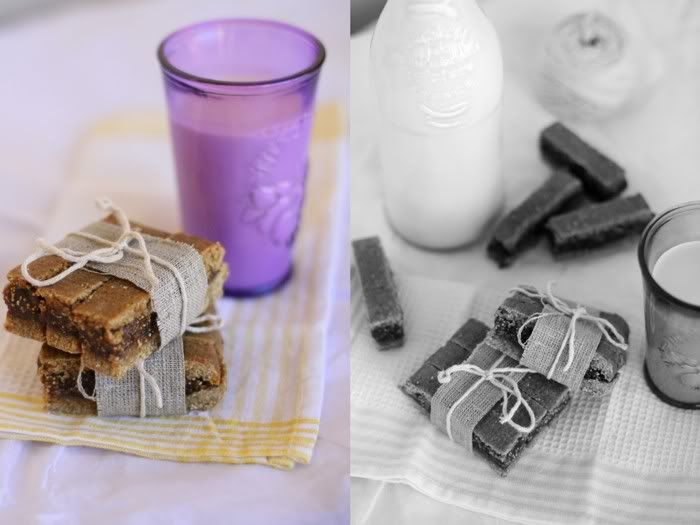 Fig Bars
(Adapted from Living Raw Food)
Dough
8 cups sprouted oat flour
2 cups maple syrup powder
1 cup raw almond butter OR raw cacao butter
1 cup date paste
1/4 cup vanilla extract
1/4 cup plus 2 tablespoon purified water
In a large bowl, sift together all the dry ingredients. Add the almond butter and mix thoroughly. In a separate bowl, mix the date paste, vanilla extract, and water. Add to the dry mixture and combine well.
Filling
6 cups fig paste (see below)
1/2 cup raw agave syrup
To make fig paste, soak any kind of dried figs for 8 hours. Then blend in a food processor, adding the soaking water as needed to achieve a smooth consistency. Keep refrigerated in an air tight container.
Assembly
In order to form the bars, you will need two trays that fit in the bottom of your dehydrator. We use half-sheet pans that can be found at any restaurant supply store.
Line the two pans with parchment paper. Divide the dough equally between them and press into the pans to achieve a uniform thickness. Using a knife, cut the dough in one of the pans into 4 even parts. Place that pan into the freezer for about 10 minutes, so that it becomes more firm for easier handling.
Meanwhile, mix the fig paste with the 1/2 cup of agave, and evenly spread this mixture on top of the uncut dough in the second pan. Remove the first pan from the freezer and carefully place each quadrant on top of the fig paste layer.
Place the sheet pan in the bottom of the dehydrator and dehydrate at 115F for about 6 hours. Remove from the dehydrator, cover with parchment paper and invert your second empty pan on top of it. Carefully flip over, holding both pans together and remove the upper pan. Peel away the parchment paper and place back into the dehydrator for another 6 hours. Once removed from the dehydrator, cut through all the layers to form bars of any size you like. I cut each quadrant in half lengthwise, then across into 8 sections to make 64 bars. Transfer the bars onto screen-covered dehydrator trays and dehydrate for another 10 hours.
Another great thing about these bars – you can always order them online through One Lucky Duck, or pick one up at their takeaway in NYC.