This post is also available in: French
Mediterranean dolma was always on the list of foods special to me, there is something fascinating in the taste and the appearance of the grape leaves. When I tried this raw, rice-less version for the first time, it struck me as possibly the tastiest raw dish I've had so far. The combination of flavours and textures is flawless. And the sauce – cilantro, lemon, tahini – it's hard not to lick the plate.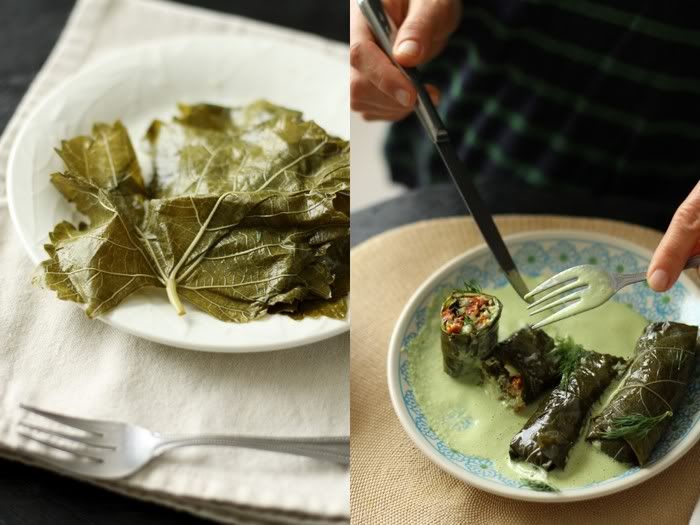 The original version of this dolma calls for Jerusalem artichoke, or sunchoke, which is an amazingly versatile root vegetable. I've been using Jerusalem artichoke syrup as an alternative sweetener for a while now, and would definitely recommend it.
The actual root is not as easy to find (at least here in Florida) and the season is long gone. But after once tasting this dolma with sunchoke, I couldn't wait for its new season to come, and decided to substitute it with jicama. I made some minor adjustments to the recipe and was very happy when it turned out well.
I always get excited when I find successful raw recipes that are also simple and don't call for the opening of young coconuts, dehydration, nuts, or long hours of waiting. This dish is just that – easy, fresh, and fragrant.
P.S. We are so happy to finally have a blog banner. It's by the talented Coco of Lark Creatif and Roost.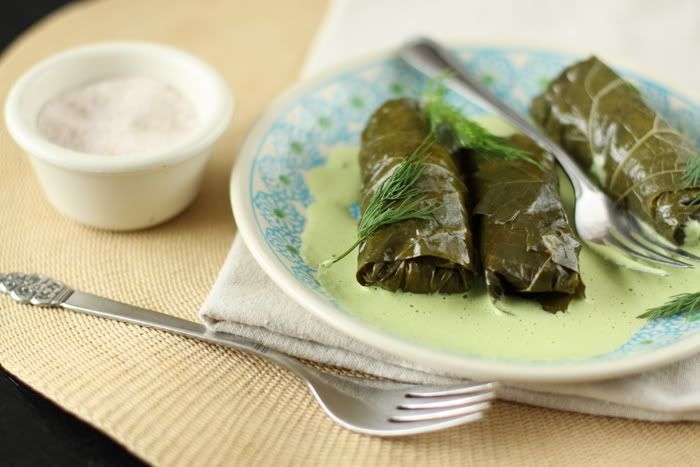 Mediterranean Dolma
(Adapted from Living Raw Food)
For a 1 quart jar of marinated grape leaves, the amount of individual leaves can vary depending on their size
Filling
1 1/2 cups Jicama OR Jerusalem artichoke – peeled, chopped
1 1/2 tablespoons freshly squeezed lemon juice
2 tablespoons olive oil, plus more for coating the dolma
zest of 1/2 lemon
1/2 cup sun-dried tomatoes – soaked for 2 hours and chopped finely
1 cup peeled and seeded cucumber – small cubes
1/2 clove garlic – minced
1 shallot – minced
5 olives of your favourite kind (I used Black Cerignola) – pitted and chopped
1 tablespoon, or more to taste dill – chopped
about 1/4 cup fresh mint leaves – finely chopped
salt and freshly ground black pepper to taste
In a food processor, pulse the sunchokes or jicama to achieve the texture of large rice grains. If using jicama, transfer it onto several layers of paper towels and pat to remove as much excess liquid as you can. You might need to do this several times. There's no need to pat dry if you are using sunchokes. Transfer the jicama/sunchoke to a bowl and pour the lemon juice over, mixing with a wooden spoon to preserve the color. Then mix in 2 tablespoons of olive oil and gently stir in the rest of the ingredients. Season with salt and pepper. Place the filling into a fine strainer and let drain for around 15 minutes.
Rinse the grape leaves and pat dry. Put around 1 1/2 tablespoons of the filling into the center of each leaf and fold. The stem end gets folded up first, followed by the sides, after which you are ready to roll tightly.
Coat the rolled dolmas with some olive oil and enjoy with green tahini sauce.
Green Tahini Sauce
1/2 cup raw sesame tahini
1/4 cup olive oil
2 tablespoons freshly squeezed lemon juice
1 cup cilantro – loosely packed
1 1/2 teaspoons sea salt
1 cup purified water
In a high-speed blender, combine all the ingredients until smooth.