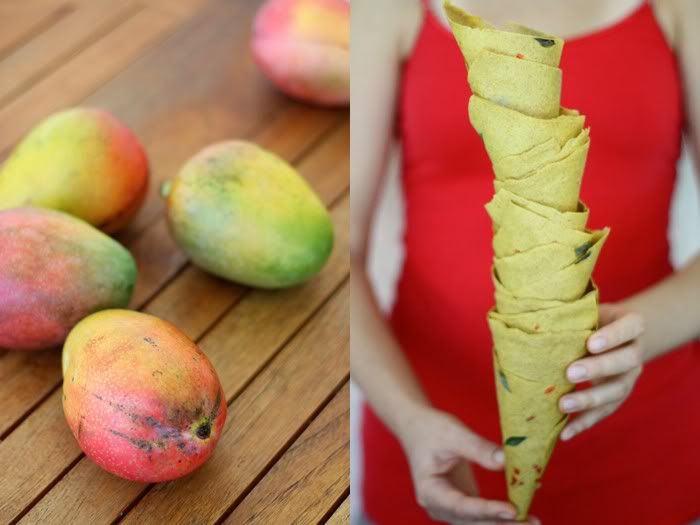 The idea behind this post is quite simple. During my childhood back home, street vendors sold all kinds of snacks in small paper cones – toasted sunflower seeds, berries, nuts, candy, and other homemade treats. The food varied depending on the season and the part of the country. The cone is an inexpensive, simple container that was usually rolled and filled right on the spot.
During recess at school, we would often run across the street to a small market and buy whichever snacks were sold that day. Then we would proceed to sit in the schoolyard with our paper cones, gossiping and munching away.
Inspired by those memories, we had the idea to serve salad in an edible cone, just like ice-cream. We wanted to create a cone that would reflect the colours and flavours of the salad and add a nice crunch to the overall effect.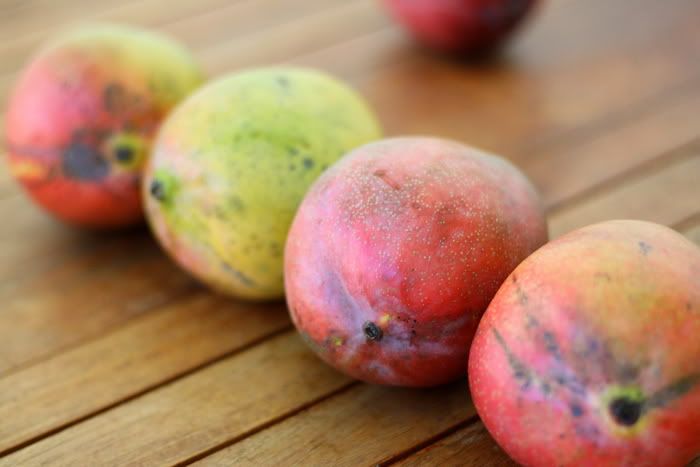 We imagined a cone that would work just as well with savouries as it would with sweets. Mango is a wonderful fruit for such situations, so we used it as a base for our cones. There are a few exceptions to the no-local-summer-produce rule in Florida, and Florida mango is one of them. Because they are grown locally, the fruits are never treated with hot water, unlike the mangoes that are imported from Mexico. We've been lucky enough to get some very fresh, large and sweet ones that worked perfectly for the project.
For the filling, we used a mango and green papaya salad with a chili dressing and candied Brazil nuts. Green papaya is famous for its healing powers and numerous therapeutic effects, as it contains a significant amount of proteolytic enzymes. Its health benefits are too many to be mentioned in this context, but I'm especially interested in facial application of green papaya paste. It's said to have a magical effect on your skin, and I'm going to try it soon. Back to the cones, since then we've tried filling them with a simple green salad and with homemade ice cream. Both ways presented delicious results. The cones proved to be multi-purpose.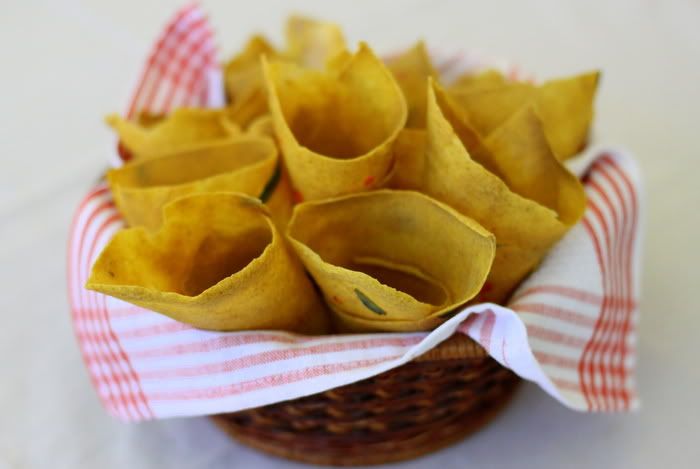 This way of serving, where the container is to be eaten together with the food it holds, could be wonderful for a party. You'd need one less set of plates, and your guests would have a great time with this unusual and tasty presentation.
Mango Cones
3 cups mango flesh – chopped
meat of 1 young Thai coconut
1/2 cup almonds – soaked overnight, skins removed
3/4 cup golden flax seeds – finely ground
2-3 red chili peppers – finely chopped
Thai basil leaves
In a food processor, puree the mango, coconut and almonds. Add the flax seeds and blend until smooth. Spread the mixture on Teflex-lined dehydrator trays and sprinkle with the chopped chili peppers and small Thai basil leaves. With wet hands, pat them lightly to embed the chili and basil into the mass. Dehydrate at 115F for 3-4 hours, or until the surface becomes dry and the underside can be easily separated from the Teflex sheet. Flip the cracker and peel the Teflex sheet away. Providing that your tray is 15″x 15″, cut the cracker two times horizontally and once vertically to make six equal rectangular parts. Place the sheets into the dehydrator without the Teflex for another 30 minutes, or until dry but still pliable. Roll each sheet into a cone, using a little bit of water to "glue" it together. Line each cone with parchment paper and place them inside one another, forming 4-5 cone stacks. We made a cone out of hard bristol paper and put it into each stack to ensure that the cones hold their shape. Put the stacks on the bottom of the dehydrator, and dehydrate until completely dry and crispy. Keep refrigerated in air-tight containers.
Green Papaya and Mango Salad
(Adapted from Raw Food/Real World)
1 medium green papaya OR 2 green mangoes – peeled and thinly julienned
2 teaspoons sea salt
4 large ripe mangoes – 3 peeled and cut into thin strips, 1 peeled and chopped roughly
1 handful Thai basil leaves – cut thinly
1 small red chili – seeded and roughly chopped
2 tablespoons lime juice
In a mixing bowl, toss the julienned green papaya or mango with salt. Let sit for 30 minutes. Mix in the 3 striped mangoes and basil.
To make the dressing, blend the flesh of the 1 roughly chopped mango with the red chili and lime juice in a high-speed blender. Season with salt to taste.
Candied Brazil Nuts
1 cup Brazil or other nuts – soaked for 1 hour and sliced
agave nectar – just enough to cover the nuts
pinch of salt
Mix all the ingredients thoroughly. Spread the nuts on a Teflex-lined dehydrator tray, and dehydrate at 115F for 24-48 hours. Keep refrigerated. Sprinkle on the salad when serving.