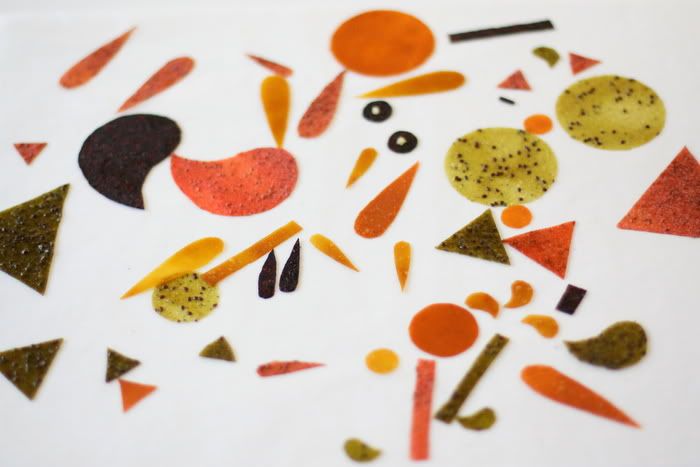 Paloma loves to eat. In that way, we are very fortunate. It's quite a rarity for her to turn down food, and she's always eager to try anything I put in front of her. I'll never forget an impossibly bitter dandelion smoothie that I made. No one could drink it, except for Paloma, who joyfully slurped down a whole glass. I dearly love to cook and feed people, especially family and friends, and her approval makes me one happy mama.
Our days usually start with me cooking breakfast and impatient Paloma sitting at the kitchen table, spoon in hand, narrating my preparations and hurrying me on. It's quite humorous. She is not the calmest of children (a little tornado to be exact) and becomes very excited when food is in sight.
This is where the idea for the edible puzzle stemmed from. I imagined a game that would occupy Paloma, and, since she puts everything in her mouth, be safe and tasty to eat. I thought about the obvious educational qualities of puzzles such as teaching about shape, colour, size, structure, and included two more – flavour and nutritional value.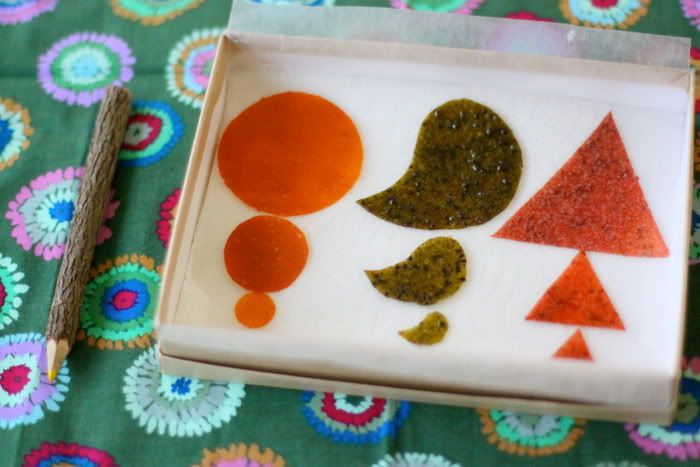 I started by making various fruit leathers of different colours. Mango, kiwi, blueberry, strawberry, pineapple, kiwi-spinach and carrot-mango to be exact. Then I decided on five basic shapes (circle, triangle, long rectangle, curved teardrop, and straight teardrop) and cut each one out in three different sizes. The simplicity of the shapes allows for much imagination when building a picture, the possibilities here are never-ending. It seems that room for creativity is one of the most important aspects of a children's game, it encourages a sort of intellectual freedom and concentration.
Well, it was a hit. Paloma is a little too young to be able to construct her own images, but she liked watching us do it, naming all the animals and things, and loved the fact that all the pretty puzzle pieces could be eaten.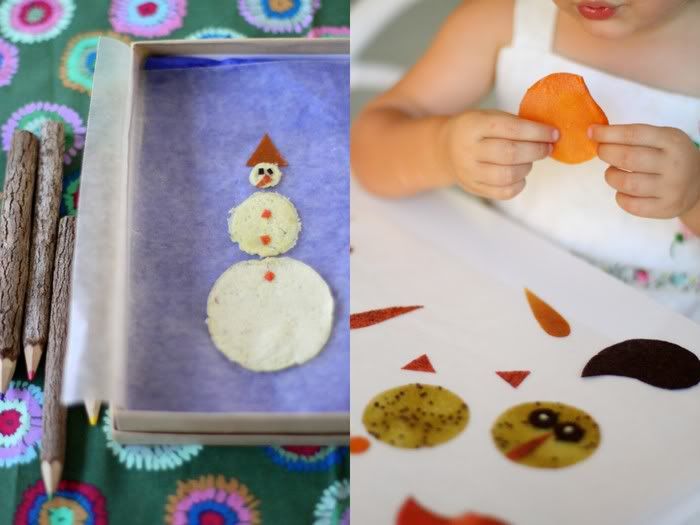 This type of puzzle would make for an interesting homemade gift. Or it could be a way for a more finicky eater to learn about the taste, scent, and colour of different fruits and learn to like them through playing a game.
Bunny rabbits, cats, birds, tigers, bears and other animals, snowmen, butterflies, flowers, sailboats, the sun, pine trees, bees, and landscapes.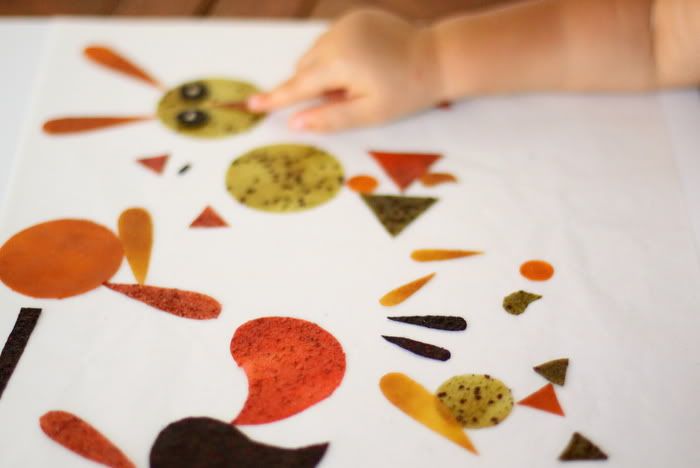 You name it.
Fruit Leather
You can find many fruit leather recipes on the internet. Here, I just blended the fruit in a food processor. Then sweetened it to taste with raw honey or agave. Spread it quite thickly on Teflex-lined dehydrator trays and dried at 115F until leathery. Peeled off the Teflex, flipped, and dehydrated some more until completely dry. I made hard templates of each shape and used a knife and kitchen scissors to cut out the pieces.