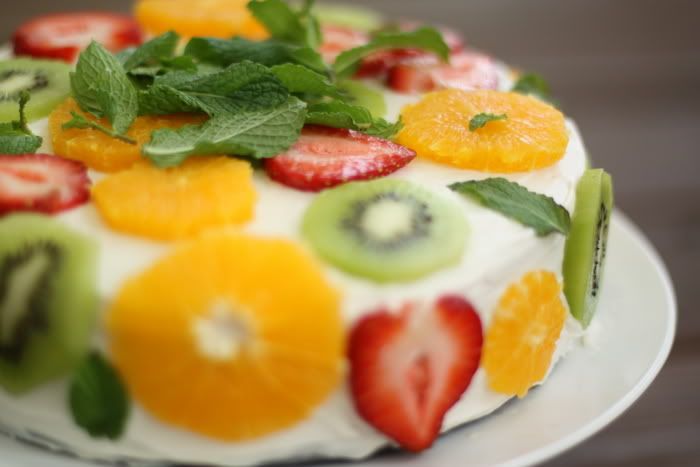 Seems like the time has come to say goodbye to summer once again. And as much as I am looking forward to fall's lovely chill, I am a little bit sad. I've been known to complain about the heat here and there, but I love summer with all of its toasty carelessness, endless daylight, and bronzed shoulders.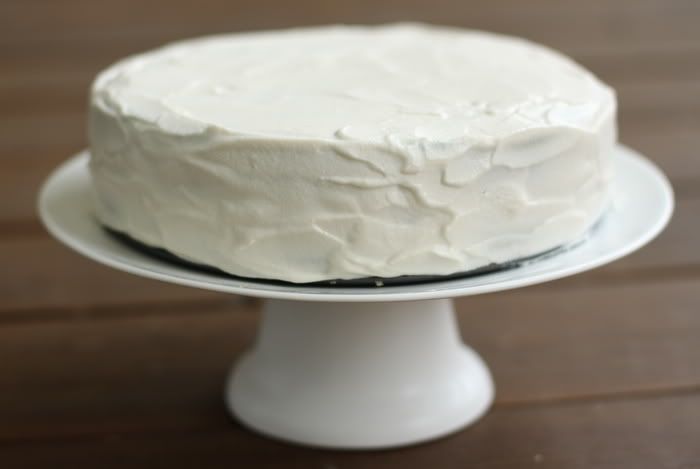 Looking back, we can safely say that this summer turned out wonderfully. It started with an amazing trip to Paris, followed by this party, Paloma's easy switch from daycare to a school, lots of cooking and photographing, and a few other projects that we are excited to share with you very soon.

And what better way to say goodbye than with a cake. We tried to dress this one up to look as bright and summery as it can. And the flavours – spearmint and chocolate – those are classic.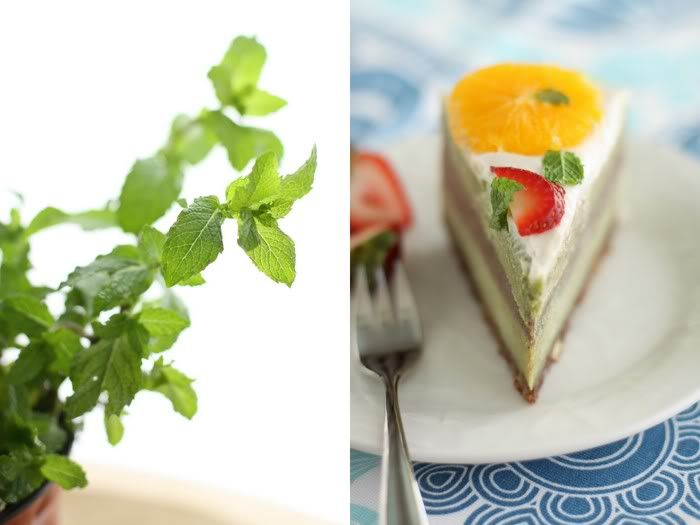 I've always felt a little uneasy about the richness of cashew-based cheesecakes, but absolutely everyone else is always very impressed by them, so maybe I should bite my tongue. Here, I tried to offset the slight heaviness of nuts with the abundance of fresh spearmint, fruits, and fluffy icing.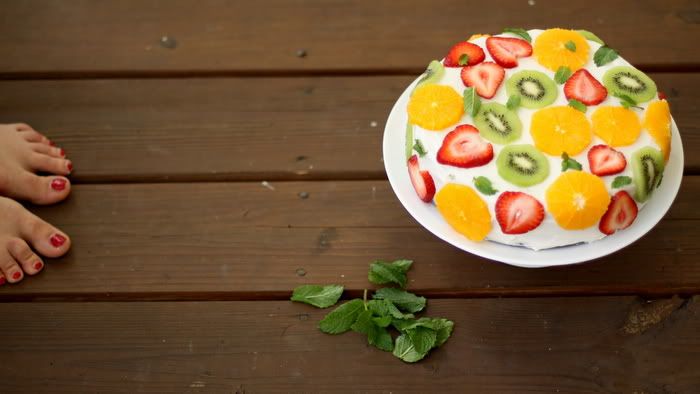 I made a simple chocolate crust with a stripe of chocolate between two layers of mint. The deep taste of cacao combined with the subtle notes of spearmint perfectly. I know that this is a much loved flavour combination, so I really wanted to do a post on it.
Let's enjoy this one, and then say hello to autumn!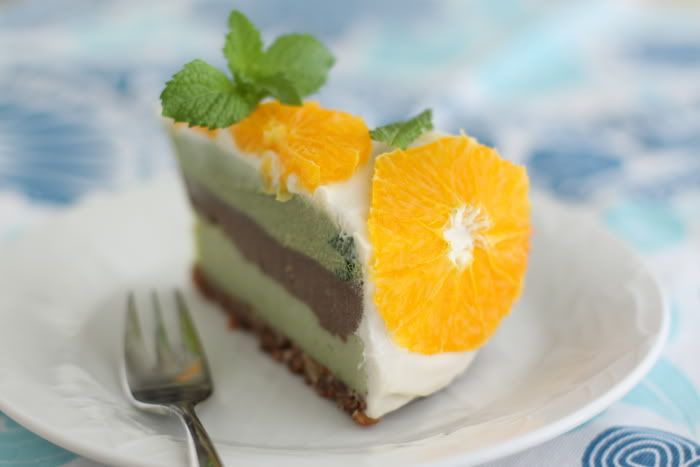 Spearmint and Chocolate Cheesecake
(For an 8 inch spring form)
Crust
1 3/4 cups raw almonds
1/2 cup raw cacao nibs
1-2 tablespoons raw cocoa powder
3/4 cup raisins
1 teaspoon vanilla extract
In a food processor, combine all the ingredients until crumbly and sticky. Then evenly press the dough into the bottom of an 8 inch spring form.
Filling
Spearmint layers (1st and 3rd each)
2 cups raw cashews – soaked overnight
1/4 cup mint syrup (1 cup agave syrup, 2 cups fresh mint leaves blended together)
handful of fresh mint leaves
1 tablespoon vanilla extract
1 tablespoon lemon juice
1/2 cup Artisana coconut butter
In a food processor, combine all the ingredients, except coconut butter, until smooth. Add the coconut butter and mix well. Pour into an 8-inch spring form, pressing with wet fingers, if needed to achieve an even layer. Repeat with the same amount for the third layer.
Second layer
Same as first, just leave mint and mint syrup out and add 3/4 cup raw cacao powder instead.
After assembling all the layers, refrigerate the cheesecake overnight. Then remove the spring form.
Icing
1 cup macadamia nuts
1/2 cup cashews
3/4 cup meat of young Thai coconut
2 tablespoons each light agave syrup
2 tablespoons raw honey
3/4 cup coconut oil
In a high speed blender, combine all ingredients until very smooth. Refrigerate until thickened.
Assembly
Spread the icing evenly on the top and sides of the cheesecake. Decorate with fresh mint leaves and fruits of your choice. Keep refrigerated and enjoy.