This post is also available in: French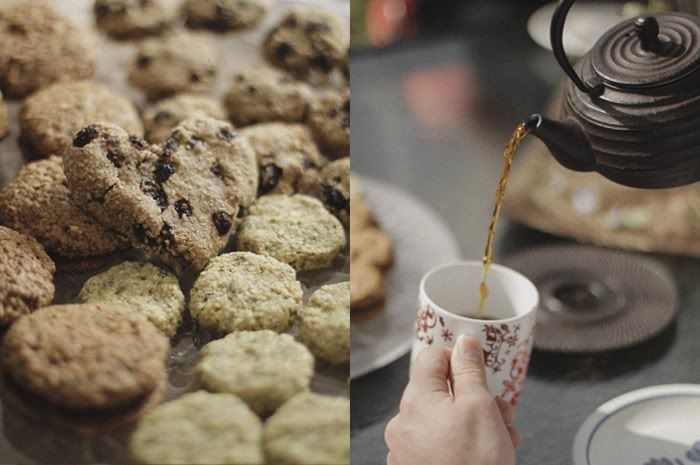 Today's guest post features new and exciting talent. Noelle and David run The Rose Journals, and from the moment we first visited their page, we fell for their style, food, and amazing photography. Head over to their blog and be prepared to be in love. Please give Noelle and David a warm welcome and enjoy this beautiful spring tea party.
The Rose Journals blossomed from a great affinity of simplicity and creating. Noelle (foodie, yogi, and writer of the blog) and I (foodie, filmmaker, and photographer of the blog) met when she hired me as a barista at a coffee shop in Appleton, WI that she was managing at the time. We immediately bonded over our love for basic, natural, food. Interwoven between our long days and hard work, we would share our philosophies, recipes, jokes, and lunches. We came to be great friends. When I finally put two and two together, and proposed the idea of putting our passion of eating, writing, and photographing together to form a blog, both our eyes lit with enthusiasm.
We are here to share our ideas, discover new recipes, and to develop a community…but mostly to eat.
Cheers! We clank our tea mugs together and bask in the warm April sun; we talk of red cardinals, spiders, the origins of clichés, taxes, and love; we share, we laugh, we eat, we drink. We nurture our bodies and spirits as we rejoice over spring. At the center of this gathering is a plate full of cookies. I sink in my seat, sip my tea, and smile at the three hours spent preparing for this party. Food—it is often the centerpiece of celebrations, connecting us to those we love, to the earth, and to the nurturer within. This week we share an assortment of cookie recipes—a few crafted by our fellow foodies, and one inspired by the island of Maui.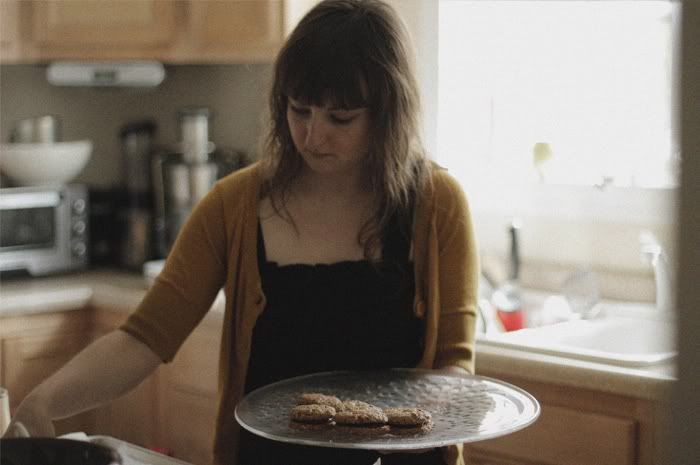 Haiku Cookies (Makes one dozen)
I spent a month in Maui getting certified in yoga. My friend, Steve, happened to be working on an organic farm in the village of Haiku, which was less than ten minutes from the studio—I touched my first cashew tree on that farm. We would walk around eating herbs that made our tongues tingle. One morning we watched the sun rise from the top of Mt. Haleakala and proceeded to bike back to town, passing a lavender farm along the way—the soothingly sweet aroma managed to make its way through my Martian size bike helmet. We split coconuts open with machetes and drank the water, we swam at the tops of waterfalls and gathered lilikoi for smoothies, we lounged in the grass under the stars and listened to natives tell stories of the island. For a month I was surrounded by an abundance of natural beauty and people that revered the land. This recipe is a culmination of those experiences. It is simple, raw, organic, and has a lemony zest that is perfect for a spring tea party!
1 cup Cashews – unsoaked
1 cup Coconut
Juice of one lemon
1 tablespoon Agave
½ teaspoon Sea Salt
½ cup Pistachios
1 teaspoon Lavender
Pulse the cashews, coconut, pistachios, and sea salt in a food processors until coarse. Add the lemon juice, agave, and lavender. Pulse until all ingredients resemble a sticky mixture.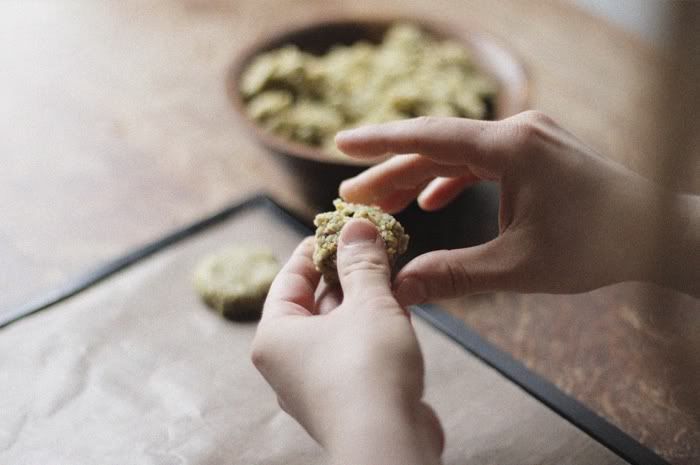 Form into one inch balls and flatten with your hands. Dehydrate for 8 hours.
Almond Butter and Jam Sandwich Cookies
(From the blog My New Roots)
4 tablespoons Coconut Oil
4 tablespoons Almond Butter
½ cup Coconut Sugar
2 tablespoons Chia Seeds
4 tablespoons water + 2 tablespoons Maple Syrup
1 teaspoon Vanilla Extract
1 ½ cup Oat Flour
1 teaspoon Baking Soda
¼ teaspoon Sea Salt
Jam of your choice (we used Raspberry)
In a small bowl add chia seeds to water and maple syrup. Set aside for fifteen minutes. Blend oats, baking soda, and salt together.
Whisk coconut oil and almond butter until creamy. Add sugar, vanilla, and chia gel. Whisk to combine. Add dry flour mixture in thirds. The dough will become rather stiff. You may need to mix with your hands. This is a delicious technique that I strongly recommend. Line a baking sheet with parchment paper. Form dough into one inch balls. Press dough into rounds. Bake 8-10 minutes, or until the bottoms begin to brown. Fill with jam when cooled completely!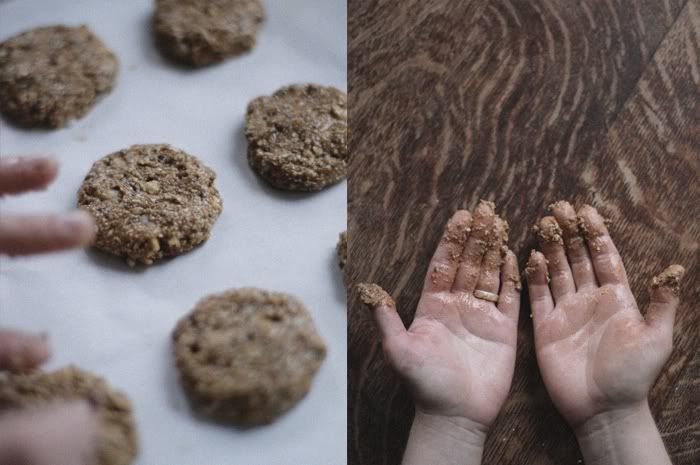 Oatmeal-Raisin Cookies (From Living Raw Food by Sarma)
4 cups Oat Flour
1 cup Maple Syrup Powder
1/2 teaspoon Sea Salt
1/2 cup Coconut Oil
1/2 cup Date Paste
2 tablespoons Vanilla Extract
3 tablespoons Filtered Water
1 1/2 cup Raisins (plumped in warm water for 30 minutes and drained)
In a large bowl, sift together the oat flour, maple powder, and salt. Add the coconut oil and mix thoroughly.
In a seperate bowl, whisk together the date paste, vanilla, and water, until thoroghly combined. Add this liquid and the raisins to the oat mixture and combine well.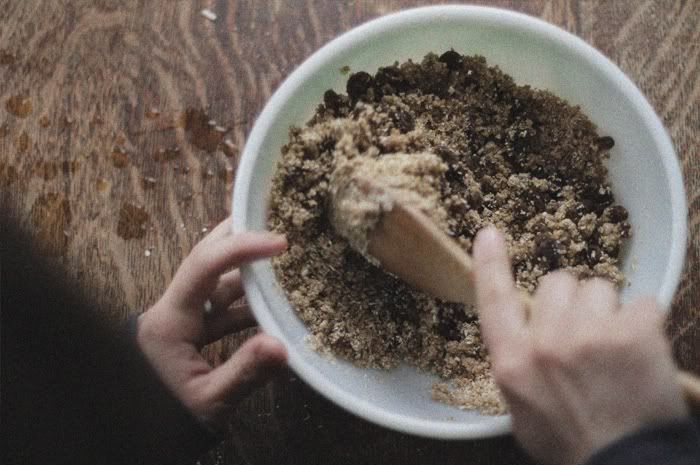 Form balls of dough into shape (about 1 1/4 inches across) and place on mesh-lined dehydrator trays. Dehydrate for 8 hours, or until dry but still soft on the inside.